The Best Pubs in Clapham |  Sprawling Beer Gardens in Summer and Roaring Fireplaces in Winter
Not all pubs are created equally. And, in a neighbourhood as densely populated with drinking spots as Clapham is, it's almost an act of public service to prudently work through all of them to discover the very best.
So that's exactly what we've done – and now we're here to formally confirm something South Londoners have been saying for years: Clapham pubs stand among some of London's best. Drinks served with hefty, comforting Sunday roasts? We've got 'em. Pints with a side of raucous pub quiz? Done and dusted. Leafy gardens, signature cocktails and open mic nights? Clapham's got them all. 
Meet you at the bar.
–
The Old Tavern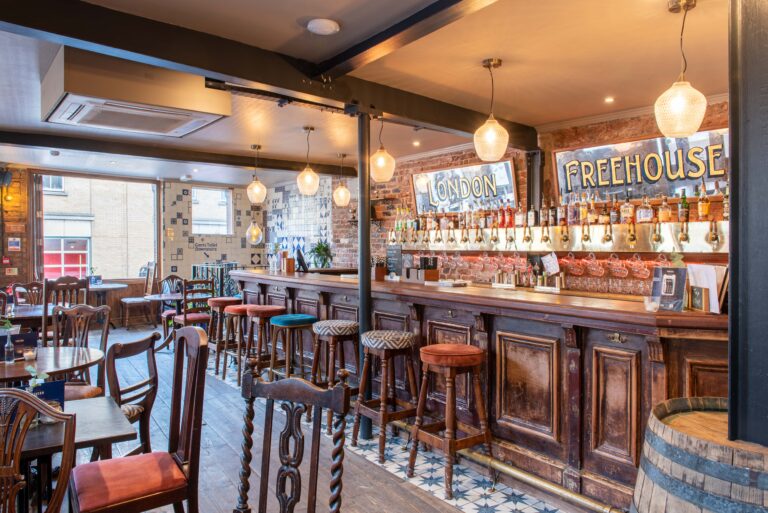 The Old Tavern might just be the only Clapham pub known more for its Mexican street food than it is for its pints. Sure, there are 20 different beers for you to choose between here, but the real decision maker is whether to order the perfectly-spicy chicken wings or a pulled pork burrito. 
Spoiler: the correct answer is "both", and you'll want at least one of the aforementioned beers to wash it down with. Welcoming fairy lights and a random assortment of colourful chairs make The Old Tavern feel a little more like a catch up at a friend's house rather than a classic pub. If your friend was secretly a genius Mexican chef with a penchant for spice, that is. 
Details: 29 North St, London SW4 0HJ | Book here
–
The Duke of Edinburgh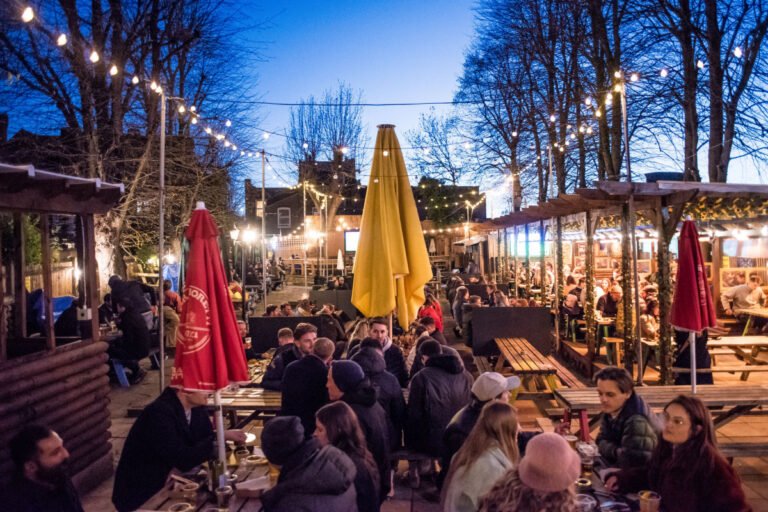 The Duke of Edinburgh, the pub: a much more exciting, alcohol-infused version of The Duke of Edinburgh you may have unwittingly suffered through during your school days – with just as much stamina recommended. This one comes with the same outdoors appeal, with one the biggest beer gardens in London – complete with endless rows of benches, gazebos and twinkly lights above. Inside are loungeable sofas, a perpetually-busy pool table and, crucially, White Men Can't Jerk: the jerk chicken accompaniment you didn't previously recognise as the missing piece in the beer drinking puzzle. The Duke of Edinburgh might look unassuming from the outside, but that's all part of the charm, and there's always London craft brews on offer from the likes of Brixton Brewery and Hackney's Five Points Brewery.
Details: 204 Ferndale Rd, London SW9 8AG | Book here
–
The Railway Tavern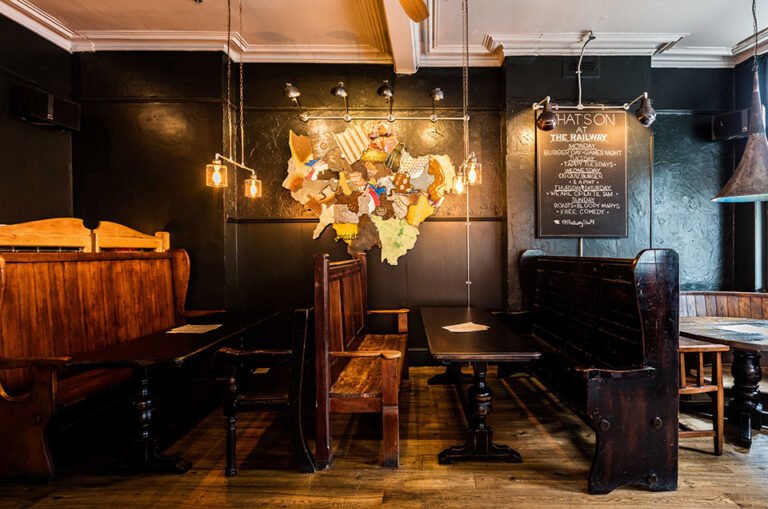 The Railway Tavern – with a craft beer selection so varied it verges on chaotic – is somewhere you'll go to branch out from your usual. We're talking ales infused with not one but seven different types of coffee (something that sounds like it really shouldn't work but somehow does), while the food stays a little more traditional with fried chicken, burgers and classic pub grub on the menu. Statement artwork, wrap-around windows and an overall quirky vintage feel make this Clapham pub feel suitably heartwarming year round. Conveniently, it's located a literal stone's throw from Clapham North overground station, which might make your commute a little more bearable.
Details: 18 Clapham High St, London SW4 7UR | Book here
–
The King & Co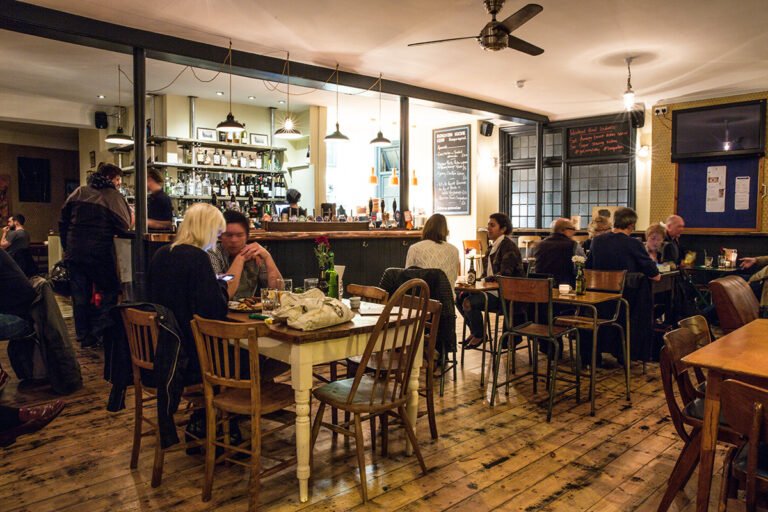 You'll struggle to find a more wholesome Sunday afternoon atmosphere in Clapham than at The King & Co. Roasts come laden high with a heap of sizzling, tender meat and a brushing of rosemary, served by someone so friendly you'd genuinely wonder whether they're an old friend of your mum's. The beer, meanwhile, comes in the form of 18 kegs and six cask lines but, in honesty, comes (a close) second to the food. See, the rest of the week is in the hands of their regularly rotating kitchen residency. They were one of the first pubs to host pop ups like this, and Zoe's Ghana Kitchen, Fowl Mouths and The Cheese Truck have all passed through here. It's less of a 'big night out' pub and more of a 'catch up on a cosy, possibly hungover, weekend' pub. Visit on a Monday for a quiz that includes the lesser-spotted mystery voices round.
Details: 100 Clapham Park Rd, London SW4 7BZ | Book here
–
The Old Bank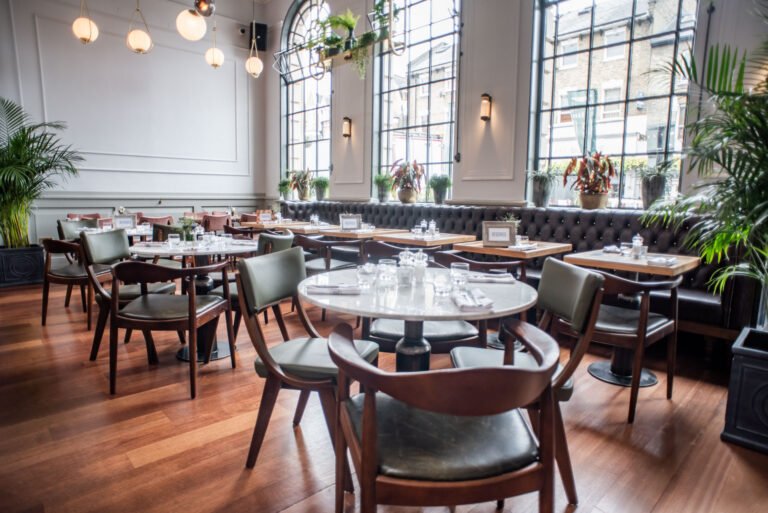 This place used to be a bank. Then, it was converted into a pub called The Bank. Now, it's been renamed The Old Bank. And those original arched windows, lofty ceilings and pearly chandeliers definitely make this more of a gastro spot than an old-school boozer. As a Fullers pub, there's plenty on draught (including a couple of cask ales), but The Old Bank also serves cocktails great and small. The food's served in a way almost too artistic for a pub, with an all-day breakfast menu (try the smoked salmon royale) and a range of wholesome, hearty and homecooked-levels-of-comforting dinner choices.
Details: 31-37 Northcote Rd, London SW11 1NJ | Book here
–
The Abbeville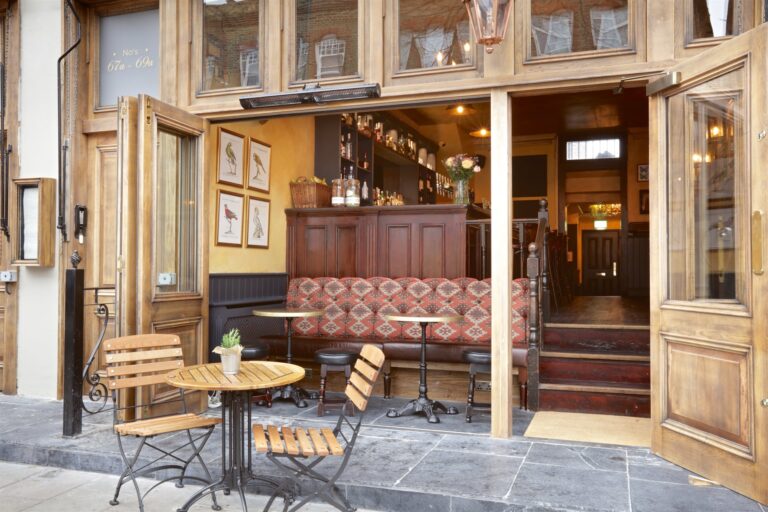 While most Clapham pubs have their USP and stick to it, The Abbeville is a pub for any occasion. In the colder months, it's warming and cosy with a roaring fire and a rich, heavy, ever-so-slightly-oversized menu. In the summer months, it's the perfect spot for grabbing a cold beer or cider and pulling up a chair just outside. It's a fusion of eclectic photos on the walls, patterned velvet booths tucked away throughout the pub's nooks and crannies, and a village-like atmosphere with its own collection of regulars. Visit on Monday for the Pint and a Pie deal: arguably something that'll actually make you look forward to the worst day of the week. The desserts here are pretty special, too. 
Details: 67-69 Abbeville Rd, London SW4 9JW | Book here
–
The Windmill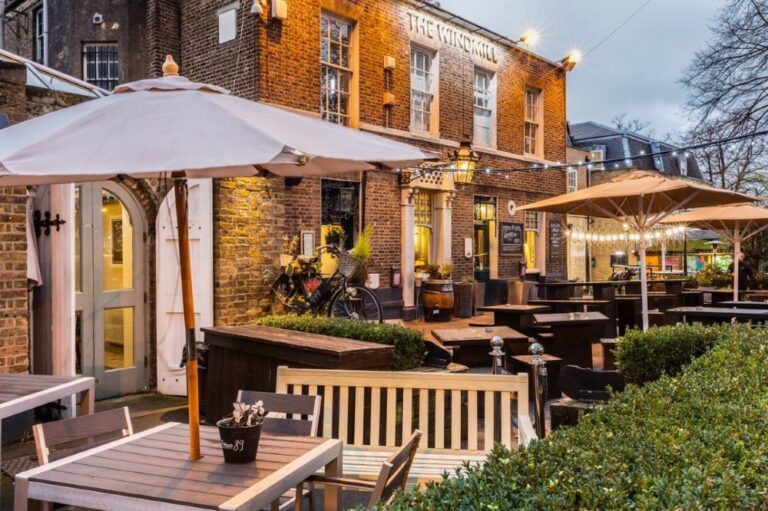 The Windmill is a place you'll come to for the revered roast dinners, many of which claim to serve multiple people. You can decide whether or not to see that as a challenge. You'll come back to The Windmill for Max the Bernese pub dog. Steaks are sourced from Ginger Pig butchers on Abbeville Road and the brunch menu is pretty spectacular, too. And, if you step outside, you'll be treated with not only a large and well-stocked pub garden, but also The Burger Shack. It's one of the few pubs in Clapham where you might spend more on food than drinks.
Details: Clapham Common South Side, London SW4 9DE | Book here
–
The Clapham North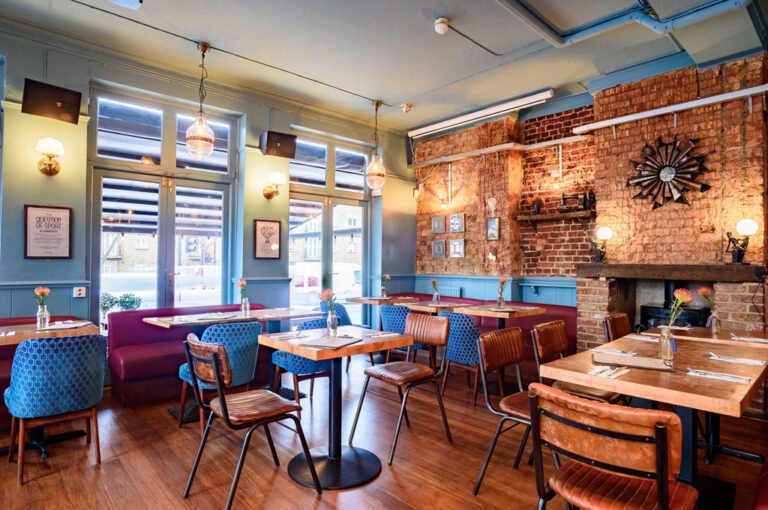 The Clapham North does a little of everything and it does it all very well. Brunch, of the civilised or bottomless type, Sunday roasts, complete with veggie and vegan options, and a pub quiz that's arguably the most famous in the area. Warning: it can get loud in here, but the Yorkshire puddings come with such sustenance (and sheer size) that you'll power through, even if you were only here 12 hours ago.  A large selection of low and no alcohol beers makes The Clapham North just as great for those not drinking. It's also, unsurprisingly, only a stone's throw from Clapham North station, making it a little easier to convince any friends travelling from outside the neighbourhood.
Details: 409 Clapham Rd, London SW9 9BT | Book here
–
The Northcote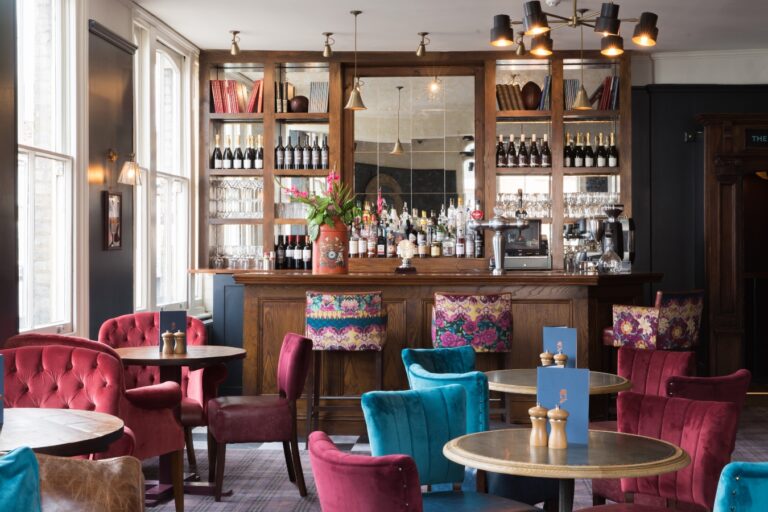 It isn't just people that call The Northcote their local, dogs do too (well, they would if they could speak), considering how welcoming the pub is to both parties. It's got all the necessities, from a wide selection of beers on tap to live sport on the multiple TVs, Sunday roasts served with a giant Yorkshire pudding and gravy, and slightly more refined than your usual menu of British pub grub that goes down very well indeed (you'll find things like scotch eggs with date ketchup, black pudding sausage rolls and a braised beef shin & mushroom pie). For when the ground floor gets a little too 'match day' for your liking, head upstairs to the less sports-orientated common room area that's kitted out with sofas and arm chairs.
Details: 2 Northcote Rd, London SW11 1NT | Book here
–
The Falcon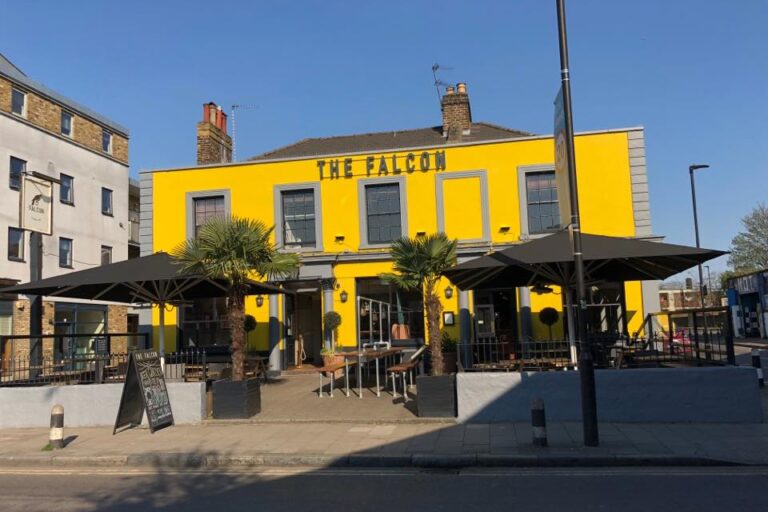 The Falcon's the sort of place where you'll find yourself doing rounds of familiar "hellos" throughout the huge beer garden. A failsafe spot for the summer months when no one in the group was organised enough to book a table, The Falcon is a Clapham North saviour with an endless number of tables. The limited edition beers and large nachos might just be the best (unofficial) pairing on the menu.
Details: 33 Bedford Rd, London SW4 7SQ | Book here
–
The Four Thieves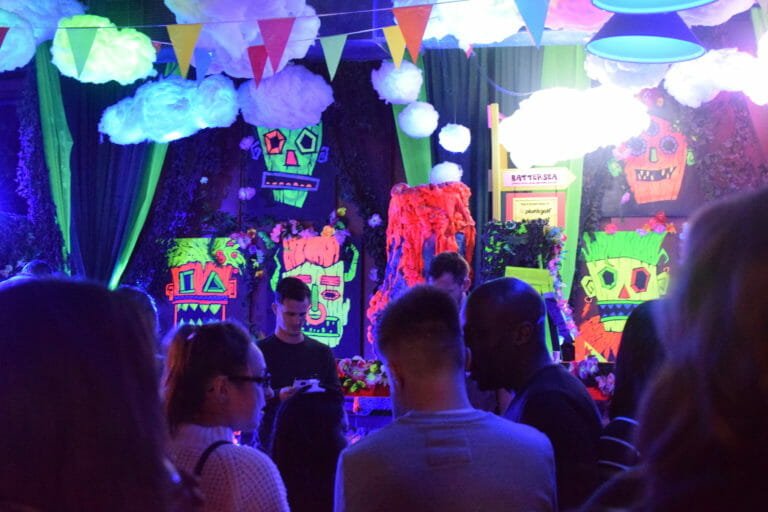 The Four Thieves covers all of your Clapham pub basics like craft beer brewed on-site and 250 variations of G&T while throwing its arms out to cater for literally all other tastes at the same time. A huge retro games arcade, swing dance nights, a live music schedule and VR booths? Check – and more. It's less of a traditional pub and more a palace of entertainment. We could go on about the Victorian style Music Hall, the famous Sunday roast, the pints (yep) of sausage rolls or the pizzeria, but we'd be here all day. Better just to wander down with zero expectations and expect literally anything and everything – in the best way possible. It's the opposite of going for a quick pint.
Details: 51 Lavender Gardens, London SW11 1DJ | Book now
–
Hope & Anchor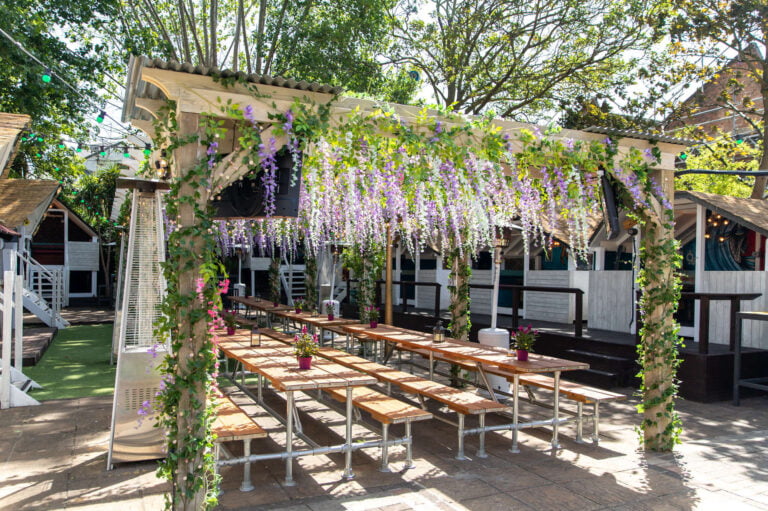 You know you're in London when the pub has its own private Tiki huts. Set on the Clapham – Brixton border, Hope & Anchor is a blur of fairy lights, open mic nights and general party vibes. It's also probably the only place where you'll find a vibrantly coloured disused vehicle alongside a romantic, floral-framed pergola and 20+ TV screens all within a few steps. You could drink beer here (most of which comes from smaller local breweries) but you'll have more fun taking a stab at the varied wine and cocktail menus. Visit on a Friday or Saturday night when you're trying to convince your friends to go out, while fooling them into thinking you're just going for a quick pint.
Details: 123 Acre Ln, Brixton Hill, London SW2 5UA | Book here
–
Coach & Horses
Pints, pizza and a solid outdoor space. Do these three things well and you've got a successful Clapham pub on your hands. This is the case at Coach & Horses where the pizzas, thin and crispy, come from Flatboys (in flavours like gorgonzola and ricotta on a white base, and fennel sausage with nduja and mozzarella) and the pints, beyond the basics, feature crafts like Brew by Numbers' chocolate, orange and cinnamon porter. Other amenities include football on the screens, monthly bingo, quiz nights every Sunday and a comfortable walking distance from Clapham Common.
Details: 173 Clapham Park Rd, London SW4 7EX | Book here
–
The Saxon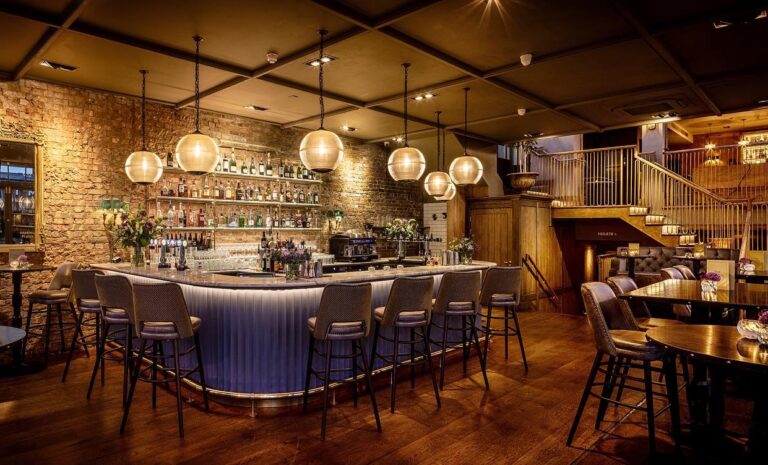 Located a hop and a skip (or a regular 2 minute walk…) from Clapham High Street and North Stations, The Saxon's close proximity to public transport makes it a great starting point for a night out or those times when you *accidentally* get sidetracked on your way home. It's got four floors, including a rooftop terrace, and does failproof pub food such as steak sarnies and burgers alongside nibbles like croquettes (in pumpkin and sage and jamon serrano and chorizo) and halloumi fries. Drinks cover all the usual pints, wines and cocktails, which you'll be enjoying in extra-large volumes once the resident DJs arrive on Friday nights…
Details: 50 Clapham High St, London SW4 7UL | Book here

The Bobbin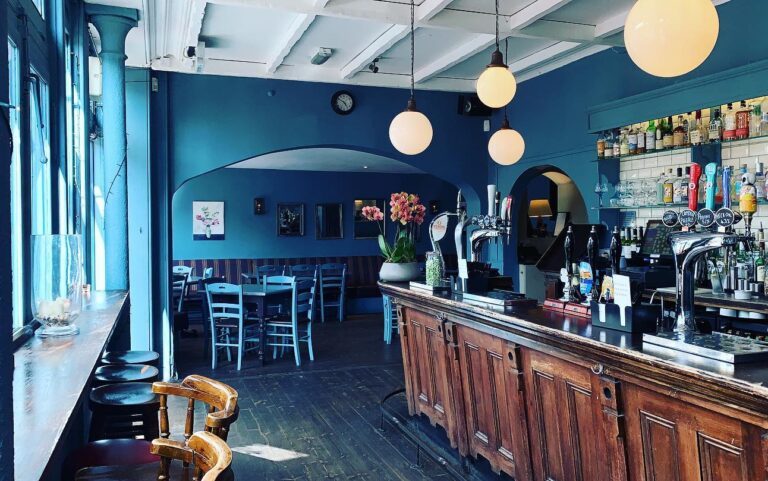 The Bobbin is definitely not bobbins (Northern slang for rubbish), instead it's got everything you need in a pub; ales, wine from all over, darts, a cosy wooden interior painted in steel blue, a Sunday roast for the ages and a concealed garden area out the back for summertime boozing. It's also got the stuff you didn't know you needed in a pub, like a seasonal Mediterranean menu with wild mushroom risotto doused in truffle oil and Turkish meatballs sided by yoghurt and flatbread…

Details: 1-3 Lillieshall Rd, London SW4 0LN | Book here
–
As you can see, Clapham and pubs go hand in hand – and you can avoid the sticky floors and shots if you want to enjoy a night out in the neighbourhood (though after pint eight or so, Infernos does become inevitable…). However if you're hungry and looking for a place where food is the priority (like in a proper restaurant), Clapham is good for that too – find the proof in our guide to the best restaurants in Clapham.

---
Love a good pub? Take a look at our top picks of pubs with open fires