Steak is an institution.
So writing about the best steak restaurants in London is like Santa writing a list of who's been naughty and who's been nice – there's a lot of work to do, and some grey areas. So, we've been methodical in our approach, focusing on the meat.
As all good steak should.
STEAK RESTAURANTS (£-£££)
Flat Iron | Across London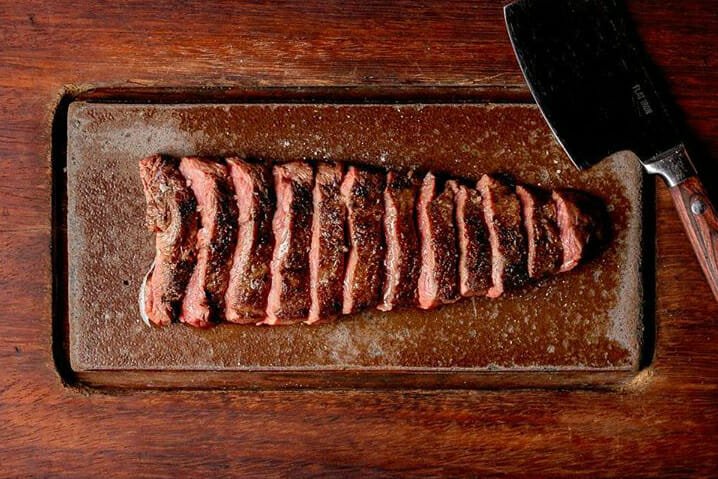 Good steak for the masses for a tenner*. That was the philosophy of Charlie Carroll, creator of Flat Iron. Now all across London, the eateries are famous for their commitment to one steak – the flat iron – which gets its name from its shape, that of a Victorian domestic iron. The cut actually comes from the feather blade, buried in the shoulder of the cow. It's wet aged (in a vacuum pack) to retain moisture, cooked in a sous vide (a water bath) and then scorched to order. 
*It's now £12 but let's face it, that's still dirt cheap.
Details: Address varies: | Book here
Blacklock | Soho, City, Shoreditch & Covent Garden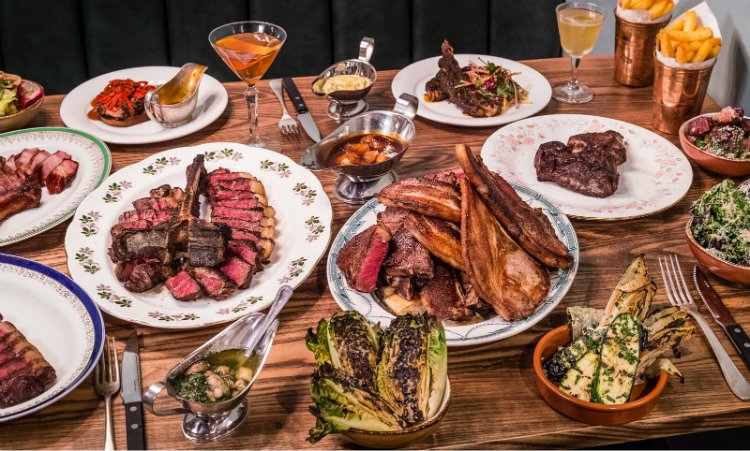 Blacklock have Matt Chatfield (of Cornwall Project fame) to thank for their success, as he was the one who introduced them to their original supplier (the very same they still use now, exclusively). Warrens in Cornwall are a 3rd generation farm and butchery that have been rearing native and rare breed animals since 1880. The result? Prime rib, porterhouse and bone-in sirloin per 100g, as well as picanha (Portuguese for rump cap, and famous in Brazil) and sixth ribeye on the menu, scorched with an actual Victorian flat iron on a home-made grill, by an ex-Hawksmoor chef. 
Details: Soho – 24 Great Windmill St, W1D 7LG | City – 13 Philpot Ln, EC3M 8AA | Shoreditch – 28-30 Rivington St, EC2A 3DZ | Covent Garden – 16a Bedford St, London WC2E 9HE | Book here
Hawksmoor | Spitalfields, Covent Garden, Guildhall, Piccadilly, Knightsbridge, Borough & Canary Wharf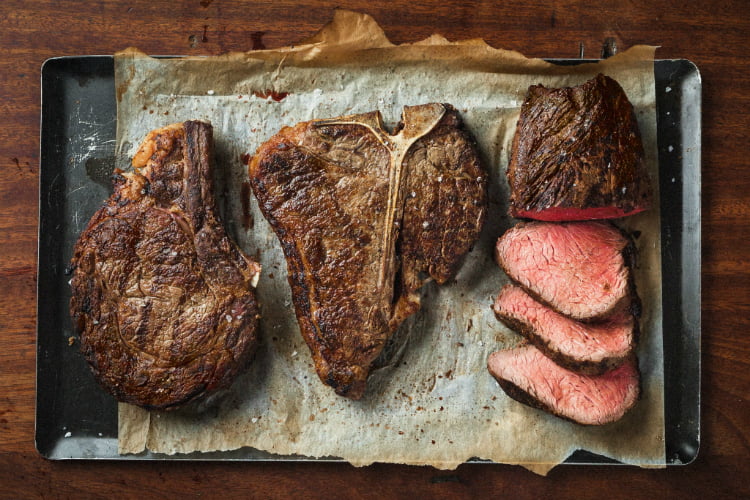 The Hawksmoor founders travelled around the world in search of their version of the best steak, from Kobe in Japan to Pampas in Argentina; passing through Italy, Australia and Texas along the way. They decided, after this tour, that their ideal steak came from breeds native to the UK. 35-day aged grass fed Aberdeen Angus, Hereford, Shorthorn and Guernsey cows, to be precise. They have a daily changing board of steaks per 100g (prime rib, chateaubriand etc) plus a menu of stalwarts, and they're all cooked on an open flame grill and plated up alongside the likes of beef dripping chips and bone marrow.
Details: Address varies | Book here
––
Hill and Szrok | Broadway Market
Butchers by day, steak restaurant by night. Hill and Szrok on Broadway Market are committed to the ethical use of the animal, minimising waste. This is why they buy whole carcasses directly from small herd farms. Their suppliers are so small, in fact, that their meat is only usually used for private consumption or for grazing on farm land – so the only other place you can get this meat is directly from the farm. The menu here changes daily depending on what's in stock, but there's always a handful of excellent steaks. 
Details: 60 Broadway Market, E8 4QJ | Book here
–
Goodman | Mayfair, City, Canary Wharf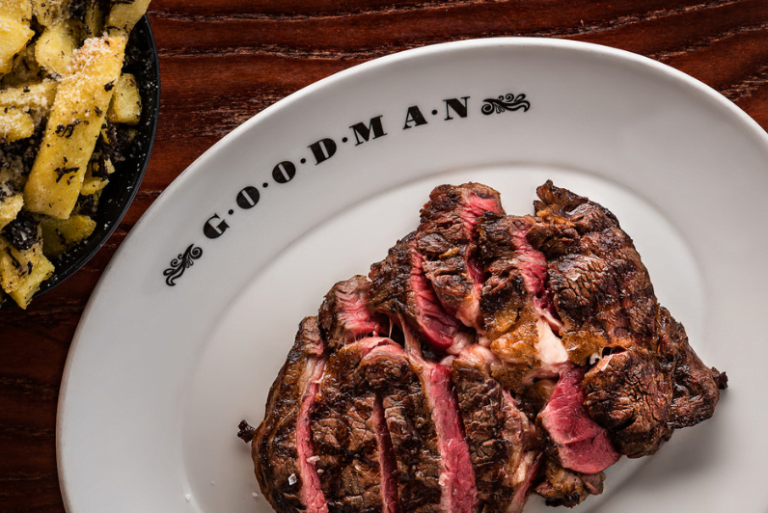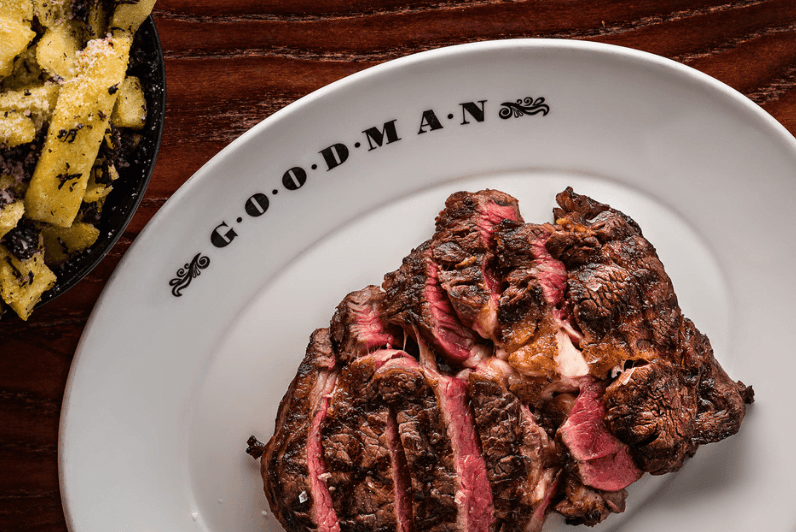 One of the titan-sized outfits on the list. Goodman source their meat from breeds native to the UK; American USDA grade cuts (certified by the United States Department of Agriculture as the highest quality); and Spanish Basque region cows. That meat's all then aged in-house and scorched in a charcoal oven at 375-400 degrees. They have a daily specials board dubbed "The Cut" that's priced per 100g, as well as a set list of steaks on their house menu.
Details: Address varies | Book here
–
Smith and Wollensky | Covent Garden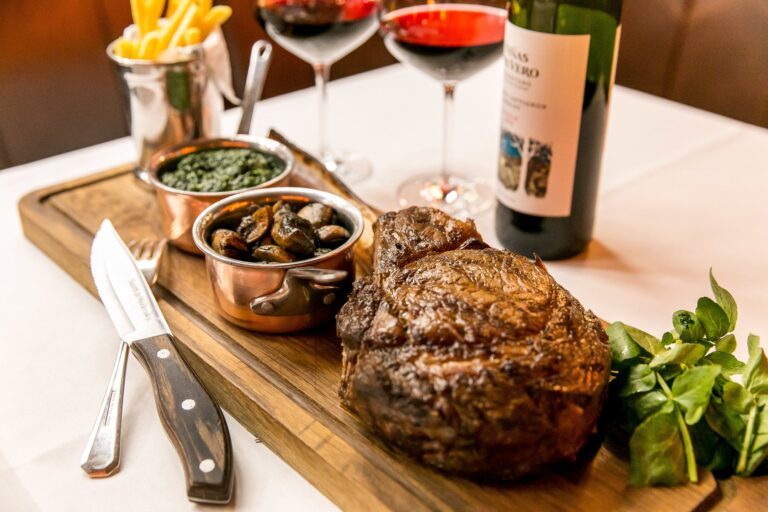 Smith and Wollensky got its name from two randomly selected surnames in the phone book. Luckily, they're a little more picky about their meat. Originating in New York in 1977, they're an American-style steakhouse. While they do have some meat from English and Irish cows, their main event is USDA prime cuts – falling in the top 2% of American steak, where the marbling (veins of fat running through the meat) is a minimum of 8-11%.
Details: The Adelphi, 1-11 John Adam St, WC2N 6HT | Book here
–
Relais de Venise | Marylebone, Soho & City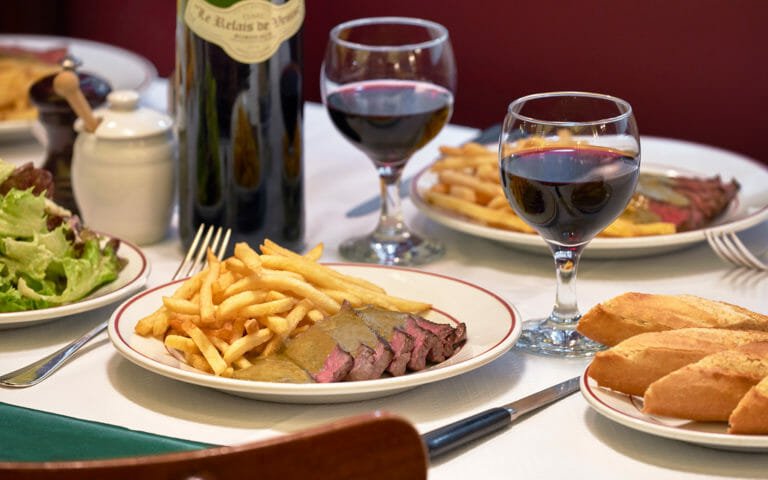 Originally named L'Entrecôte after the only cut that they serve, Relais de Venise is as famous a steakhouse as you're going to get. Originating in Paris in 1959, this unfussy outfit serves one thing – steak frites. No menu. No fuss. You go in, tell your waitress (in their famous black dress and white apron) how you want you steak cooked, she scribbles it on your paper table cloth and that's you done. A vinegary lettuce and walnut salad is slammed down, followed by your steak frites, covered in their insanely good oh-my-god-what-is-in-that-dedicate-your-life-to-finding-out secret sauce, and that's it. They hold part of your steak back so that you get two portions, and it's £24. Fin. 
Details: Marylebone – 120 Marylebone Ln, W1U 2GQ | Soho – 50 Dean St, W1D 5BQ | City – 5 Throgmorton St, EC2N 2AD | Book here
–
Macellaio RC | Marylebone, Liverpool Street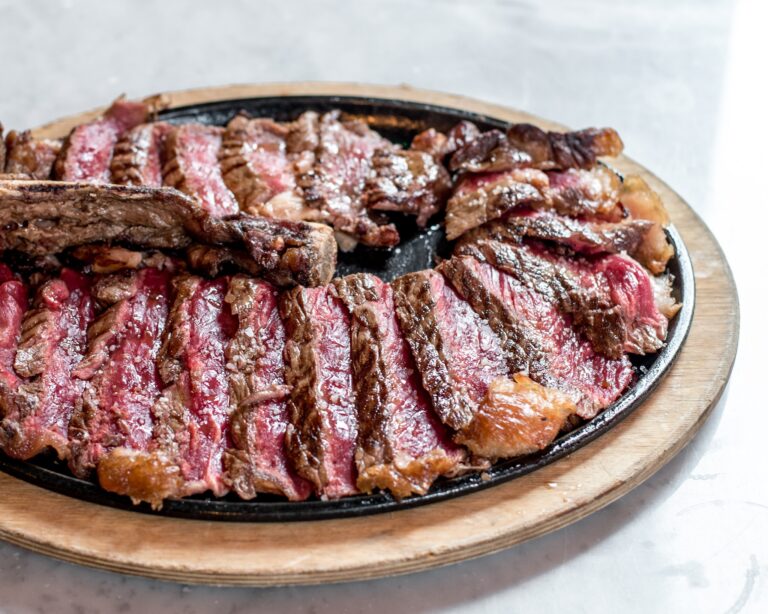 Macellaio – butcher in English – is a group of Italian restaurants that originated in Genoa. They deal exclusively in the rare Fassona breed from the Piedmont region of north western Italy. This cow is renowned for its natural muscular hypertrophy (basically double-sized muscles) that yields a lean, tender meat low in saturated fats and – praise be, it's actually a healthy steak. As for Macellaio? Fiorentina (T-bone), Costata (prime rib) and fillet per 100g as well as a rump are all butchered in front of you. They also do several raw forms of the beast due to the soft muscle – carpaccio, tartare – you get the picture, it's delicious.

Details: Address varies | Book here
RESTAURANTS THAT DO GREAT STEAK
Dinner by Heston | Knightsbridge
Let's face it, a two Michelin starred restaurant inspired by the history of British gastronomy and owned by one of the world most renowned chefs is going to do a great steak. Here they serve Hereford beef (rib-eye, fillet or bone-in rib for two to share) with triple cooked chips and mushroom ketchup. 
Details: 66 Knightsbridge, SW1X 7LA | Book here
–
Quality Chop House | Clerkenwell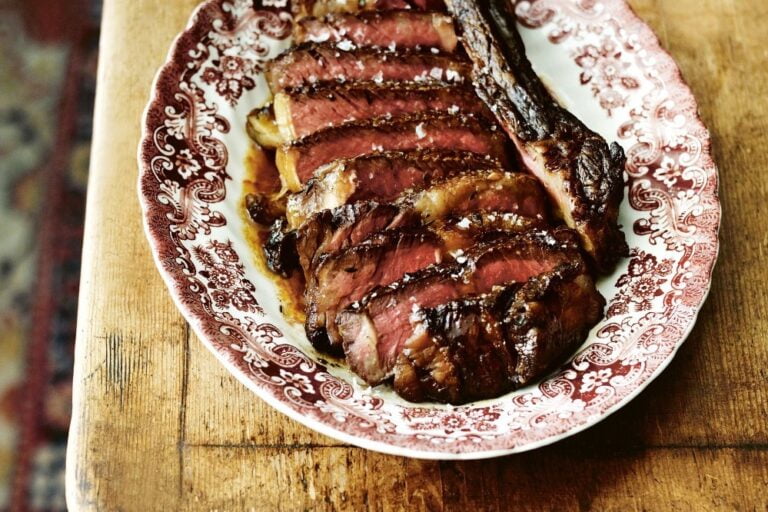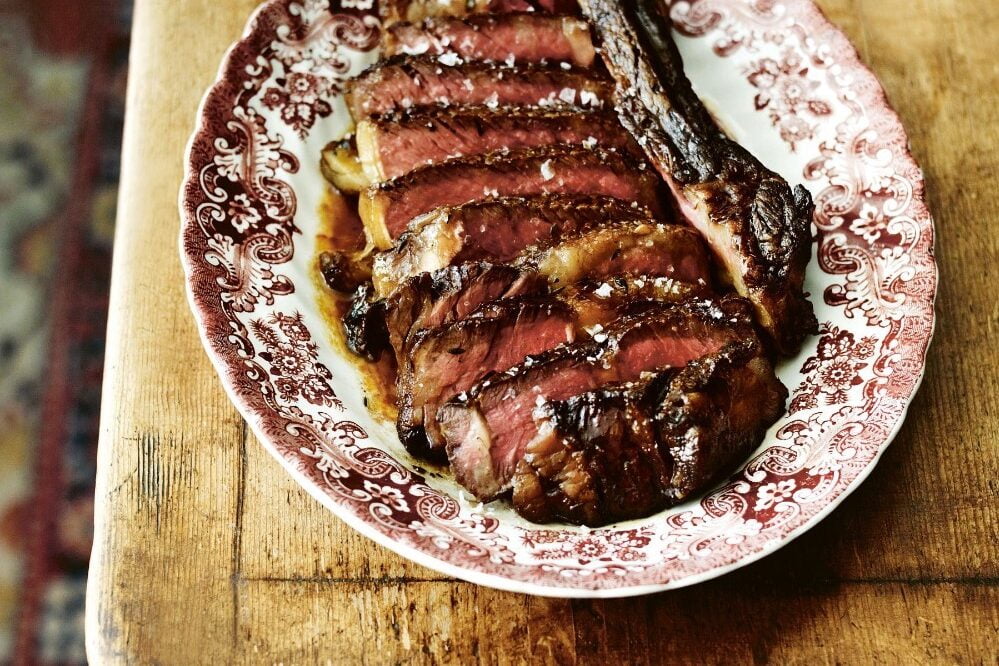 This old-school stalwart has been serving up best-of-British produce since 1869. So with 150 years of quality chop flogging under their belt, their steaks have gotten pretty good. Their menu changes often, but you can always find a handful of native, rare breed steaks on there (800g shorthorn bone-in sirloin kind of thing). 
Details: 88-94 Farringdon Rd, EC1R 3EA | Book here
–
Fallow | St. James's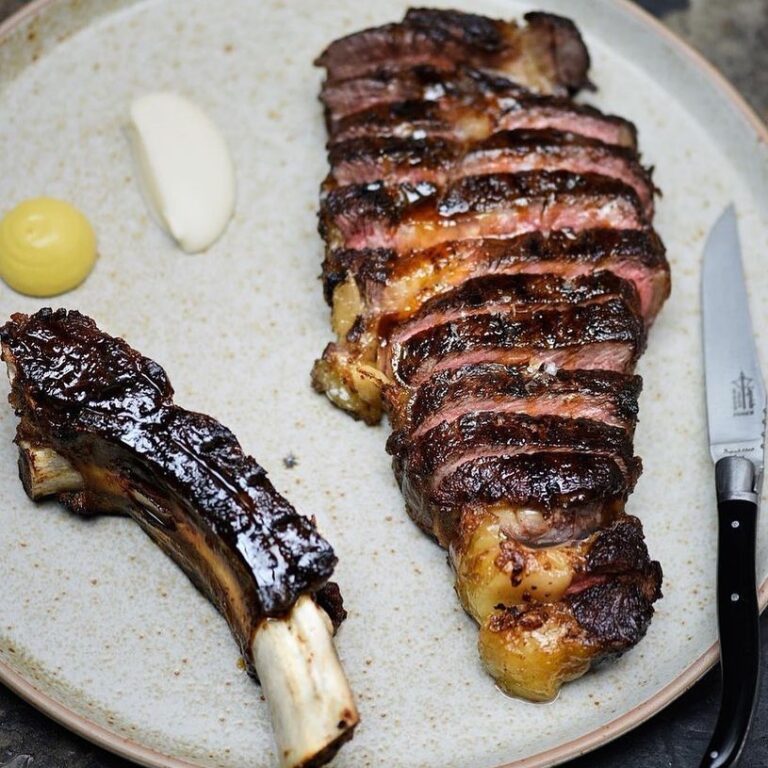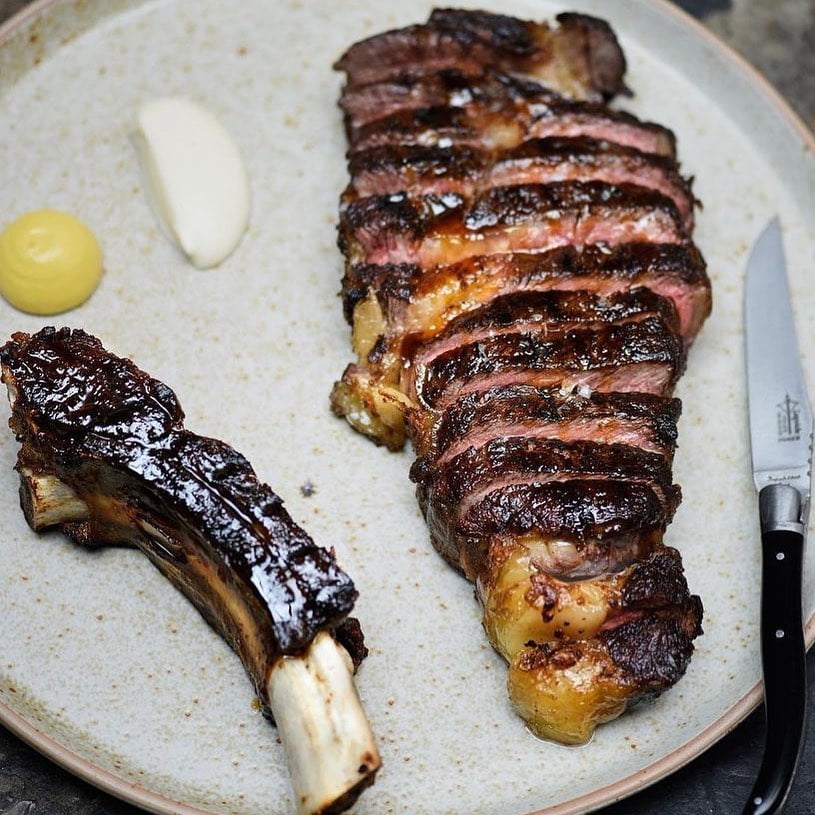 What does Fallow do differently to other steak restaurant in London? Or, indeed, almost all other restaurants? Sustainability. The ethos is baked into almost every dish, including their steaks, which all come from ex-dairy cows. This gives them an extremely rich flavour profile, which is almost an acquired tase in itself – and it's easily one of the meatiest steaks you'll ever eat. Goes well in their burger, too.
Details: 2 St. James's Market, SW1Y 4RP | Book here
–
The Marksman | Hackney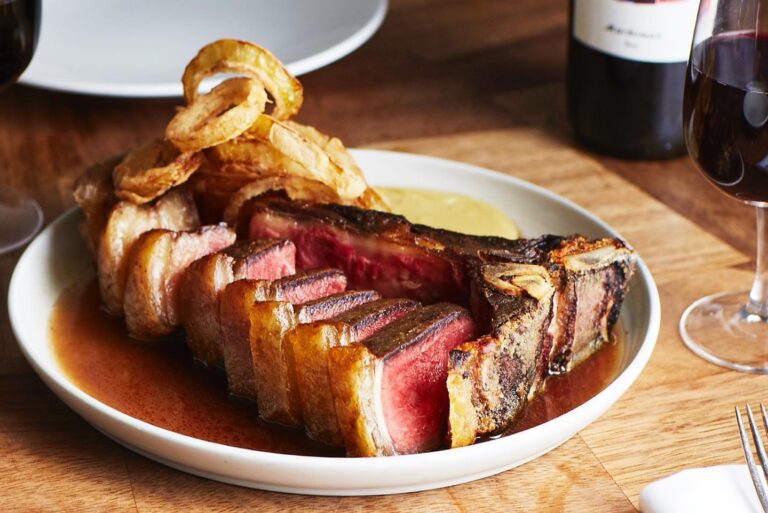 Harriet Clare Photos
The Marksman pub on Hackney Road was the first pub in London to be crowned Michelin Pub of the Year. Inspired by the culinary history of London, you can normally find a rare breed sharer steak for two on their regularly changing menu. Our advice? Grab it before they sell out.
Details: 254 Hackney Road, E2 7SJ | Book here
–
ACME Fire Cult | Dalston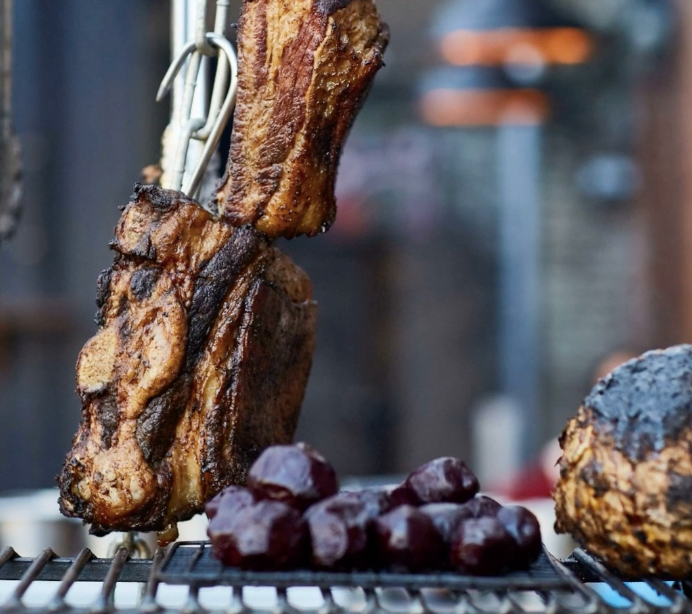 The only reason that ACME Fire Cult isn't the best steak restaurant in London is because it's not a steak restaurant. But among the many things it manages to cook over its open fire with its inventive mix of ferments, sauces and dressings… is a steak. Specifically, a Dexter baguette with pickles and something called ancho koji, which is the same secret-weapon stuff that is used to make miso, soy sauce, sake, and other savoury-infused Japanese ingredients. And it's delicious.
Details: Abbot Street Car Park, E8 3DP | Book here
–
Sagardí | Shoreditch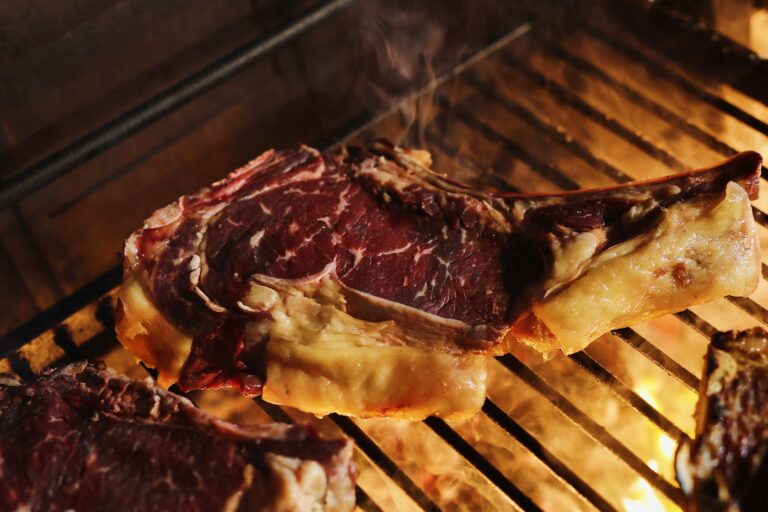 Sagardí serves food inspired by the Basque country in Spain. Know what the Basque country is famous for? Correct. Txuleton – thick cut, bone-in rib steaks. At Sagardí, they cook them as per Basque tradition: slowly, over a wood-fired grill, using cows that are a minimum of 6 years old (which means tastier fat) and native to Galicia, served by the 100g.
Details: Cordy House, 95 Curtain Rd, EC2A 3BS | Book here
–

Coal Rooms | Peckham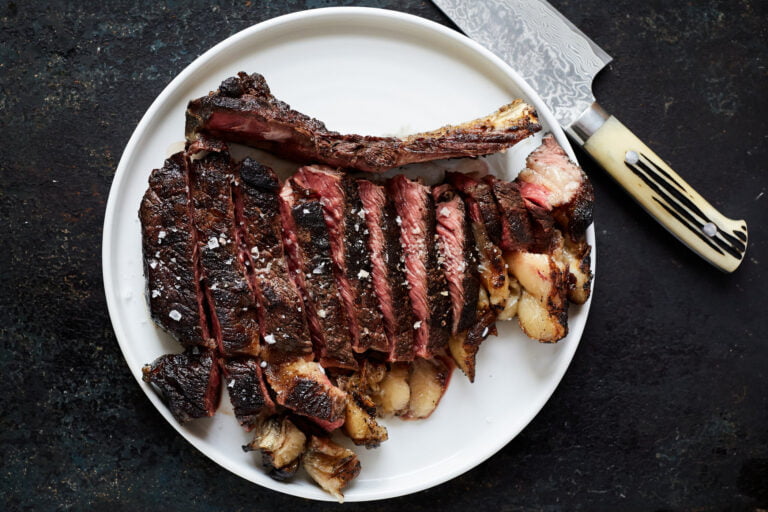 Having been the ex-head chef of Smokehouse, Sam Bryant – now head chef and part owner of Peckham's Coal Rooms – is probably one of those people you want cooking your steak. Here, he tosses them onto the robata grill he had designed specifically for the restaurant. The menu changes a lot, but think hefty Dexter sirloins and Hereford T-bones to share. 
Details: 11A Station Way, Peckham, SE15 4RX | Book here
Last Updated: July 2022 | Main image: Hawksmoor Guildhall
---
Like steaks? Then you may just like this connoisseur's guide to London Sunday Roasts, too