Restaurants Near The Southbank | A Cultural Feast
You're just out of a film at the BFI; or you're waiting on a show at the National Theatre; perhaps you've taken our advice and followed The Queen's Walk. Whichever it it is, you're hungry, and you want somewhere to eat. Somewhere good…
The Southbank gives you plenty of food for thought, but historically, it's not had the richest pickings when it comes to actual food. Between crowd-pleasing chains and eye-popping special occasion spots, it can be hard to find that Goldilocks restaurant: a great little place with good food that won't break the bank.
We've done the legwork for you, and here are the results: a hand-picked bouquet of great restaurants in Waterloo and Bankside that are all a stone's throw from the South Bank.
–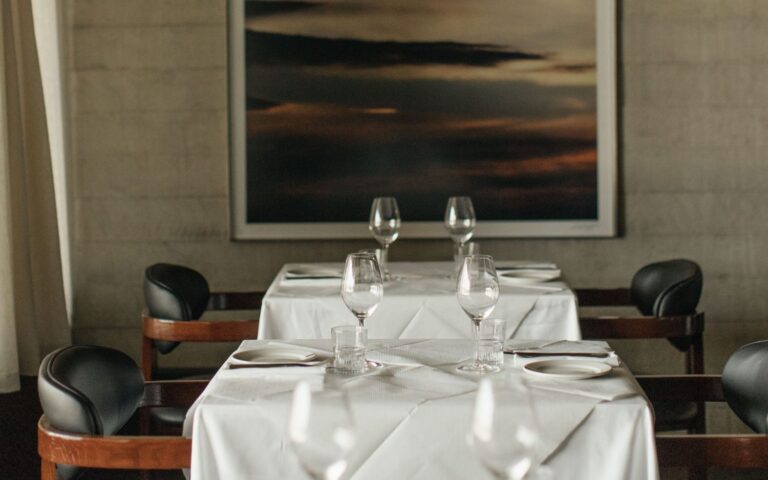 The lads behind The Marksman are now making their mark on the National Theatre. Their Hackney pub is known for serving one of the best Sunday roasts in London, which automatically made them legends out east. Now they're applying that nous to a new restaurant on the Southbank – set within the brutalist theatre itself, fitted with black leather banquettes and crisply clothed tables setting off the theatre's concrete walls. Here, they've stepped up into serious restaurant territory, plating beautifully-done modern British food such as grilled spring lamb with peas and mint, alongside old favourites brought over from the pub like the fabled brown butter & honey custard tart. In short: It's forever changed the game for a pre-show meal on the Southbank…
Details: National Theatre, Upper Ground, SE1 9PX | Book here
–
Sea Containers | £££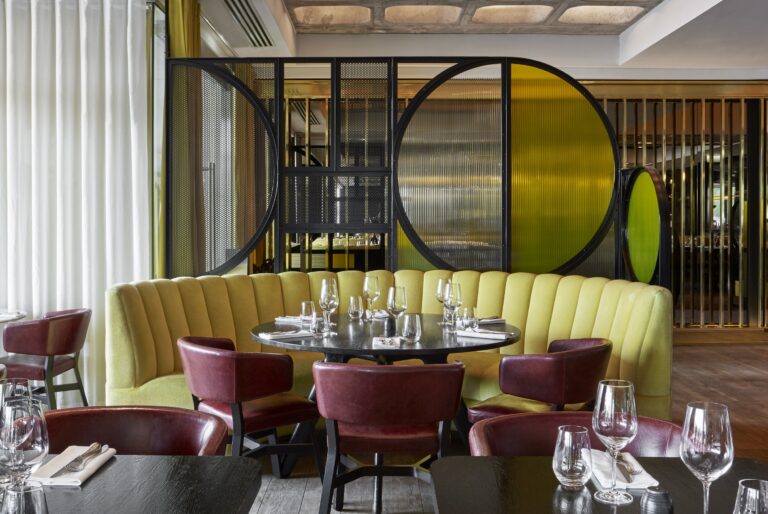 Housed on the bottom floor of what was once the ultra glitzy boutique hotel The Mondrian, and is now the ultra glitzy boutique hotel….Sea Containers, this restaurant on the South Bank itself was designed by Tom Dixon, and hints at a 1920s transatlantic cruise liner with its sleek copper walls; mustard and burgundy leather seating; and huge central silver bar, atop of which is a yellow submarine. It's one of the loveliest riverside restaurants in London, with a terrace on the South Bank itself and sprawling views across the Thames that can be enjoyed from inside, too.
The menu here offers a little of everything: Spanish, Italian, South American, plus a touch of the USA – which means you might start with seabass ceviche tacos, before tackling a plate of BBQ spare ribs and winding up with classic apple crumble with clotted cream ice cream. That bar's not just a pretty pedestal for the submarine, either – it's stocked with an international wine list, some interesting cocktails, and 18 different tequilas (why not). And that's before we've addressed the award-winning Lyaness bar across the hall…
Details: 20 Upper Ground, South Bank, London, SE1 9PD | Book here
–
The Anchor & Hope | £££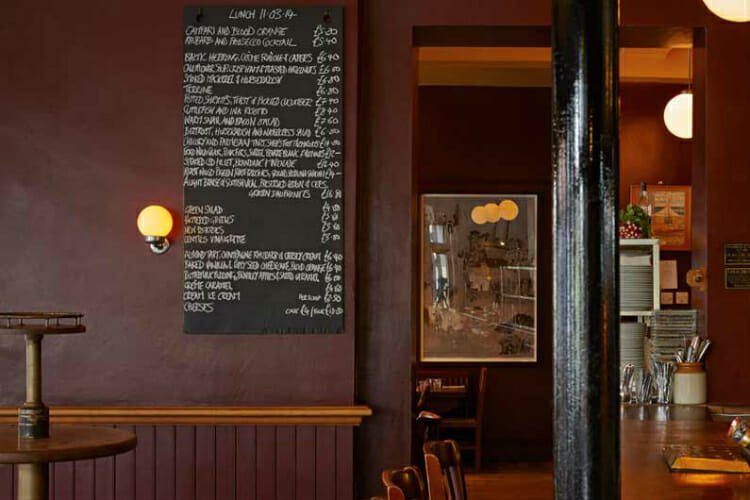 Claiming the same noble lineage as fellow sites The Camberwell Arms and Canton Arms, pioneering gastropub The Anchor & Hope has been bestowed with an equal measure of culinary genius. If you're wondering whether it's a pub first and restaurant second (or the other way around), then you're going to find the answer as easily as the 'chicken before the egg' conundrum.
While it's technically half-bar, half-dining room, you'll often find patrons eating from the handwritten chalkboard menu at every table, while the clink of pint and wine glasses fills both the rooms with convivial chatter. The dishes change regularly, ranging from smoked herring to Spanish-style pig's cheeks – and whether you manage to work your way through to the brandy list or not, the atmosphere alone is enough to leave you feeling high-spirited.
Unfortunately, The Anchor & Hope is also one of the most popular restaurants near the South Bank, so make sure you book ahead – and don't forget to try the guest ale on tap if you're waiting for a table.
Details: 36 The Cut, Lambeth, SE1 8LP | Book here
–
Flat Iron Waterloo | ££
It feels like fate that Flat Iron finally has a branch on The Cut. Their Waterloo restaurant has hints of an old butchers shop with its traditional green and white-tiled dining room, but the big draw is obviously the 'flat iron' steak, their famed feather blade cut that rules over the menu, served at the perfect shade of pink, and priced at a meagre at £13 (though you'll want to bolster your order with sides like the creamed spinach and homemade beef dripping chips). You'll be hard pressed to find better value steak in London…
Details: 41-45 The Cut, London SE1 8LF | Book here
–
Bread Street Kitchen Southwark | £££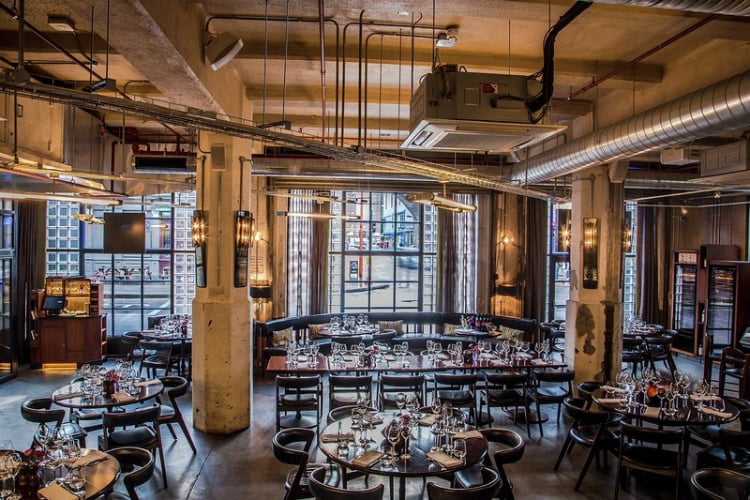 One of the many, many London restaurants run by Gordon Ramsay, Bread Street Kitchen Southwark is not, in fact, located on Bread Street. That's the address of the original in Bank, whose combination of breezy industrial interiors, crowd-pleasing classics like rare-breed steaks, burgers and fish & chips, and decent wine list has proved so successful, it's spawned a sibling. BSKS even offers a Beef Wellington experience for meat fans; a wine-paired tasting menu centred around a big ol' welly to share.
Details: 47-51 Great Suffolk Street, SE1 0BS | Book here
–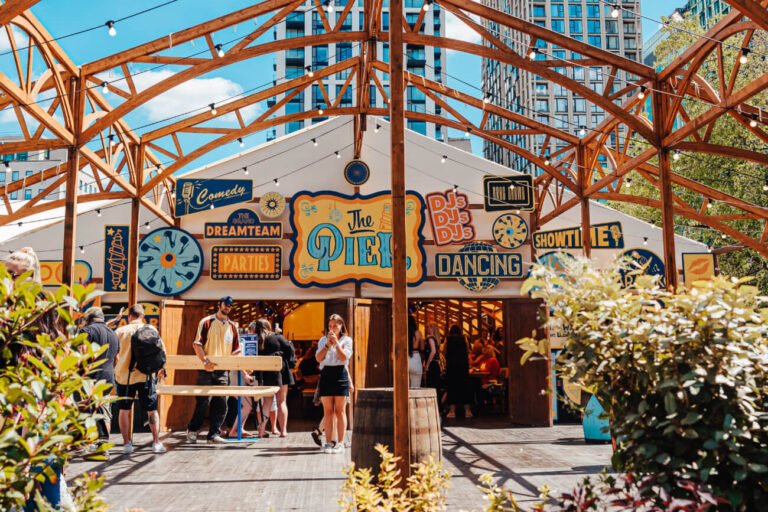 A colourful, 4,000sq ft adult al fresco playground which has precisely the right ratio of al fresco to sheltered seating for a typical British summer. Between The Bridges sits right on the Southbank itself and is ideal for a quick bite – street food stalls sling crowd-pleasers like burgers and pizzas, while bars dole out spritzes by the pint. And you might just find yourself staying longer than planned once the live music, drag performers and karaoke nights get going…
Details: Queen's Walk, South Bank, SE1
–
Southbank Centre Food Market | £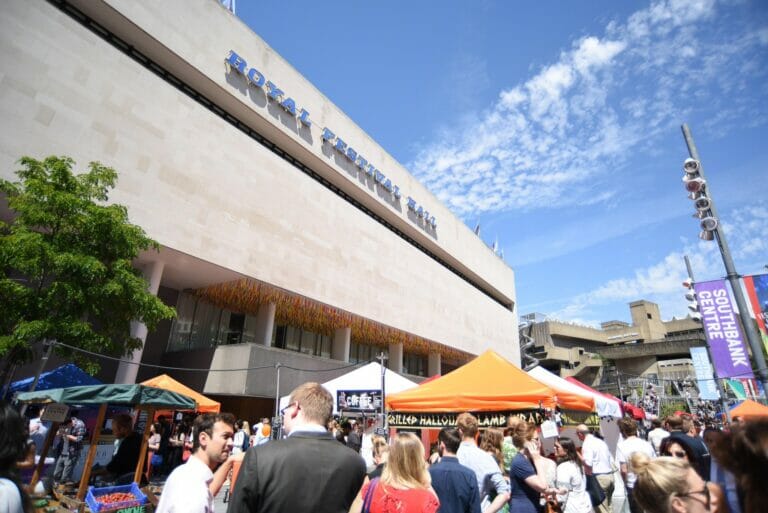 The whole point of spending an afternoon on the South Bank is to actually see the South Bank. So if you're not after a sit-down meal, the Southbank Centre Food Market will be right up your street. It pops up behind the iconic Royal Festival Hall from Friday-Sunday with about 20 different stalls hawking all kinds of delicious-smelling international specialities, plus craft pints and cocktails to go. Build your own feast, then take it for a walk along the riverside, or hole up in Jubilee Park under the gaze of  the London Eye.
Details: Behind the Southbank Centre, Belvedere Road, London SE1 8XX | Friday – Sunday
–
Seabird | £££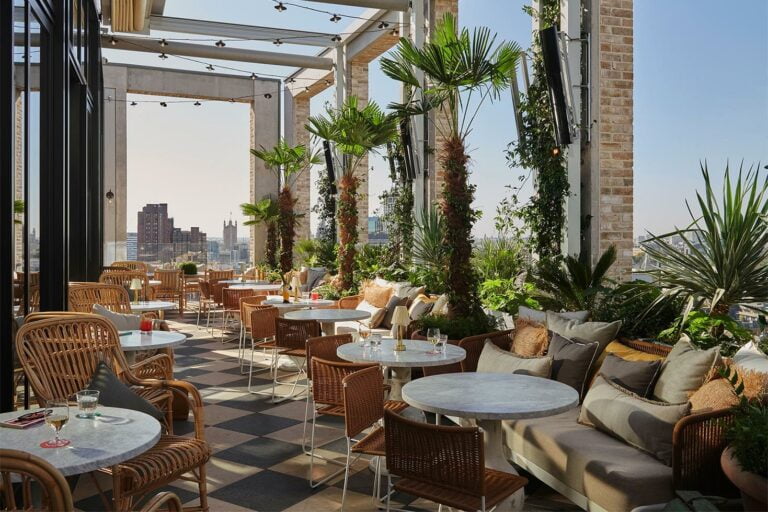 Poised at the very top of the Hoxton hotel by Blackfriars Bridge, Seabird is the restaurant you want to pull out the back pocket for a really special occasion. Why? Well, there's the elegant raw bar, with London's longest oyster list. Then there's the wonderfully decadent seafood menu (with the option to plump for a three-tier 'afternoon sea'). And there's this, the 14th floor terrace with views across the South Bank and beyond, just made for a frozen cocktail or two as the sun goes down.
Details: 40 Blackfriars Road, London, SE1 8PB | Book here
–
The Garden Cafe | £££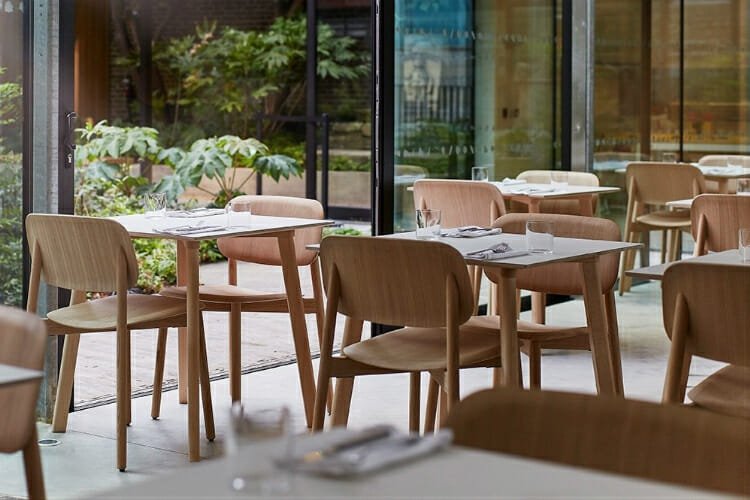 This one's a little walk away from Waterloo station and the Southbank, so resist the dessert menu if you've got a train or a play to catch. The Garden Café is more than worthy of inclusion here though: part of the newly refurbished Garden Museum (set in an ancient church), it's a bright space overlooking a secluded leafy courtyard, the centrepiece of which is the weathered sarcophagus of the great 17th century gardener John Tradescant.
It's a considerable step up from your usual museum café fare, with a grown-up feel and grown-up dishes to boot. The kitchen is headed up by Noble Rot's ex Head Chef Myles Donaldson, whose Modern European menu – of dishes like morel & wild garlic tagliatelle and Cornish octopus with olive tapenade – is served alongside a short list of natural and organically-steered wines.
Details: 5 Lambeth Palace Road, SE1 7LB | Book here
–
KERB | £
A quick bite before a show doesn't have to mean a Boots meal deal. The reigning monarchs of London's street food markets, KERB, run the show outside the National itself, and this summer they've erected a 70m long communal table to dine at. Pop-up bars will keep you hydrated in the blisteringly tepid summer sun, while food traders include Santa Bifana, Eat Lah and Big Kid Ice Cream, who are hawking chocolate orange negroni ice cream.
Details: Outside the National Theatre | Wed-Sun from 12th May – 23rd September
–
Toklas | £££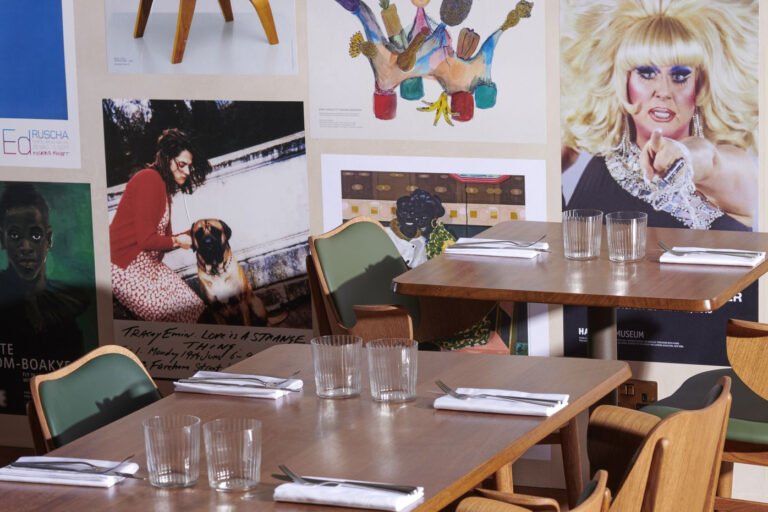 The founders of the Frieze art fair & magazine are behind this retro, super-artsy eatery housed in the brutalist shell of 180 Strand. While not technically on the South Bank – it's a short walk across Waterloo Bridge – once you get there you'll be rewarded with fantastic Mediterranean-inspired dishes from ex-Petersham Nurseries chef Yohei Furuhashi, and sweet pastries from their in-house bakery. What's more, they have a rather lovely terrace to enjoy it on, too.
Details: 1 Surrey Street, London WC2R 2ND | Book here
–
Bala Baya | £££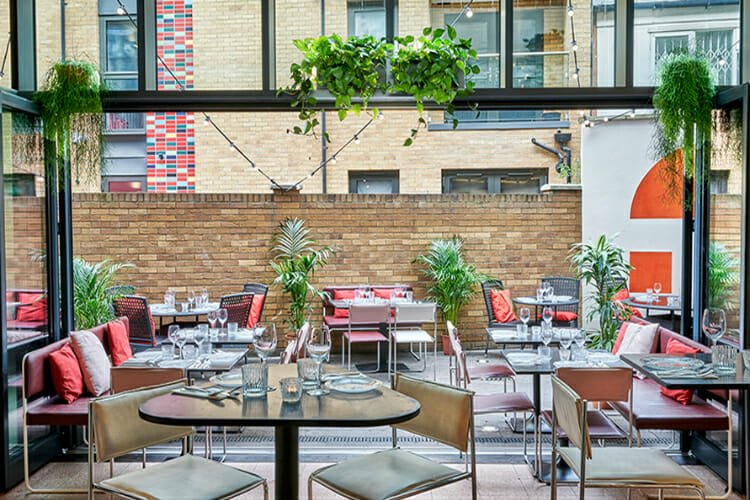 Well-placed for a bite before a show at the Young Vic, Southwark's Bala Baya is a love story between chef Eran Tibi and his hometown, Tel Aviv. Set against a backdrop inspired by Bauhaus architecture, the space has been brought to life by multi-award-winning designer, Afroditi Krassa, conjuring the feel of Tel Aviv in the heart of London. The philosophy behind all that they do is centred around the beauty of sharing, bringing Israel's hands-on, hands-in approach of family-style dining. Open all day, weekend brunches of aubergine shakshuka and brisket donuts become dinners of kebab dumplings and prawn baklava, which you can also enjoy as a decadent tasting menu to share…
Details: Arch 25, Old Union Yard Arches, 229 Union Street, SE1 0LR | Book here
–
Meson Don Felipe | ££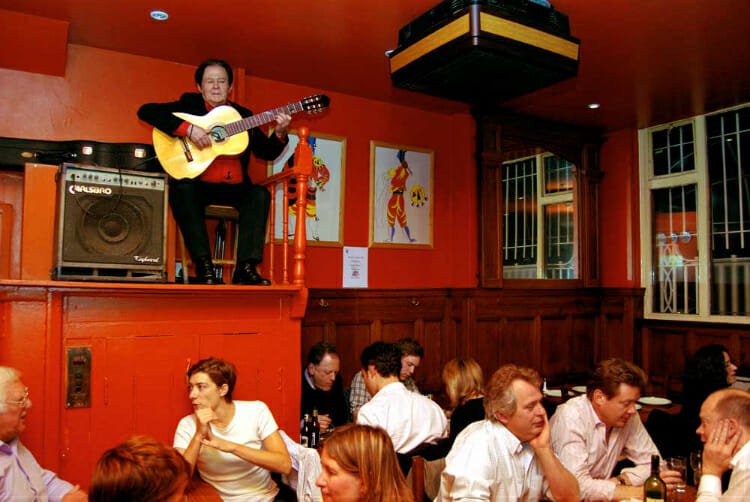 It's almost impossible to put your finger on what makes Meson Don Felipe so special. It could be the bright red walls and ceiling, or the convivial setting, with cosy tables surrounding a well-worn central bar. Or better still, it might even be the live flamenco music from a man perched on a ledge above a doorframe in the far left-hand corner, that makes this haven of chicken livers in sherry sauce, whitebait and broad beans with smoked ham and mint the ultimate, authentic no-frills affair.
Details: 53 The Cut, South Bank, SE1 8LF | Book here
–
---
As for where to head post-show… check out one of these great pubs near the Southbank