If you've come here expecting a list of our favourite sandwich buckets, then we can only apologise for the misleading advertising.
Instead, what follows – which isn't likely to interest you at all – is a run-down of our favourite sandwich hawkers in the city, from bagels stuffed with salt beef, to thick wedges of foccacia attempting to encompass entire meals within, all of which any self-professed sliced-bread fan should aim to tick off their list.
Sorry.
–
Max's Sandwich Shop | Crouch Hill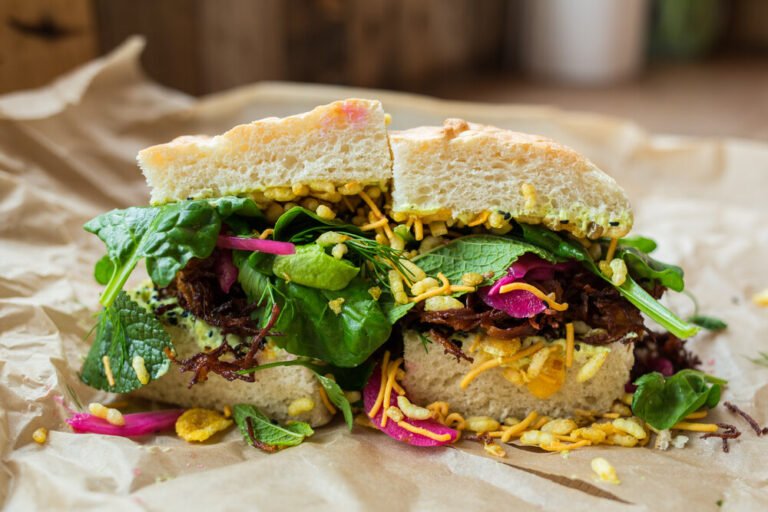 You're expecting this, so we're just putting it here, right at the top, so you can scroll right on past. But first, let's take a moment to be thankful for this North London landmark that's been elevating the humble sarnie since 2014. It's so iconic, Comme des Garçons have designed a limited edition MSS jacket. The café's list of influences includes Black Axe Mangal (now F.K.A.B.A.M), and ducks. Max's is not really a sandwich shop, as evidenced by its general lack of lunchtime opening hours. This is not where you come to nurse a hangover. It's where you come to make one, tucking into late-night editions of the literally award-winning Ham, Egg & Chips with inadvisable levels of noise and booze.
Details: 19 Crouch Hill, London, N4 4AP | Open Wed-Fri 6-11pm, Sat 11am-3.30pm & 5-11pm, Sun 11am-6pm
–
The Dusty Knuckle | Dalston & Harringay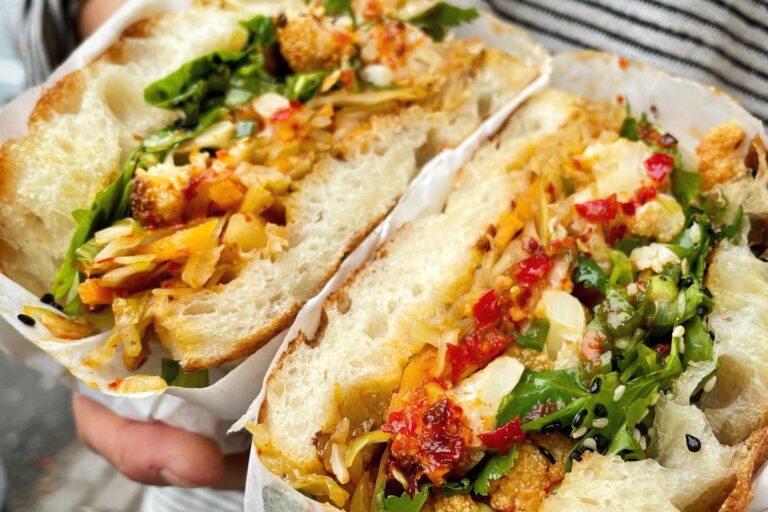 The Dusty Knuckle's springy, freshly baked focaccia is so good, they could honestly be putting sawdust in their sandwiches and people would still be lapping it up. But they don't; they fill them with things like roasted beetroot, dill & whipped feta or glazed cauliflower with kimchi and fried egg instead.
Details: Abbot Street Car Park, E8 3DP | 429 Green Lanes, N4 1AH | Lunch served Tues-Sun, 11.30am-3pm
–
Grove Lane Deli | Camberwell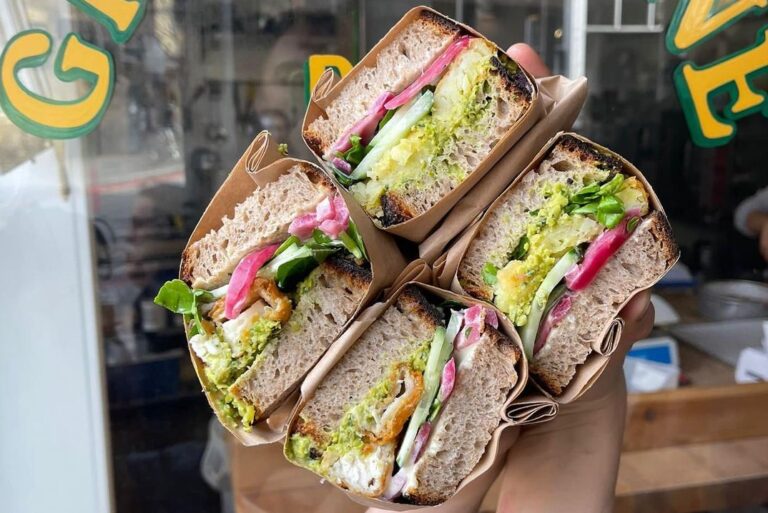 Grove Lane Deli frequently turns out the kinds of sandwiches you didn't know you needed, but which, upon hearing of them, you will immediately want to get in your face. Cases in point: the fish finger, hash brown & garlic mushy peas; the spicy egg mayo (or tofu scramble) and crisps; and the paprika-smashed butter beans with four herb slaw & sweet pickled mushrooms. It's also just a really lovely, local-feeling place to sit and work off the post-sarnie haze.
Details: 4a Grove Lane, Camberwell SE5 8SY | Open Tues-Sun
–
Crunch | Spitalfields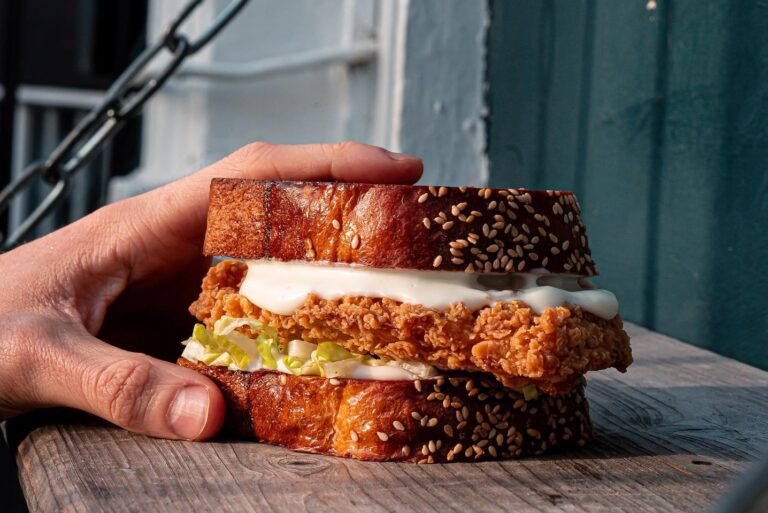 Anyone who sampled the Shoreditch pub pop-up last year knew Crunch would go far. Now they're in Spitalfields Market… which, while not far in the physical sense, shows their rapid ascension up London's sandwich ranks as they now have a permanent stall of their own. Their sandwiches? Two thick slices of toasted brioche hold together by fillings like a truffle patty melt, a southern-fried chicken cutlet with homemade lettuce and aioli, and slow-cooked Gressingham duck leg with banana shallots, crispy onions and smoked apple sauce.
Details: Old Spitalfields Market, E1 6EW | Open daily
–
Rogue Sarnies | Cambridge Heath
Sandwiches are everyone's favourite thing to make at home, because they require absolutely zero cooking. But if you've got a fleet of professional chefs preparing yours, then of course you're not going to be averse to a little meddling with fire. Rogues Sarnies – which comes to you from the team behind the excellent Rogues restaurant next door – see the likes of egg & coal-roasted potato salad; wood-fired chicken with Portuguese mustard; and piquant tabasco & mirin prawn cocktail folded into pockets of freshly-baked rolls, which are then flame-kissed all over in a wood-fired oven.
Details: 460 Hackney Road, London, E2 9EG | Pre-order here for collection Thurs-Sun
–
Pophams Bakery | Islington, Hackney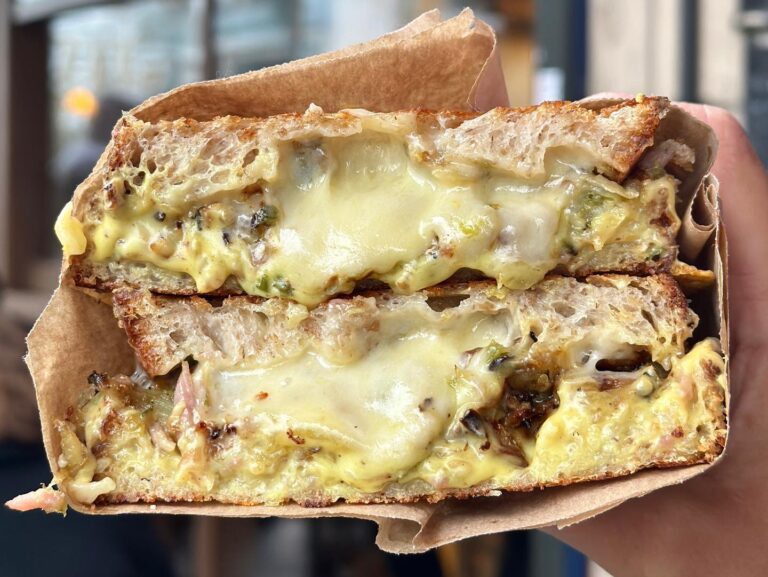 Being one of London's best bakeries as well as fresh pasta joints, carbs are literally Popham's bread and butter. Their sandwiches and photos like the above are the types to distract you from work (apologies) and render you completely useless (apologies…) until you do get your hands on a toastie like the one crammed with ham, Savoy cabbage, rösti, mustard bechamel and mature cheddar – an ungodly oozing of mature cheddar. Take home and 'save for later' options include cold sandwiches such a Salade Lyonnaise number that layers a fried egg, salad, Dijon mustard and their in-house cured bacon within homemade sourdough. 
Details: 197 Richmond Road, E8 3NJ | Open Tues-Fri 7.30am-4pm (Sat from 8am, Sun from 8.30am)
–
Café Kitsune | Belgravia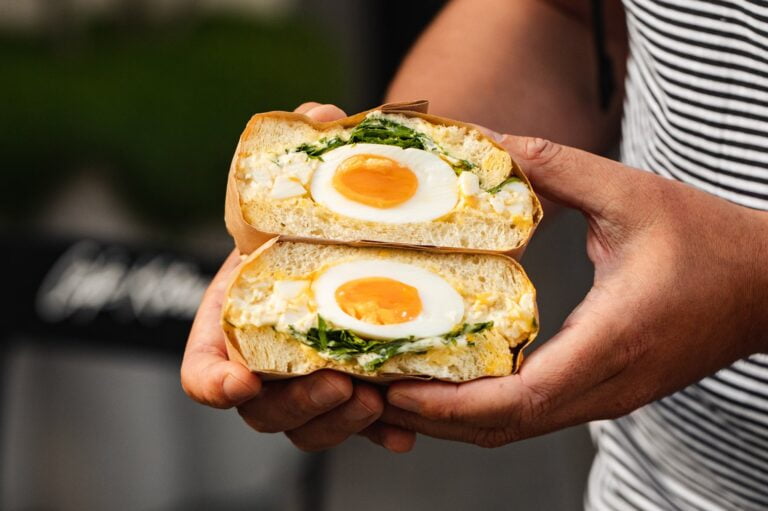 A few years back, the mighty Japanese katsu sando came blazing through London's food scene, leaving all other sandwiches flimsy and quivering in its wake. Londoners have since recovered themselves and other fillings are now available, but… sometimes it's really all that will hit the spot. In the absence of TĀTĀ eatery and its offshoot TÓU, Café Kitsune (part of the mighty Pantechnicon in Belgravia) has stepped up to the plate. Their menu features a zingy katsu number as well as tempura shrimp and soft, satisfyingly stodgy egg mayo sandos – and there's a line-up of pleasing patisserie and speciality coffees to go with them.
Details: 19 Motcomb Street, London, SW1X 8LB | Open daily 8am-7pm (9am weekends)
–
The Untitled Sandwich Shop | London Bridge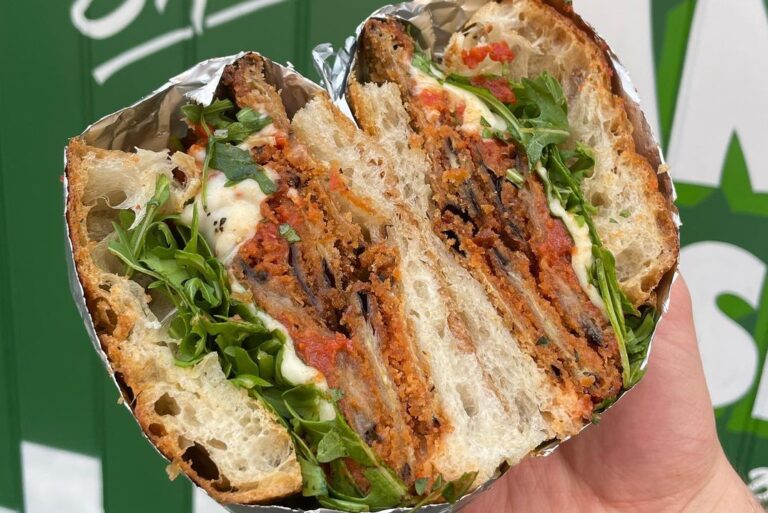 The lads of the Bad Boy Pizza Society recently went on a trip to New York, and realised that decent slices weren't the only thing they wanted to bring back here. They're now slinging enormous sandwiches from a shack in Vinegar Yard, and holy smokes are they good. The menu changes all the time, but meatball subs, chicken caesars and aubergine parmigiana have all been known to make an appearance…
Details: Vinegar Yard, 72-82 St Thomas St, London SE1 3QX | Open Wed-Sat 12-9pm, Sun 12-7pm
–
Sons + Daughters | King's Cross & Borough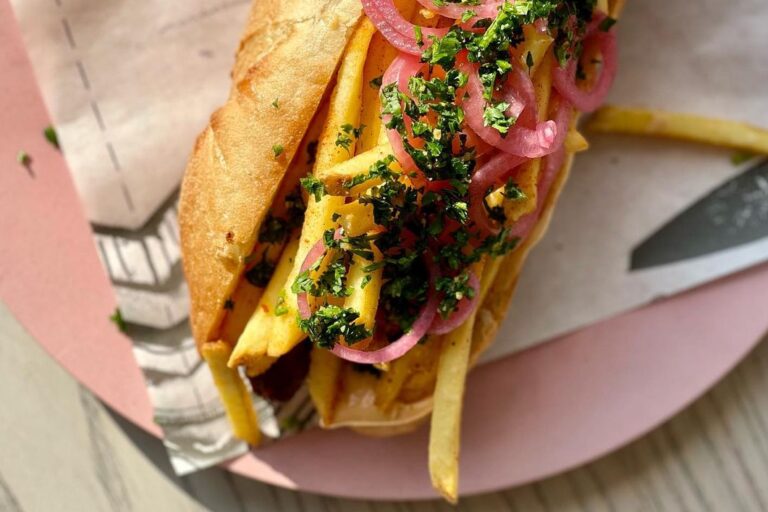 We don't just dream about this sandwich. We have nightmares about dropping it, or a seagull flying off with it. S-and-D 'wiches are a cut above, which is unsurprising given that the team behind it all also run esteemed Dalston restaurant Pidgin. So they don't just do egg mayo, they do egg mayo with Burford Brown eggs, miso and truffled crisps. Roast chicken comes with soy-cured parmesan and pickled cucumber. The sausage bap comes with spicy Merguez sausage, French fries and pink pickled onions. Somehow, they also find the time to cask-age negronis and whip up soft serve ice creams, which also come in milkshake form.
Details: Unit 119a, Coal Drops Yard, London, NIC 4DO | 2-3 Stoney Street, Borough Market, London SE1 9AA | Open daily 10am-5pm
–
Paul Rothe & Son | Marylebone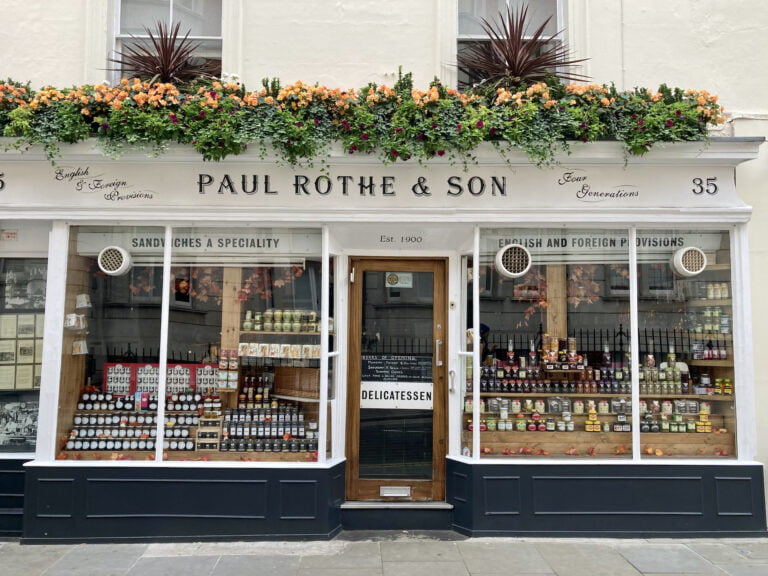 Welcome to the Rothe family delicatessen, where the decor theme is 'jam'. Honestly, this is probably where the expression jam-packed started. Anything that's not jam is kept under glass in a kind of upmarket Subway-style, build-your-own-adventure counter. There's bacon; there's tuna; there's a variety of things slathered in mayo. They've been doing it this way since 1900, and they're still some of the best sandwiches in London.
Details: 35 Marylebone Lane, London W1U 2NN | Open Mon-Sat, 8.30am-4pm
–
Mondo Sando | Camberwell
Born out of lockdown, while the rest of us were eating cans of beans in our pants, Jack Macrae started up a sandwich delivery business. It was extremely popular. So now you can find him and the team hawking cult sarnies daily at Camberwell's Grove House Tavern, where no filling is off limits: past editions have included deep-fried lasagne; Merguez sausage & frites; vegan spring rolls; and roast beef with stilton and horseradish peas.
Details: Grove House Tavern, 26 Camberwell Grove, London SE5 8RE | Open weekdays 12-3pm & 6-9pm, Saturdays 1-9pm. Sundays are for roasts (1-5pm), and they're pretty great too.
–
The Cheese Bar | Camden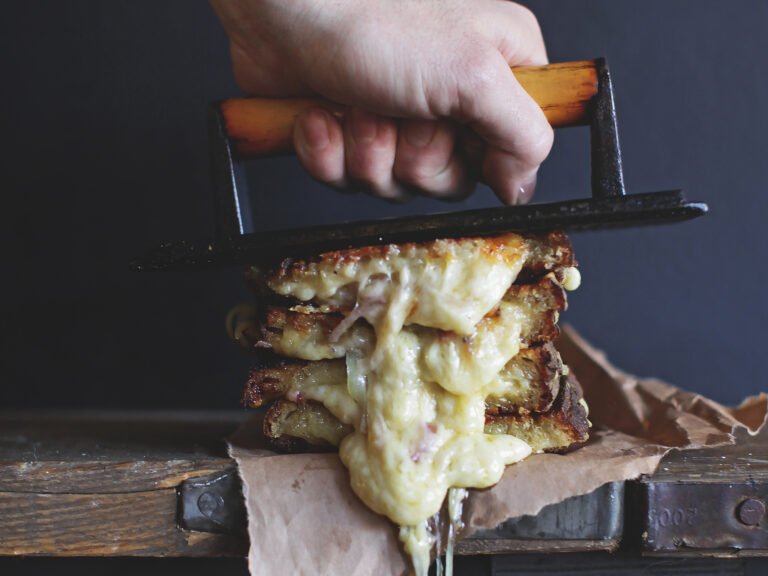 The undisputed champion of the grilled cheese sandwich, Camden's Cheese Bar started out as a street food truck specialising in these molten mothers before getting a bricks-and-mortar spot (and then a cheese conveyor belt restaurant, and then a barge. Who doesn't love a gimmick). The upshot? You can now gorge on sourdough packed with goat's cheese & honey; Bishop Stilton with beer fruit chutney and Ogleshield with smoked bacon… and have somewhere to wash your hands and face afterwards.
Details: Camden Stable Market, NW1 8AH | Open Wed-Mon for lunch & dinner
–
Beigel Bake | Brick Lane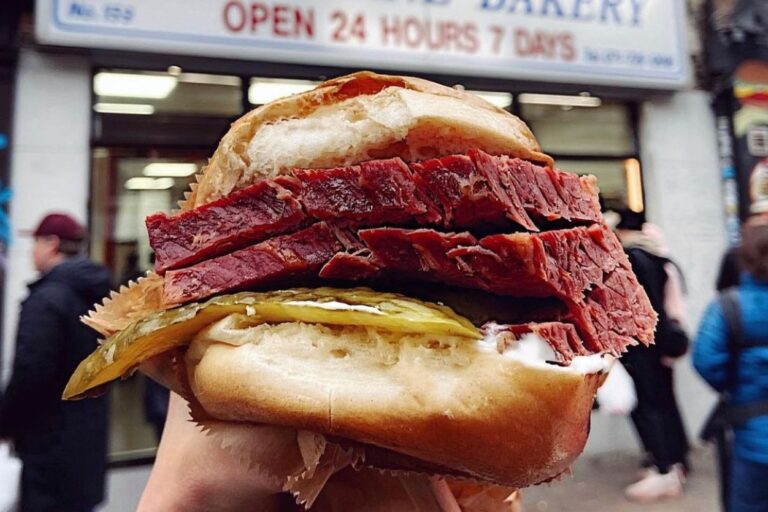 Brick Lane's Beigel Bake has been open – pretty much continuously – since 1976. Open 24/7, they diligently turn out over 7,000 bagels a night, which are then wrapped around some of the finest salt beef, lox and gherkins in the city. Their best-sellers are creeping up towards the £10 mark, but some of the lesser-known menu items (filled with things like Nutella, or chopped herring) will still get you change from a fiver.
Details: 159 Brick Lane, London E1 6SB | Always open
–
Chatsworth Bakehouse | Crystal Palace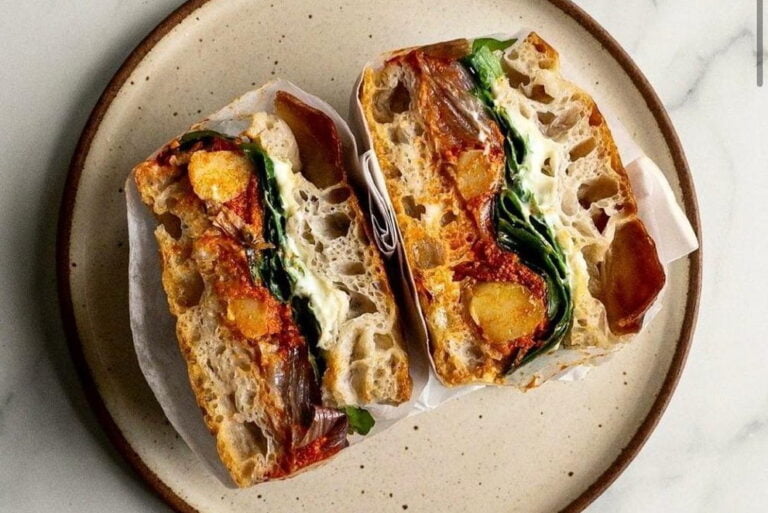 Chatsworth founders Tom and Sian started out making loaves for themselves in lockdown. Soon, their neighbours wanted a slice of the action. And now, a couple of years later, they have half the neighbourhood – and plenty of visitors from further afield – queuing up outside their first proper bakery in Crystal Palace. It's a teeny tiny operation but their sandwiches are in huge demand, so there's a pretty tight system in place: on Monday you can check the week's menu and put your order in, on Tuesday the team hit the markets to pick up the best ingredients, and then you can pick up your sarnie from Wednesday through to Friday. And with fillings like confit potato & roasted peppers; pistachio mortadella with sherry aioli; and tuna with smashed artichoke and balsamic pickled shallots… it'll be worth the wait.
Details: 120a Anerley Road, SE19 2NA | Pick-up pre-ordered sandwiches Wed-Fri
–
Dom's Subs | Hackney & Liverpool Street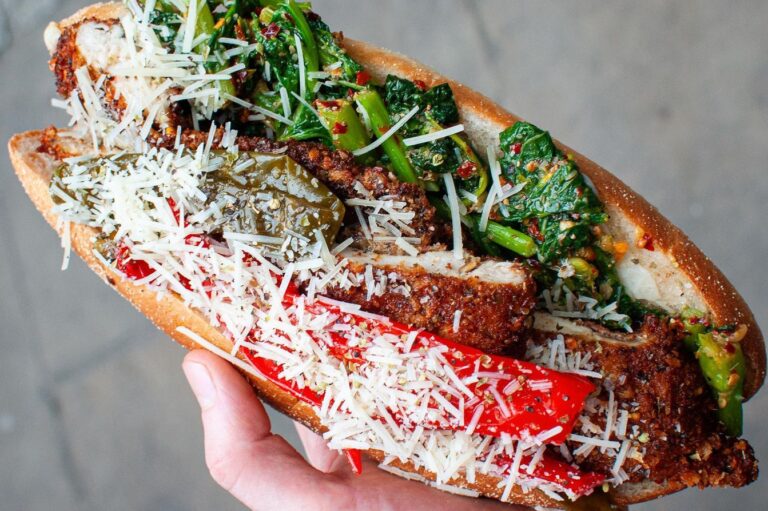 You will submit to Dom's Subs. Why? Spicy Thai ground chicken with pickled cucumbers and red chillies; the Cold Cuts, with four kinds of cold meats with provolone and vinegar peppers; and broccoli with confit garlic, roast aubergines and marinated artichokes. That's why. DS comes to you from the gang behind Lanark Coffee, and their two outlets are barely big enough to swing one of their outsized subs in. So it's takeaway only – but they also run their own delivery system.
Details: 262 Hackney Road, London, E2 7SJ | 22b Bevis Marks, London EC3A 7JB | Open daily, 12.10-3pm (4pm weekends)
–
The Black Pig | Borough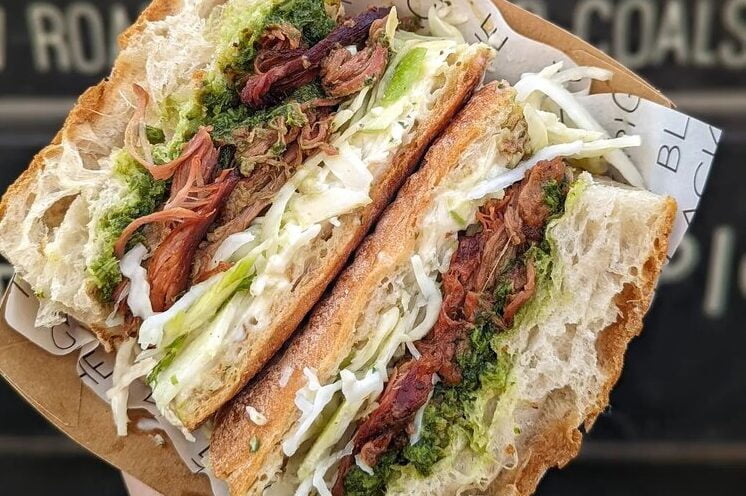 The best bread for sandwiches is a contentious and divisive topic, just topped narrowly by Brexit. Putting in a good argument for the ciabatta corner, though, is Borough Market's Black Pig stall, which specialises in deluxe muffaletta. That's a sandwich invented by Sicilians who moved to New Orleans in the early 20th century. Here, you'll find them stuffed with slow-roasted free-range pork shoulder and some combination of aioli; fennel & apple slaw and honey truffle mayo; and scorched over a Big Green Egg grill. It's worth going for the added slap of S'ott olio, a fermented chilli sauce with confit garlic.
Details: 8 Southwark Street, London, SE1 1TL | Open Mon-Sat, 10am-5pm
–
Secret Sandwich Shop | Notting Hill
–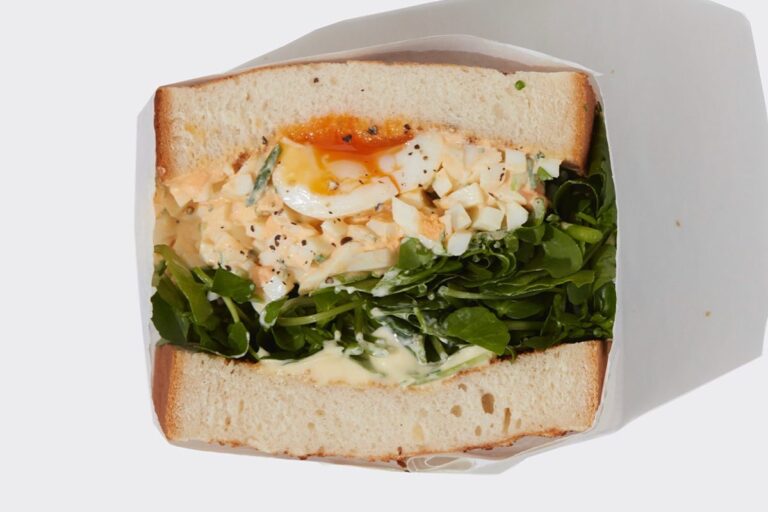 The Secret Sandwich Shop has no desire to actually remain secret, or it would make its sandwiches a lot uglier. These dictionary-thick bricks are inspired by Japanese wanpaku sandwiches, which got popular around the era of the katsu sando boom, but have more of a Ploughman's vibe to them. Texture is the key here, and you'll find pillowy soft shokupan bread slapped either side of crunchy greens; something cheesy; and something meaty in most cases. The cult order is the 7th Avenue, a hefty combination of pastrami, Swiss cheese, sauerkraut and crispy shallots, all lavished with Kewpie mayo.
Details: 103 Talbot Road, London W11 2AT | Open daily 11am-3pm
–
Snackbar | Dalston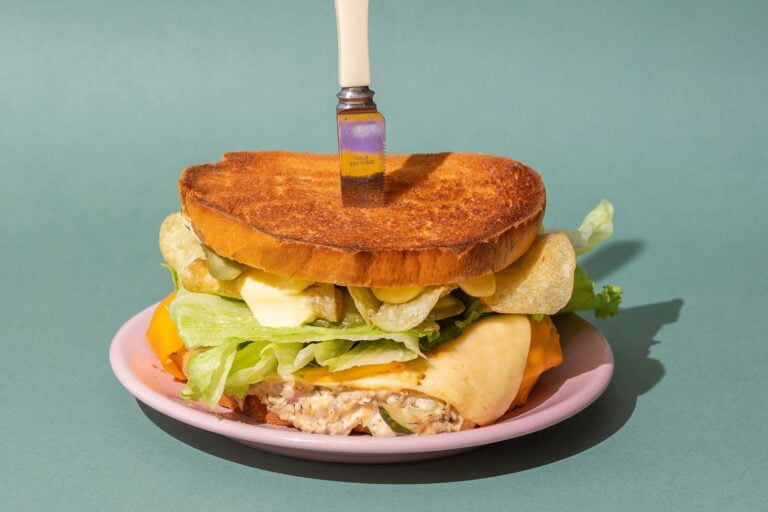 Snackbar. It's a place for light snacks. And these absolutely enormous, King Kong-portioned sandwiches that require actual knives to maintain their structural integrity. The offering changes on any given day, so you could be facing down an English muffin packed with pork patty, fried egg & American cheese; treacle-glazed ham, roast pork & dill pickle fries in a brioche sub; or their take on the classic Singaporean breakfast staple: kaya toast with soy sauce & onsen egg.
Details: 20 Dalston Lane, London E8 3AZ | Open Wed-Fri 8am-4pm, weekends 10am-4pm
–
Big Jo | Holloway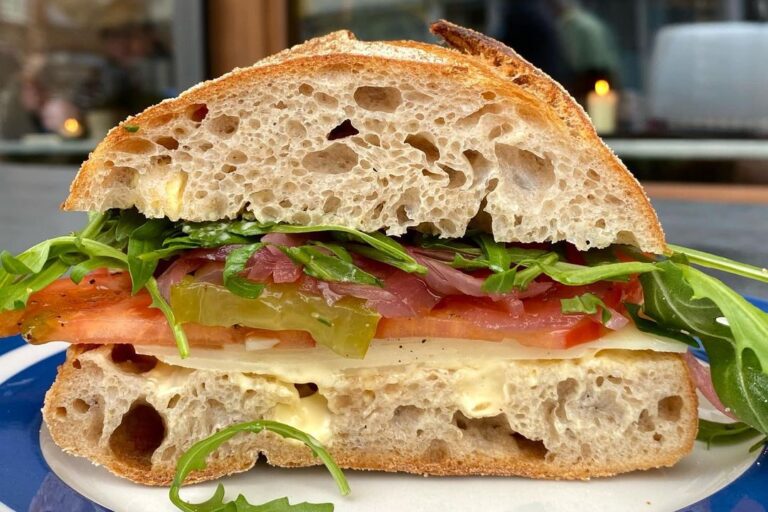 When you're after one of the best sandwiches in London, but have things to do and places to go afterwards and can't afford to spend the afternoon in a dough-induced stupor, you can count on Big Jo (sister to Jolene, Primeur & Westerns Laundry). The daily changing menu puts nice, well-sourced ingredients like provolone & beefy Sicilian tomato; carrot, hummus & pickled cabbage; or mortadella with mustard-spiked mayo between their freshly baked bread (made with totally organic and sustainably grown wheat flour). Manageable in size, and totally satisfying.
Details: 318–326 Hornsey Road, N7 7HE | Open for lunch Mon-Wed 11am-3pm, Thurs-Sun 12-3pm
–
Deeney's | Leyton & Hackney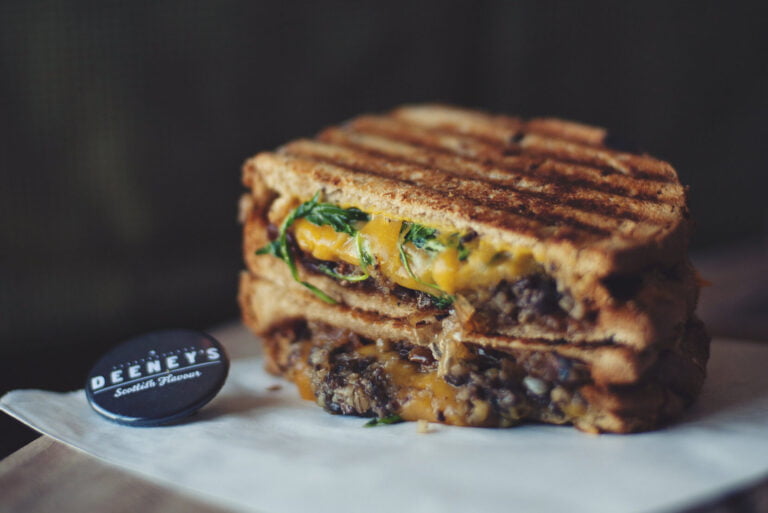 Deeney's is here to prove that Scottish food is NOT just about deep-fried Mars bars. It's also about, um, haggis sandwiches. Meet Hamish Macbeth, a Scotch toastie oozing with bacon & haggis (veggie options available); melted cheddar; caramelised onions and mustard. Like its namesake, there are plenty of other pretenders jostling for the throne, though: other toasties include the roast chicken & sriracha-laced Roberto the Bruce; alongside some perfectly executed breakfast baps.
Details: 360 Leyton High Road, London, E10 6QE (and Hackney's Broadway Market on Saturdays) | Open daily 8am-4pm (9am weekends)
---
Have a lie down… then check out these excellent lunch spots in London