London's skyline is its fingerprint – an entirely unique expression of the city's history, spanning kings, queens, invasions, fires, wars, pandemics and the colonising power of Pret a Manager.
It's a city where buildings from the new and old worlds rub shoulders. From famous skyscrapers like the Shard to historic sites like St. Pauls and the Tower of London, London is a historic melting pot, where a Hindu Temple can share the skies with a football ground in perfect harmony.
Here we give you the lowdown on London's most iconic buildings along the skyline, from the well-known to hidden gems. Get yourself up to one of these viewpoints in London (or failing that, the top floor of a double decker), and behold:
Tower Bridge | The City
In 1938 the New York Times wrote that Britain had three unique institutions that America didn't: The Magna Carta, Alfred Hitchcock and Tower Bridge. By that logic, Tower Bridge is the most overachieving bridge in history. 
Originally built between 1886 and 1894, Tower Bridge connects Tower Hamlets with Southwark, adjoining the equally iconic Tower of London across the water. You can enjoy panoramic views of London from the glass-floored high-level walkways, 42m above the river, then head to the magnificent Victorian engine rooms to hear about the lives of the people who operated the bridge through history. 
Just don't get caught in the middle when the drawbridge goes up.
Details: Tower Bridge Rd, London SE1 2UP | Find more information here
–
St. Paul's Cathedral | St Paul's
St. Paul's Cathedral still looks impeccable, despite all it's been through. The site of St. Pauls has held a cathedral since pre-Norman days (1066 AD), but the present-day building was consecrated in 1697. From the state funerals of Churchill and Lord Nelson to peace services marking the end of both World Wars, St. Paul's has played a central role in British history. It was also bombed twice during WWII, which resulted in the infamous photo of its dome rising above the smoke.
Across London's skyline, the white bulb of St. Paul's Cathedral stands in dramatic contrast to the Shard, a picture of London's old and new worlds.
Details: St. Paul's Churchyard, London EC4M 8AD | Find out more here
–
The Shard | London Bridge
This iconic, all-glass, knife-like building is Britain's tallest and Europe's seventh, and the closest London has to a complete vertical city with homes, offices, a hotel, shops, restaurants, and bars.
The Shard has a contrived, almost unfinished aesthetic, and the changing light falling against the glass panels makes it look uncannily alive beside its less interesting neighbours. Something of a high-rise playground, there are seven bars and restaurants in the Shard: Bar 31, Aqua Shard, Oblix, Hutong, TĪNG, GŎNG, and Sky Lounge – all of which offer tables with panoramic views across the London skyline.
Details: 32 London Bridge St, London SE1 9SG | Find out more here
–
Big Ben | Westminster
This globally recognisable symbol of London is up there with Paddington Bear and a red double-decker for explicit markers of Britishness. Built in 1859 after a fire destroyed the Palace of Westminster, Big Ben has come to signify so much more than just the time.
Renamed Elizabeth Tower in 2012, despite the petition for it to be named 'Massive Mohammed', this gigantic clock face has ushered in some of the most important historic events in recent memory, from chiming 96 times to round off the Queen's funeral, to marking the beginning of the 2012 London Olympics. It's even possible to climb the staircase inside, see the big bell himself, and stand behind the most iconic clockfaces in London – but unsurprisingly, ticket drops sell out extremely quickly. Better set your watch.
Details: Big Ben, London, SW1A 0AA | Find out more here
–
Tate Modern | Southwark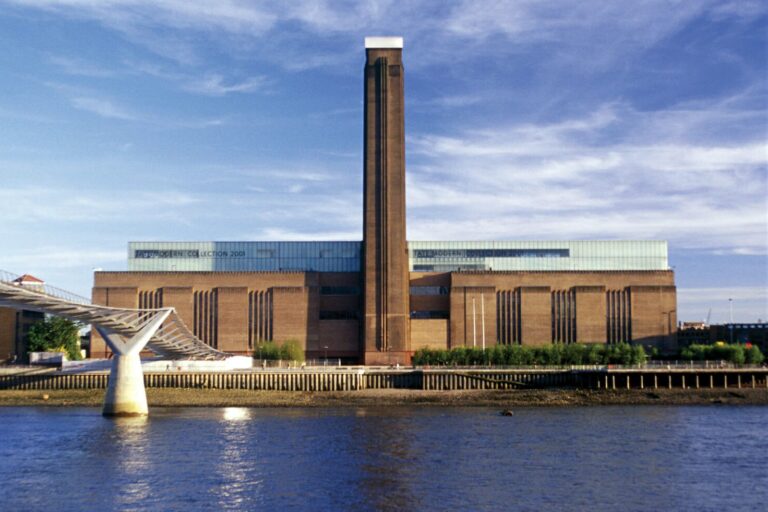 London's contemporary art scene is embodied by the Tate Modern's indomitable brick tower, looming large over the Thames like an inner-city lighthouse.
Once a power station providing energy to a large swathe of the city, it was redeveloped by award-winning Jacques Herzog and Pierre de Meuron into the biggest contemporary art gallery in London, opening to the public in 2000. Inside, the vast Turbine Hall – a single large space running the whole length of the building between the Boiler House and the Switch House – has been repurposed for large-scale commissions, featuring site-specific installations by the likes of Anish Kapoor and Ai Weiwei. The Tate, designed to convert non-believers to the allure of modern art, is an artwork in its own right, at once a futuristic and traditional totem of the London skyline.
Details: Tate Modern, Bankside, London, SE1 9TG | Find out more here
–

Nelson's Column | Trafalgar Square
Although Nelson's Column is not the geographical centre of the city (look to Lambeth for that), it marks the spiritual heart of London: the centre's centre, around which everything rotates. With the National Gallery to one side and one of London's busiest Spoons to the other, Nelson's Column truly does lie at the crossroads of culture.
Nelson's Column was built in 1843 to commemorate Lord Admiral Nelson, who died in the battle of Trafalgar defending Britain from the invading French and Spanish navies. Being both invitingly scalable and spiritually iconic, Nelson's Column has been the focal point of many political demonstrations where protestors have climbed the Column to publicise their cause. From Greenpeace to anti-apartheid movements in the 70s, to Disney spending £24,000 to make the column look like a lightsaber – it's what Nelson would have wanted.
Details: Trafalgar Square, London
–
Monument to the Great Fire of London | Bank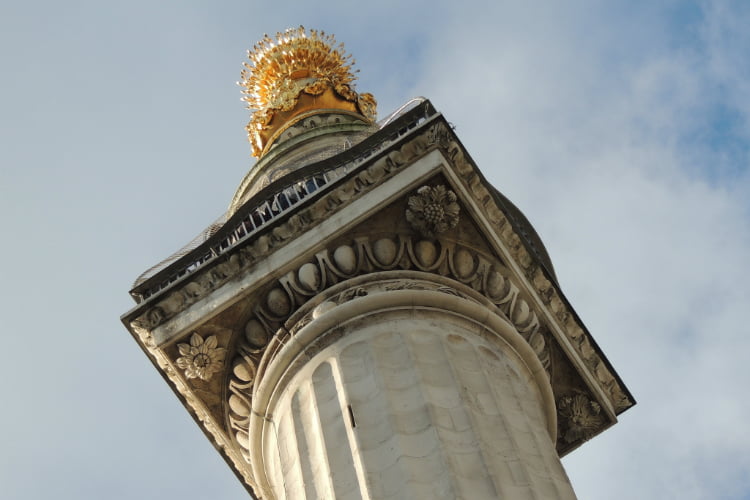 This sleek, gold-crowned monument was built in 1677 to commemorate the Great Fire of London, one of the most significant, cataclysmic events in London's history. There is a panoramic viewing platform at the top of the Monument's 311 winding stairs which is open to the public, and gives you a pretty stellar view of most of the other London landmarks on this list.
The Great Fire, like the Blitz bombings, drastically altered the London skyline. From the rubble, architects brought the city into a new age, like new plants growing from old plant pots. Monument is a gorgeous testament to that period, to what was lost and what was made by the fire.
Address: Fish St Hill, London EC3R 8AH | Find out more here
–
OXO Tower | Southbank
Sounding like a nightclub you might have visited for your school leavers event, the OXO Tower sitting on the banks of the Thames is a multi-use playground; a high-rise, art-deco pillar of pleasure and indulgence. We're talking restaurants, brasseries, bars and galleries, with live music, cocktail classes and art exhibitions, all overlooking a city in motion.
Like a few other notable landmarks along the London skyline, the OXO Tower was originally a power station in the 19th century, until it was taken over by a German meat manufacturer Oxo (of 'cubes' fame) in the early 20th century. But today, the food on offer at the Oxo Restaurant is of demonstrably higher quality, thanks to Head Chef Keir Barry, whose brasserie creations using organic British ingredients are paired with a brilliant wine list.
Details: Barge House St, London SE1 9PH | Find out more here
–
London Eye | Southbank
This glorified Ferris wheel is one of the most visited attractions in the world, exceeding the yearly visits of the Taj Mahal and the Great Pyramids of Giza. It sits at the top of London's most visited list with 3 million visits per year.
Opened in 2000 to mark the millennium, the London Eye was only supposed to stay in place for a few years, but oh so strong was the philosophical allure of rotating slowly through the clouds in a transparent mint that it has become a permanent icon of London's skyline.
Details: Riverside Building, County Hall, London SE1 7PB | Find out more here
–
Lloyd's Building | The City
Slap bang in the middle of London's uniform-looking financial district, there rises a black and grey pillar all shiny and chrome, more Darth Vader than day trading. It is either dramatically fitting or unfitting that this death-star derivative is home to Lloyds Insurance, but there you go. 
The architectural term for this design is Bowellism, where elevators and ducts are located on the outside of the building to maximise indoor space. Maintenance costs are high due to everything being so illogically exposed to the elements, but it still looks extremely cool against the grey slabs of City London.
Details: London, EC3M 7AW | Find out more here
–

The Barbican | Farringdon
Built in 1982, rising above the cobbled streets of Farringdon is London's foremost brutalist icon: The Barbican. Beside the Barbican estate's impressive high-rise flats, there is a great aeroplane-hangar-like building bursting with all things arts and culture. There's a cinema, a theatre and a variety of galleries to get culture-drunk on, and in the courtyard lies the central ponds, a sprawling collection of pools and plant life.
Most gloriously, The Barbican Conservatory is a mesmerising building, filled with a variety of tropical plants, soaring trees, birdlife and exotic fish. There is something astonishing in the contrast between the raw concrete and exotic foliage, making it all feel rather dreamlike and post-apocalyptic, minus the zombies. 
Details: Silk St, Barbican, London EC2Y 8DS | Find out more here
–

BAPS Shri Swaminarayan Mandir | Neasden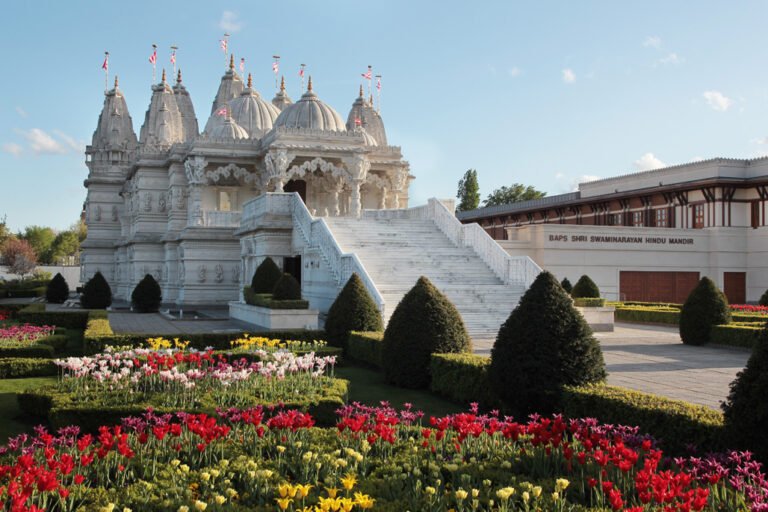 The BAPS Shri Swaminarayan Mandir – commonly known as Neasden Temple – in North-West London is Europe's first-ever traditional Hindu temple. It's vast, jagged and sparkles in the sunshine, making Neasden feel like a resplendent Himalayan village.
Built in 1995 using only traditional materials and methods, Neasden Temple symbolises London's architectural and cultural variety. Inside the temple, there is a permanent exhibition called 'Understanding Hinduism' designed to introduce non-Hindus to the culture and history of Hinduism, as well as an assembly hall, gymnasium, bookshop and offices. This is the type of temple architecture fanatics would travel far to see, but it's right on our doorstep, and how lucky we are to have it.
If you're in the area, the next icon on this list is only a stone's throw away.
Details: Pramukh Swami Road, Neasden, London NW10 8HW | Find out more here
–

Wembley Stadium | Wembley
Oh that hallowed turf on the city's northern mound, like two convoluting angel wings on the London skyline, signifying decades of 1-0 losses. From 1966 to the heady summer of 2021, Wembley has given rise to some memorable moments of national unity, as well as a healthy dose of football-induced malaise.
The modern stadium as we know it was opened in 2007 on the site of the original Wembley, which was built in 1923. During the early summer months, Wembley is abuzz with footballing furore, where dreams are chased and lost around the famous pitch. 
Details: London, HA9 0WS | Find out more here
–

BT Tower | Fitzrovia
Like almost every iconic building along the London skyline, BT Tower is both loved and loathed by Londoners. There is something messily beautiful in its bedraggled slenderness and mid-noughties luminescence.
The BT Tower was the tallest building in Britain at the time of its opening in 1965 and was commissioned by the General Post Office to support microwave aerials carrying communications from London to the rest of the UK. The now Grade II-listed tower, located off Tottenham Court Road, is most famous for its wrap-around LED light display, which has broadcast messages during special occasions like The Olympics and Remembrance Day. 
It also rang in the end of times during London's record-breaking heatwave in summer 2022. If you ever feel like the apocalypse has come, look to the BT Tower because they'll be the first to know. 
Details: 60 Cleveland St, London W1T 4JZ
–

20 Fenchurch Street (The Walkie-Talkie) | The City 
20 Fenchurch Street, or the Walkie-Talkie building, as it is more literally known, is that behemoth skyscraper in the City of London. Completed in 2014, the Walkie-Talkie contains 690,000 square feet of office space. At its top, the Sky Garden is the city's highest public garden, with planted terraces as well as bars, restaurants and a public viewing deck. Unbelievably, it's free to visit, with tickets released every Monday.
In 2015 the building was awarded the counter-intuitively esteemed Carbuncle Cup, an award given to the ugliest building built that year. Admittedly, there is something Bond villain-esque about it, and one of the judges went so far as to describe it as 'gratuitous glass gargoyle'. It also managed to melt a few nearby cars when it first opened, by accidentally concentrating the sun's rays. The Walkie Talkie remains iconic despite, or perhaps because of, such fractious recognition.  
Details: 20 Fenchurch St, London EC3M 8AF | Find out more here
–

The Gherkin | The City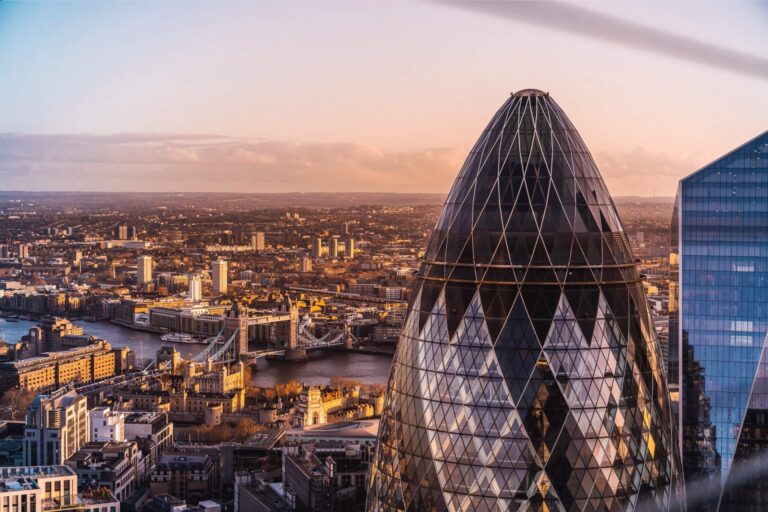 Looking exactly like a peni – *checks notes*- gherkin, this bulbous, towering innuendo of a building has become one of the most recognisable features of the London skyline since its erection in 2004.
The gherkin is one chunky guy, standing at 180 metres tall and featuring some 24,000 square metres of glass, which is a damn lot of glass. The gherkin stands on the site of the Victorian-era Baltic Exchange (damaged by an IRA bomb in 1992), and has perhaps rather fittingly appeared in a catalogue of big-budget films, from Harry Potter to James Bond.
You can take in a panoramic view at the top of this ultimate scene-setter at the Helix restaurant and Iris bar.
Details: 30 St Mary Axe, London EC3A 8BF | Find out more here
–

The Tower of London | The City
Clocking in at almost 1000 years old, the Tower of London is the oldest building on the London skyline. Try not to lose your head over its gruesome history – back in the day, it was London's prime torture dungeon. Today you can take an atmospheric tour through the Tower of London's largely unchanged corridors and the locked rooms looking out onto the Thames, where prisoners would await their execution. The jail complex was brought out of retirement during the first and second world wars, where it held the executions of 12 men for espionage. It's not all blood and gore though, because this is also where you can see the Crown Jewels, plus the Beefeaters' ancient key ceremony every evening.
Details: The Tower of London, EC3N 4AB | Find out more here
–

SIS Building | Vauxhall
You'll have to admire the SIS Building from afar unless you're an international man of mystery, because this is MI6's HQ. It seems paradoxical that the top secret office in Britain is also one of its most recognisable buildings, and indeed the SIS has been the focus of numerous attacks since its opening in 1994.
It does feel rather incongruous to wander out of a central London Pret to see one of the most iconic buildings in international security staring back at you, but that's what makes SIS so brilliant. This hulking hub of British espionage isn't an incognito, subterranean bunker, but a bus stop in Southwark. There is a rumour that there's a secret tunnel beneath the Thames running from SIS to Whitehall… but if we told you more, we'd have to kill you.
Details: 85 Albert Embankment, London SE11 5AW
–

Robin Hood Gardens | Blackwall
This iconic feat of post-war social housing, aptly named after Britain's folk revolutionary, is very sadly on its last legs. Completed in 1972 by the Smithsons, Robin Hood Gardens promoted a social way of life in the city, with the pioneering 'streets in the sky' concept that sought to replicate the feeling of a village street in high-rise flats.
The entire west block has been demolished so luxury flats can go up in its place. Opposite it, looking dramatically run-down, only the east block remains. Although the scene is dire, there are still remnants of architectural brilliance to be found amongst the debris. Robin Hood Gardens is a powerful window into a different era when London's priorities revolved around creating affordable, social housing for all.
Details: 129 Woolmore St, London E14 0HG
–
The O2 | Greenwich
It's a strange world inside the 02 Arena. Located in the Greenwich peninsula in southeast London, The O2 is much more than just an indoor arena; it's actually a whole city of entertainment, with an 11-screen cinema, bowling alley and nightclub (!) as well as 26 different bars, cafes and restaurants. The massive 20,000-capacity arena has seen pop royalty take to its stage, from Prince to Beyoncé. Have a dance, buy a Rolex, eat out or scale the roof of the dome itself, if you're feeling brave.
Details: Peninsula Square, London SE10 0DX | Find out more here
–

Battersea Power Station | Battersea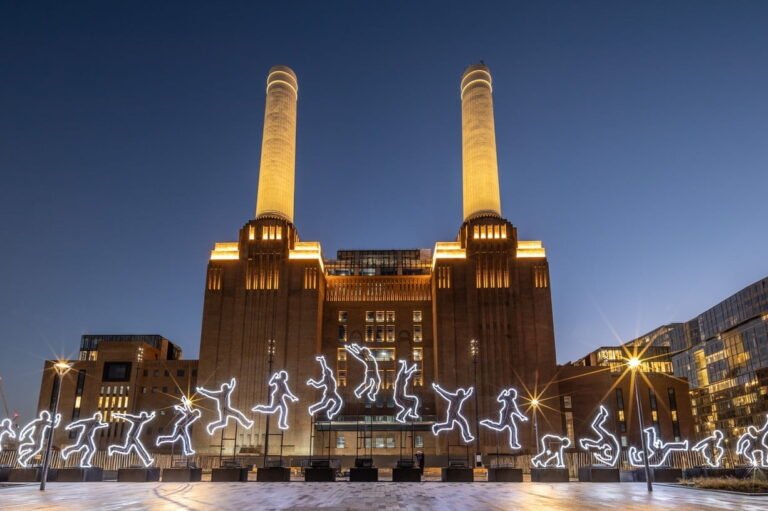 Unlike many other divisive characters in the story of the London skyline, Battersea Power Station is pretty much universally adored. Once a coal-fired power station on the banks of the Thames, Battersea provided electricity to most of the city until it was decommissioned in 1980. For four decades the building remained empty, falling into near-ruin, but now this rejuvenated relic of London's industrial past has undergone a transformation into a technological metropolis – a city within a city.  
The top six storeys now house Apple's London headquarters and the original, sprawling Turbine Hall has been restored to its art deco grandeur, where a myriad collection of up-market shops line the galleries. And best of all? One of the chimneys is now home to Lift 109, a lift that emerges at the top of the North-East chimney to provide a 360º panorama of the city…
Details: Circus Rd W, Nine Elms, London SW8 5BN | Find out more here
---
Love a great view? You'll want to check out our collection of the best rooftop bars in London…