You've probably heard, or seen, the Japanese word omakase popping up more and more in London.
It loosely translates as "I'll leave it up to you", and here, it's seen as one of the most decadent ways to enjoy sushi.
In fact, its origins are kind of the opposite.
The term really became popular in the 90s, when a boom in the Japanese economy allowed a wider clientele to visit sushi restaurants (usually the preserve of the wealthy). As more people started to visit these restaurants, sushi culture started to shift. Consider, if you will, the unabated horror 99% of us feel when handed an enormous wine list. Unfamiliar items and names are enough to bring anyone out in a cold sweat, and with sushi, even the order you eat the dishes in could show you up as a total amateur. So to prevent embarrassing any inexperienced customers, the culture of omakase – leaving the order up to the chef – was born. You can even get omakase haircuts, or clothes.
But not in a restaurant, obviously.
Omakase stems from a word meaning to trust, or 'surrender your will'. It's about putting your whole dining experience in the hands of the chef. Thankfully, it's a culture that's come to the UK alongside top sushi chefs, and in the last few months there's been a flurry of intimate sushi bars opening that operate on a purely omakase basis. Why? Well, it's a pretty good system for the chefs, too, allowing them to serve up the best of whatever's available on any given day. Nothing's wasted, and you're getting to experience the meal just as the chef intended – just like a tasting menu at any other high-end restaurant. And more often than not, you'll be sat directly in front of the itamae (sushi chef), who'll be able to talk you through exactly where each ingredient came from, and how it's been prepared.
So in honour of this thriving tradition, we've put together our pick of the best places to order omakase in London, for every budget. And as for which is the absolute best?
We'll leave that to you.
Sushi Atelier | Oxford Circus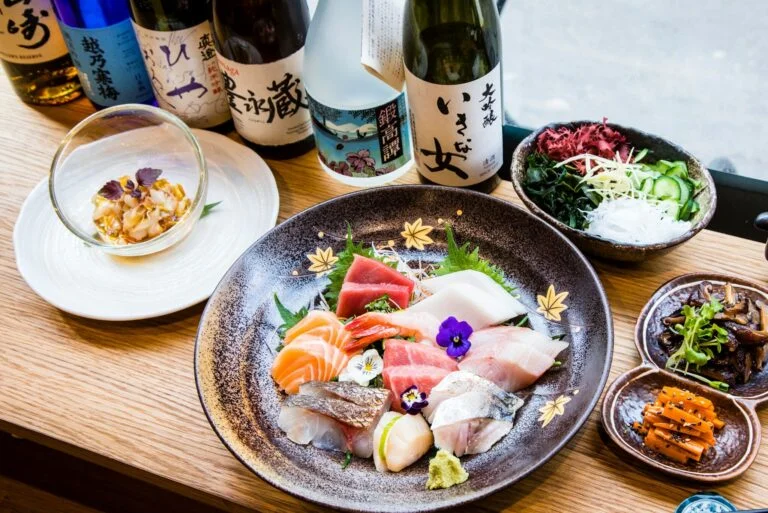 Sushi Atelier is the perfect introduction to the world of omakase. It's a snug, casual sushi joint just a stone's throw from Oxford Circus, brought to you by the team behind the upmarket Japanese eatery Chisou. That means sushi that's the quality of a high-end restaurant, in surroundings that are totally relaxed, warm and welcoming. The omakase options here allow you to plump for a chef-picked selection of six, nine, or twelve pieces of sushi, which you can pad out with larger dishes like ceviche, donburi (rice bowls), and wagyu sliders if you're still feeling peckish.
Details: 114 Great Portland Street, W1W 6PH | £20-38 to share | Book here
–
Sachi | Belgravia
Sachi is a snug, cooly atmospheric subterranean bolthole sitting underneath the grand Pantechnicon in Belgravia. And yes, some of those words may imply a fantastically expensive price tag for their new omakase lunch offering, but believe it or not, it's one of the best value menus in the city. For just £35 a head, you'll get some of their deeply rich wild mushroom miso soup, plus Takuan pickles and a spinach salad with myoga, sesame, and buckwheat. Then arrives the seabass carpaccio with lava salt & sea buckthorn, followed by either Cotswold white chicken with sage & shio koji, or a Norfolk pork collar with apple barley miso, plus a little steamed rice. And then the showstopper of steelhead trout maki with takana mustard leaves and – get this – real wasabi (which is rarer than you'd think). And? You can get the whole thing plant-based, too. For both taste and value, it's absolutely first-rate.
Details: Pantechnicon, 19 Motcomb Street, London, SW1X 8LB | £35pp (12pm-3:30pm) | Book here
–
Dai Chi | Soho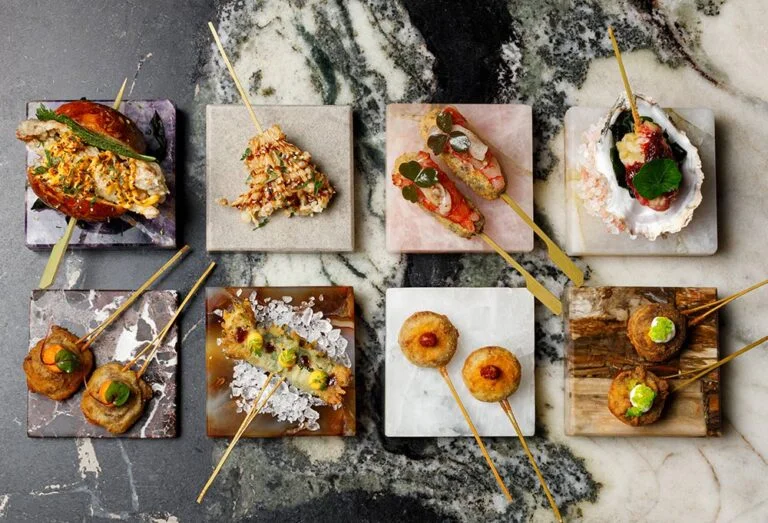 Details: 16a D'Arblay Street, W1F 8EA | £38pp | Book here
–
Sushi on Jones | King's Cross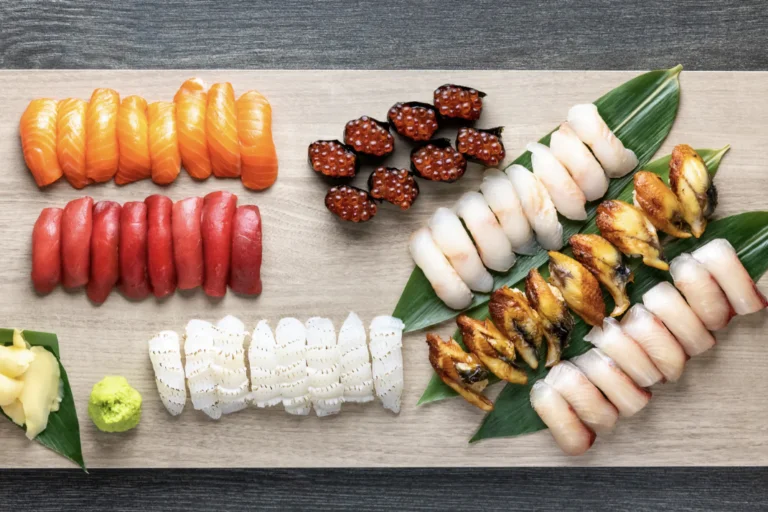 Sushi on Jones started out doing omakase for New Yorkers. That meant serving it up from a kiosk, on the street, with a 30 minute timeframe. It was a colossal hit. Now they've opened their first international branch in Goods Way, the food, drink and music hub right by the canal in King's Cross. The setting's a little more refined here – a low-lit counter for eight, indoors – but they're keeping the emphasis on speed, serving you 12 pieces of sushi in 45 minutes. And it's the most delicious fast food you'll have ever eaten – diligently sourced, beautifully prepared, and served up to you amid a flurry of chatter and sake.
Details: 11 Goods Way, London N1C 4DP | £48pp | Book here
–
Kibako | Fitzrovia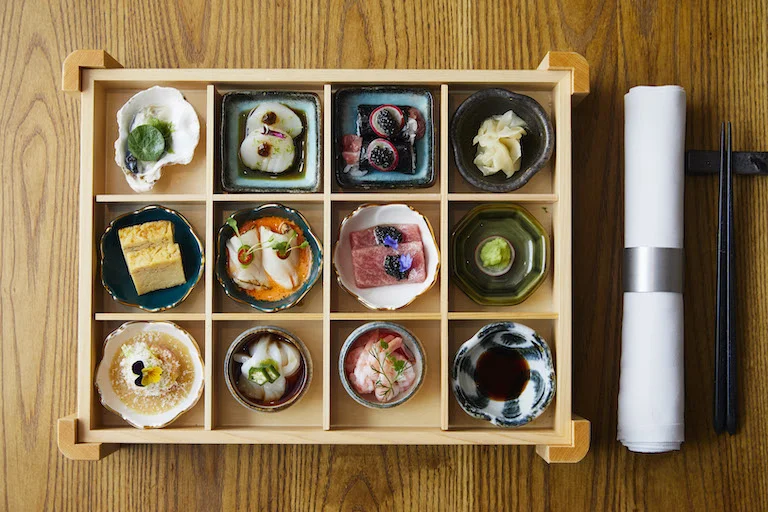 Kibako is a Japanese word that simply means 'wooden box'. And at Kibako, they do something rather innovative (at least here in London): they serve their omakase in kibako. That means you get a dozen little individual cubby holes packed with a series of superlative little gems. Each box is tailored to the guest (and what they may have ordered to go with their kibako), and each one allows for you to pick and choose the order you eat in, with bullets of seared butterfish with onion & pineapple salsa; hand-dived scallop with Japanese plum & ponzu sauce; and seared fatty tuna with red jalapeno. The dishes themselves are all prepped by chef Padam Raj Rai (he's got a 20 year CV including places like Nobu, Roka, and Sake No Hana), and the space it pretty gorgeous too, nestled in a moodily intimate subterranean Fitzrovia space.
Details: 3 Windmill St, W1T 2HY | £49-£59 (for 3-courses, incl. omakase box) | Book here
–
Sushi Kamon | Bloomsbury 
Sushi Kamon is a collaborative effort from both Yashin sushi (they supply most of the top sushi restaurants in town) and JKS restaurants (who are probably the best restaurant group in the city right now). As parents go, they're not too shabby. And it shows – from the moment you sit down in front of the counter, you feel like you're in good hands. Chef Michael Nonato will greet you with a charming smile, offer you a drink, and busily prepare delicious-looking plates of fish taken from a rainbow of perfectly-sliced fillets. And at the end of the 10 course affair, the bill is a thoroughly reasonable £45…
Details: Arcade, 101-103 New Oxford Street, WC1A 1DD | £45-£75pp | Book here
££
Chisou | Mayfair & Knightsbridge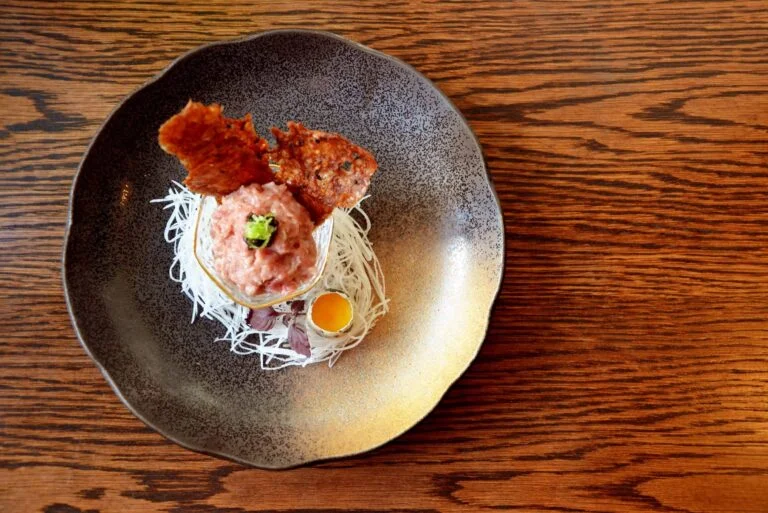 The fancy sibling to Sushi Atelier, Chisou actually offers some surprisingly affordable omakase. In their Mayfair restaurant, it's served up at both their fresh fish counter and the six-person chef's table, and the nigiri (fish with rice) and sashimi (just fish) options come in at around £25 a head, available in servings of 6, 9 or 12 pieces. Wash it down with a little 'super-chilled' Asahi, and follow up with some larger dishes like the wagyu steak skewers, deep fried rock oysters and tofu kitsune udon.
Details: 22-23 Woodstock Street, London, W1C 2AR | 31 Beauchamp Place, London, SW3 1NU | £17.35-£50.20 between two | Book here
–
Kazu | Fitzrovia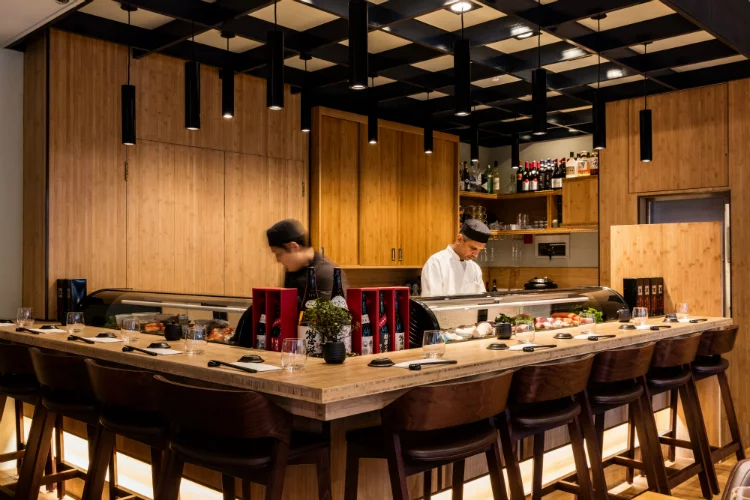 Kazu is perched on one of the streets most densely packed with restaurants in London. So if you've already done the hard work of making the decision of where to eat (and you end up at Kazu), let the chefs take care of your sushi order. They'll put together a selection of ten, five or three different kinds of fish, which you can watch them expertly slice up before your eyes at the corner dining counter.
Details: 64 Charlotte Street, London, W1T 4QD | £28-55 between two | Book here
–
Akira | Kensington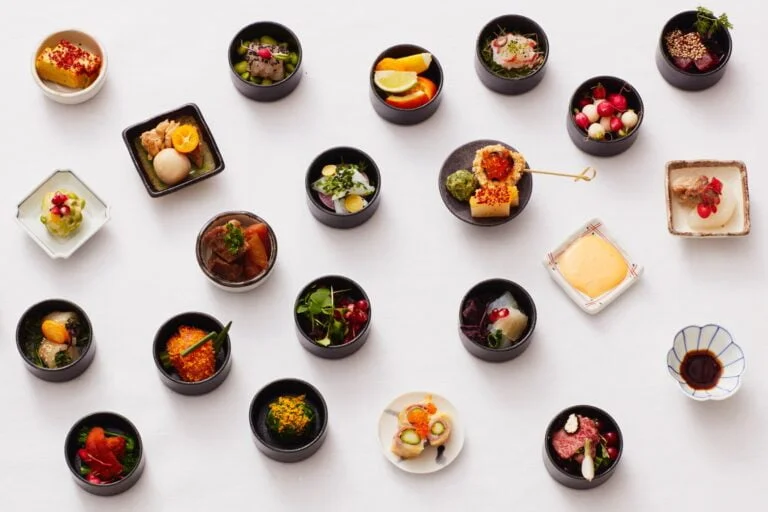 You'll find chef Shimizu Akira's restaurant bedded in to the first floor of Japan House, Kensington's hub of Japanese culture that's home to exhibitions, shops, screenings and talks. He operates according to his 'trinity of cooking' principles: food, tableware and presentation. That means meticulously sourcing ingredients; hand-picking the glassware and crockery from artisans across Japan; and showcasing the kind of theatrical flair made famous in London by Benihana, with dishes seared with a lick of flame from the robata grill. The vast menu here – spanning from raw, to grilled, to fried – can be neatly condensed with the omakase option, available either purely for sushi, or with Akira-san's pick of the grilled dishes included too.
Details: Japan House, 101-111 Kensington High Street, London, W8 5SA | £60/75pp (3/5 courses) | Book here
–
Cubé | Mayfair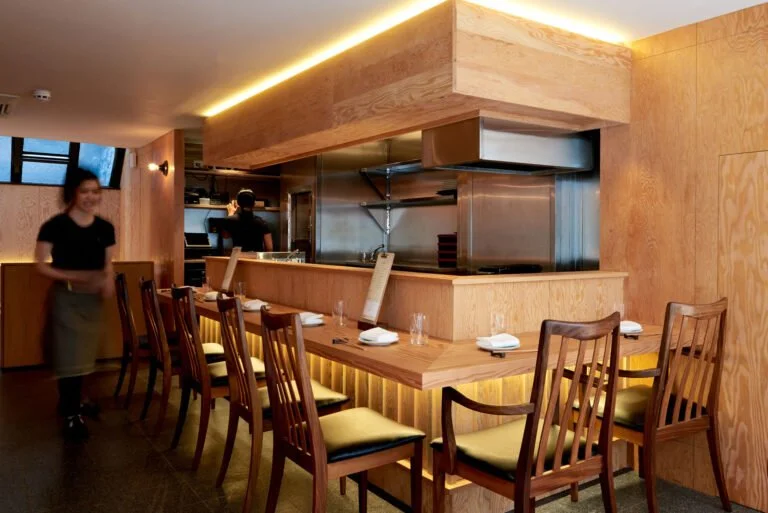 Cubé is intimate, with a sushi counter seating just 7 guests at a time. Which isn't so unusual for omakase restaurants – what is unusual is that eating here won't push you past the £100 mark. You'll be treated to two appetisers, ten kinds of nigiri sushi (fish layered over a little bullet of rice), temaki (a sushi hand roll), and a dessert – ask for the sesame ice cream if it's on offer. Afterwards, you can slip down to their low-lit bar, where you can sip Japanese whiskies, sake by the glass and bottle, and even sample something from the owner's own cellar.
Details: 4 Blenheim Street, London, W1S 1LB | £88pp | Book here
£££
Endo at the Rotunda | White City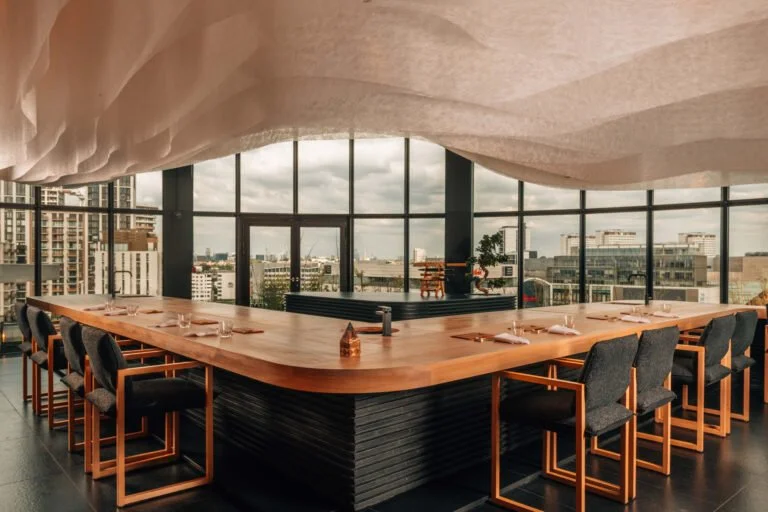 Endo is one of those restaurants that is show-stopping in every respect. Firstly, the setting: perched at the top of the old BBC television studios in White City, it has amazing views pouring in through the floor-to-ceiling windows – or rather, floor to beautiful, cloud-like folds of paper windows. The Michelin-starred food matches the heavenly atmosphere: third-generation sushi chef Endo Kazutoshi assiduously prepares a 20 course omakase menu for just ten guests each sitting, tailoring the dishes not just according to what's good that day, but to your personal tastes as well. And he wants the experience to be like a supperclub, even commissioning a curved counter so that you can chat to your fellow guests. We think you'll have plenty to talk about.
Details: White City House Television Centre, 101 Wood Lane, W12 7FR | £195pp | Book here
–
Sushi Tetsu | Clerkenwell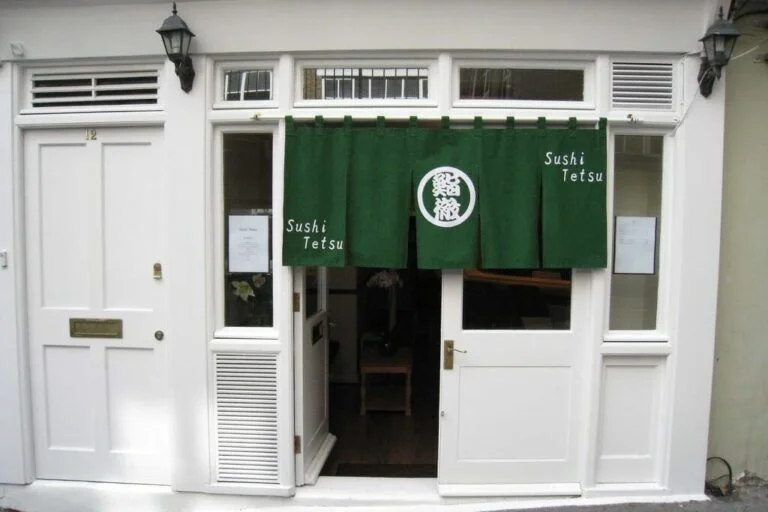 A teeny tiny sushi spot tucked down a Clerkenwell alleyway, which feels more like a supperclub hosted by husband and wife duo Toru and Harumi Takahashi than a restaurant. Reservations here are like gold dust, but with a little perseverance and a phone contracted with unlimited minutes, you'll be able to score a seat at the counter where Toru-san deftly prepares (and occasionally blowtorches) beautiful slices of fish before your eyes.
Details: 12 Jerusalem Passage, Finsbury, EC1V 4JP | Around £160pp | Book on 020 3217 0090, first and third Monday of each month between 11am and 4pm
–
Mayha | Marylebone
If you're looking for omakase sushi in a beautiful setting, we Mayha-ve a suggestion for you. This is the London outpost of a hit restaurant in Beirut, and it seats a mere 11 guests at the curved wooden counter (which sits below a beautiful canopy of illuminated flowers). Chefs Jurek Wasio and Yuichi Nakaya, along with a small team, serve up a fleet of elegant dishes (including some of the most meltingly soft tuna we've had outside of Japan) to an eclectic soundtrack. And there's also the option to go for a mini omakase at the bar downstairs, where dishes are paired with matching cocktails…
Details: 43 Chiltern Street, Marylebone, W1U 6LS | £100-220pp | Book here
–
Roji | Mayfair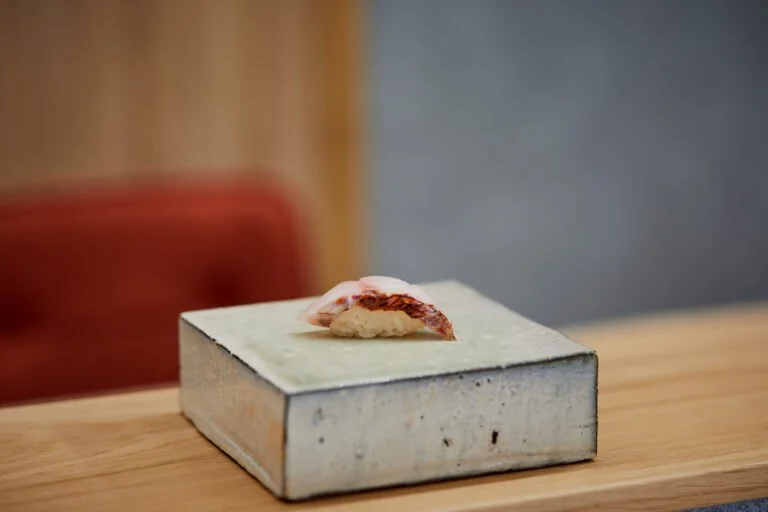 Roji has just ten seats, lined up along a small sushi counter that wraps around the kitchen. Inside are husband & wife team (Tamas & Tomoko) who are diligently prepping the various dishes – this is their operation, but they're also backed by the folks behind Sushi Atelier.  It's extremely elegant, and feels very intimate. After a drink, an ice-cold hand towel, and a short speech from Tamas welcoming you to the restaurant, things get going, with a series of inventive dishes placed on a small stone pedestal in front of your table setting…
Details: 56B South Molton Street, W1K 5SH | £150pp | Book here
–
Humble Chicken | Soho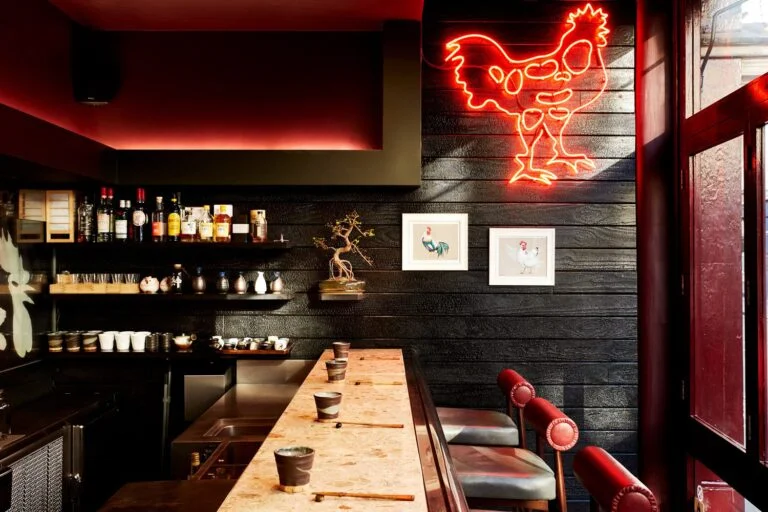 Angelo Sato's Michelin Bib Gourmand-winning restaurant started out as a 'beak to tail' chicken spot, putting a zero-waste twist on yakitori skewers. But now he's turning his attentions to omakase dining, offering an eight-course tasting menu that puts less of an emphasis on sushi than most other places, and instead turns out quirky dishes like avocado-wrapped mussels, pig trotter bao and shokupan milk bread with chicken parfait, inspired by his own Japanese-European heritage.
Details: 54 Frith St, London W1D 4SJ | £125pp | Book here
–
Takahashi | Wimbledon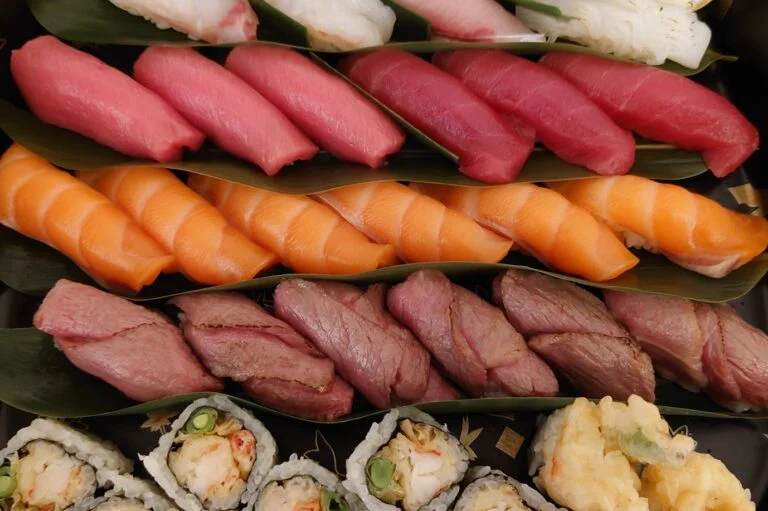 A restaurant experience that you'll remember for years afterwards. Husband-and-wife team Nobuhisa and Yuko Takahashi run this relaxed and intimate Wimbledon eatery, serving Japanese dishes with a gentle Mediterranean influence. An extensive sushi and sashimi menu is bolstered by 'tapas' dishes of grilled king crab leg, crispy pork belly with miso and lightly battered vegetable tempura – but plump for the omakase and you'll get a selection of all the best dishes on offer that day, from raw swimmers to grilled meat and sweet desserts.
Details: 228 Merton Road London SW19 1EQ | £100/£125 inc. wagyu beef | Book here
–
Maru | Mayfair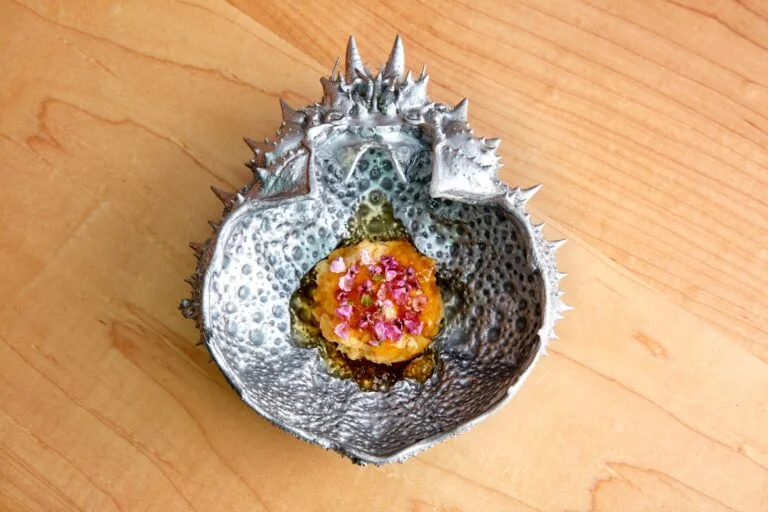 Maru comes to you from chef Taiji Maruyama, and we mean that in a sense that's much more palpable than most other restaurants. You'll walk in, take your seat at the counter (there were ten, but feeling that wouldn't allow for enough time with each diner he quickly reduced it to six) and Maruyama will personally prepare and serve a 20 course omakase menu that changes every night. It's almost entirely put together with British ingredients, and as a third-generation sushi chef you can expect him to come up with some pretty creative dishes. One highlight which is likely to make a regular appearance is the king crab, served in a silver bowl cast from the shell itself…
Details: 18 Shepherd Market, W1J 7QH | £170pp | Book here
–
Kurisu Omakase | Brixton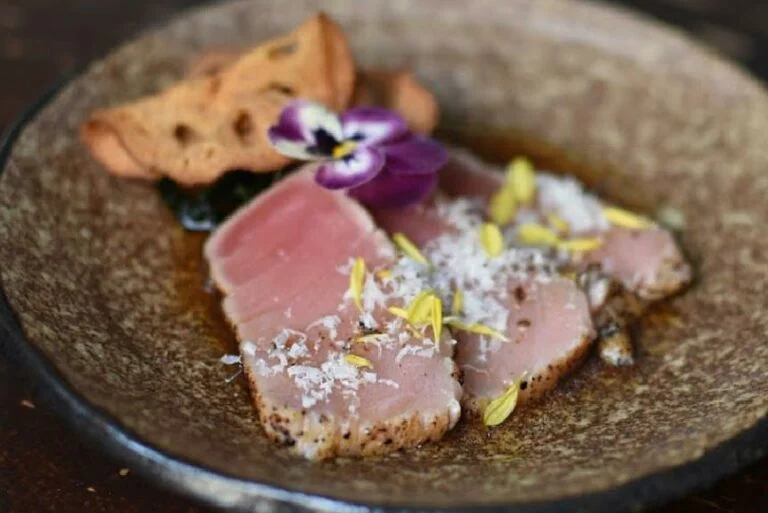 We're fairly sure you're actually more likely to win the actual lottery than score a seat at this super-popular omakase experience. See, it's not actually a restaurant. Owner Chris (who puts the 'Kurisu' in Kurisu Omakase) instead hosts at his parents' restaurant, Ichiban Sushi, that's been around since 1999. He's been soaking up skills during all that time, later heading off to train at the Tokyo Sushi Academy and returning armed not just with technique, but some genius-level creativity that brings a new twist to the genre. On occasional nights, when the restaurant's closed, he welcomes eight guests up to his makeshift sushi counter, telling stories, handing over exquisite slabs of fish, and occasionally getting the blowtorch out. Much like Sushi Tetsu, getting a seat is a sweaty palm-inducing ordeal involving multiple screens, Instagram live, and some F5 button-mashing, but if you can get them, it's more than worth it.
Details: Ichiban Sushi, 58D Atlantic Road, Brixton, SW9 8PY | ~£108 | Follow Chris on instagram for updates and ticket releases
Main image: Maru
---
Prefer to be master of your own destiny? Check out these other great sushi restaurants (with menus)