NOTE: LINO is now closed in this location, but is set to reopen in Queen's Park in September 2022.
---
If you're going to open a restaurant in a former lino & carpet factory…
…you'll have to tread carefully.
And the people behind LINO certainly did, making sure that the place looks every bit as cool as it should while retaining as many original elements as possible. The man behind it all is Richard Falk, formerly head chef at iconic Clapham eatery The Dairy, so to say it's been hotly anticipated is something of an understatement.
The place itself is hidden off a side street off a side street behind Smithfield Market. And when you do find it, it'll still look like a factory, retaining the original glazed tiles on the building's exterior – you'll then step through the huge 12-foot high original factory doors, and enter the understandably huge space within…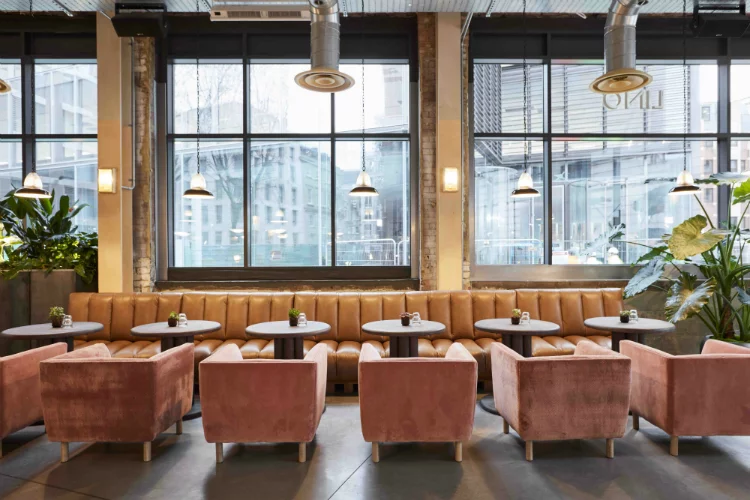 That place has been renovated into a light & airy dining room filled with wood, concrete, steel and plush pink fabrics, with all of it surrounding the place's true centre of gravity: a gorgeous clover leaf-shaped bar made from waxed tulipwood. There's so much space in fact, that they've even turned one of the back rooms into The Back Room; a sort of cafe-cum-lounge where you can grab something from their breakfast selection in the morning, small plates in the day time, or a cocktail in the evening.
As far as the menu is concerned, it's an all-day, Modern British affair starting with breakfast pastries, all made in -house, just like their sourdough bread, sausages, yoghurts, house-cured bacon & salmon, and more.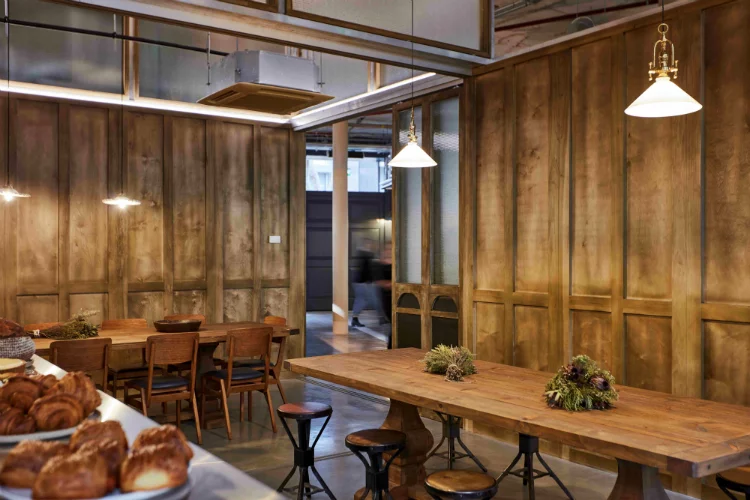 Later in the day, you can expect starers like burrata with hazelnut dukkah, plus pear & endive salad; or an aged beef tartare with bone marrow & smoked duck egg. The main courses include everything from an oxtail & potato hot pot with Brussel tops (made to order), a whole grilled lemon sole with salt-baked potatoes & mustard vinaigrette; and a lasagne of pumpkin, Jerusalem artichoke and parmesan, among many others.
To cap it all off, there's dessert in the form of warm chocolate mousse with milk ice cream; an Earl Grey custard tart with lemon sorbet; and croissant ice cream with brown butter, made from extra pastries from breakfast.
A concept that might be unfamiliar to some.
NOTE: LINO is now closed in this location, but is set to reopen in Queen's Park in September 2022.
---
LINO | 90 Bartholomew Close, EC1A 7BN