NOTE: Mac and Wild have sadly now closed.
It's not hugely unusual to find shooters in a bar.
Mac & Wild, however, are taking this very literally… by installing a pair of virtual shooting ranges in their newly revamped drinking den, Smoky Barrels.
Following the success of their pop up dedicated 'gun room', they've brought the simulators into the main space, meaning you'll now find it dotted with chesterfield sofas; cosy faux fur throws; and a couple of virtual shooting ranges slung down the middle.
Each lane comes with two replica shotguns (so that you and a friend can compete, side by side), and faces a screen transporting you to the Scottish Highlands with rolling fields, thickets of pine trees, and gambolling deer, wild boar, and grouse for you to take a shot at. And just to make it an authentic hunt, there's a huge dressing up box of deerstalkers, tweeds and jackets to help you look the part.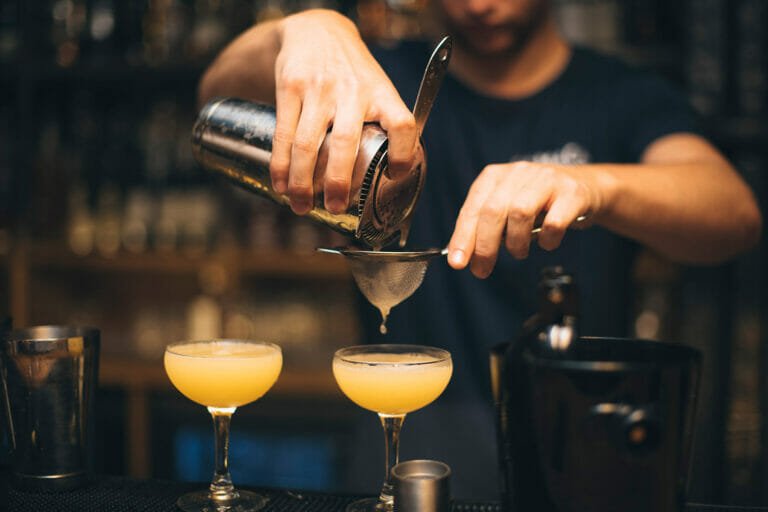 And just to make it authentically Scottish, they've stacked the bar with over 200 varieties of whisky; a hand-picked selection of craft beers; a collection of bottled cocktails, stirred up in house; and a mini menu of Scotch-influenced bar snacks to anchor it all down, like haggis pops, venison scotch eggs, and their award-winning Veni-Moo burger.
Those whiskies come in a set of signature cocktails (including whisky slushies), or by the dram in their daily happy hour (5-7pm). But if you're after something a little different, you might want to book in to their 'Drams in the Dark' sessions; led by whisky connoisseur, Blair Bowman.
Every Friday and Saturday night, the bar will be completely candlelit as you sip your way through a welcome drink. Then, once you've sussed out the key elements of your chair, the bathroom, and how close you're sitting to that stranger behind you, the lights will go out completely, and you'll be led through a canapé-paired whisky tasting of four or five drams, all in the pitch dark.
Perfect for heightening your senses, and allowing you to savour the nuances of each tipple…
But also perfect for hiding your whisky face.
NOTE: Mac and Wild have sadly now closed.
Smoky Barrels | 9A Devonshire Square, EC2M 4YN
---
Like a dram? Check out our guide to London's best whisky bars