NOTE: MEATliquor W1 has now closed, but you can still head to MEATliquor N1.
There's probably only one thing that's more fun than witnessing fever-pitch levels of buzz build around the 11.11.11 launch of your first restaurant.
And that's taking everyone by surprise, and opening it early.
But why shouldn't MEATliquor founder Yianni Papoutsis have had a little fun: just over a year earlier he was cooking burgers from a van nicknamed the "Meatwagon", tweeting the location, and sticking an iPod on the speakers.
Until it was stolen.
The van, that is, not the iPod. Unless it was inside the van at the time. In any case, it was fortunate – for the large numbers of ardent fans already devoted to Yianni's melted cheese and crispy bacon burgers, his Philly cheesesteaks, and the special sauce found in his "dead hippie" burger –  that he quickly found a semi-permanent residence above the Goldsmiths Tavern in New Cross.
With an actual kitchen at his disposal, a place for diners to sit, a cocktail bar run by Soul Shakers and a devoted following – both virtual and actual – the "#meateasy" phenomenon quickly took flight.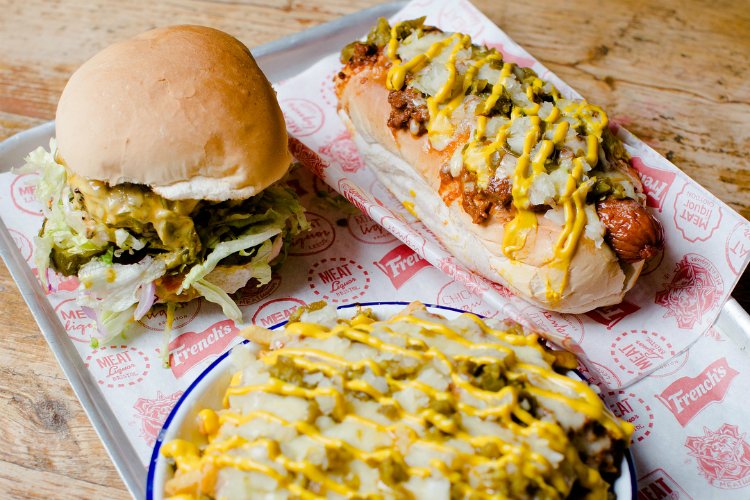 Each night #meateasy bulged at the seams, overflowing with the converted and the soon-to-be: men and women who had come to see if these really were the best burgers in London.  The public's hunger for Yianni's burgers, his mac and cheese and his buffalo wings – all washed down by an unquenchable thirst for lager-topped margaritas (Lagerita anyone?) – saw no end.
Until it ended.
As a dark cloud set over #meateasy's fans – who would now be unable to ever look at a regular burger in the same way again – a gentle feeling of relief spread amongst those who genuinely wanted to go, but who never really had any intention of heading to New Cross.
Luckily now everyone is happy: #meateasy came back.  Only it's permanent, it's now called MEATliquor and – best of all – its grand flagship, MEATliquor W1, is just a stone's throw from Bond Street Tube.
There's now five others in London, plus two more in Brighton and Leeds – but this is (in a way) where it all began. It's dark and almost windowless, with walls plastered in graffiti, occult symbols, subway tiles and neon, while a bluegrass & rock soundtrack thumps over it all. Order yourself a Dead Hippie burger, a bowl of Monkey Fingers (battered chicken breast with buffalo sauce) and a Hot Mess (hash browns smothered with blue cheese sauce and jalapeños), and bed in for the night.
MEATliquor: the best burgers in London? Very probably.
NOTE: MEATliquor W1 has now closed, but you can still head to MEATliquor N1.
MEATliquor W1 | 74 Welbeck Street, W1G 0BA
---
Need a spot for nightcaps? Stagger along to Burlock