NOTE: Neptune has now closed.
Fun fact: since Neptune was discovered back in 1846, it only completed its first full orbit of the sun in 2011.
And its namesake in Bloomsbury's Principal Hotel was only discovered in 2018.
Around springtime.
It's run by the folks behind Hackney's seafood-driven gastropub The Richmond, and has a similar affinity for swimmers; in fact the restaurant's centrepiece is a huge, gleaming raw bar set squarely in the middle of the space. Surrounding it is a seventies-inspired space populated by blush pink banquettes, hanging greenery, angular columns, and curtained chandeliers. It's all very opulent. In fact, the room its in was originally designed to mimic the 16th-century Château de Madrid in Paris.
THE MENU
As we mentioned, this is a seafood-heavy spot, so expect all manner of oysters (Kumamoto, Blackwater, Morecambe Bay, etc.) to go with Exmoor caviar, crayfish, scallops and more from the raw bar.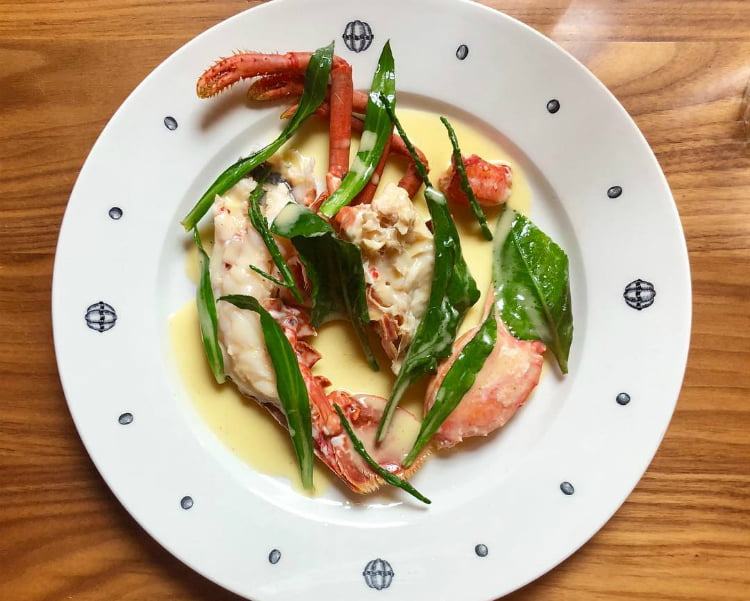 Starters move into more land-based territory with beef tartare dressed in tonnato (no, not tomato, tonnato. It's an Italian condimentmade with tuna, anchovies, lemon juice, olive oil, and mayo); a pork & pistachio terrine; and some creamy burrata with melon, shiso & Vesuvius tomatoes. Mains, meanwhile, include the likes of whole lobster with sea herbs & ginger; spaghetti with cockles, squid, parsley & chilli oil; and prime rub cooked over oak & charcoal on their grill.
To wash it all down, there's a list of low-intervention, natural-leaning wines (including a dozen orange numbers) whose connecting theme is their proximity to the sea; whether it be from "the salty, iodine-filled air of the Tasman Sea, or grown from vines rooted on ancient sea-beds".
A couple of glasses should be enough to get the mercury rising.
NOTE: Neptune has now closed.
Neptune | 8 Russell Square, WC1B 5BE
---
Like British seafood? Then give Parsons a go…