Opium | A Hidden Dim Sum And Cocktail Bar In Soho
Let's talk about opium.
Despite first being banned in China in 1729, its popularity rapidly increased over the following 200 years (largely thanks to us), destroying millions of Chinese lives before finally sodding off some time around WWII.
The sadness of this tale – particularly when considered alongside the massive amount of flack that Yves Saint Laurent received for controversially and insensitively naming his 1977 perfume 'OPIUM' – should make opening a cocktail and dim sum parlour in the heart of Chinatown, and calling it Opium, a pretty bad idea.
And perhaps it would be, only –
1) No one – other than a handful of Southeast Asian tribesmen and the occasional backpacker – does opium anymore, and
2) This place, unlike Yves' intoxicating scent, is good.
You'll enter through an unassuming, numberless jade door on Gerrard Street (which incidentally, if it had a number, would be 15). If the amber light's on, you're good to go.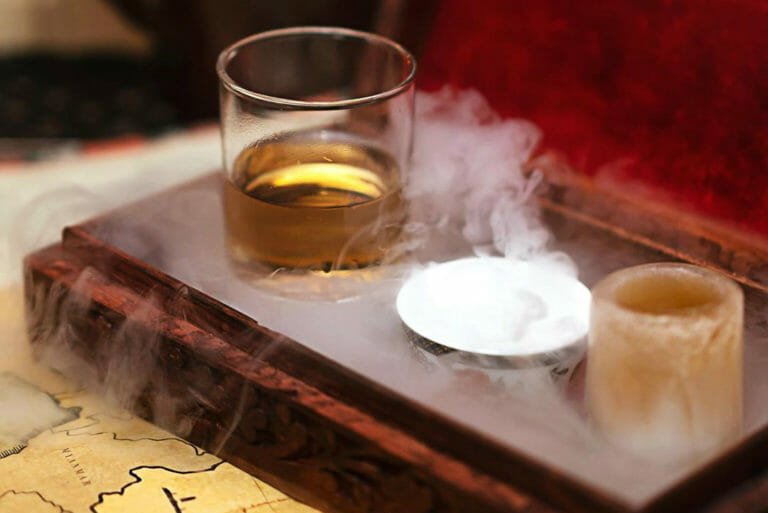 Inside you'll find a maze of different rooms, spread out over two floors. Options include the Dining Room for 'dim sum with a modern twist', an Apothecary Bar serving mysterious, medicinal potions only identifiable by their Chinese characters, and a little tea room.
There's also a homely attic bar upstairs which leads through a handful of Orient Express-style carriages into founder Dré Masso's experimental and interactive Bartender's Table, where bartenders and guests mingle over fortune cookie-accompanied Double Bubbles, Laughing Buddhas and Dré's signature (smoke-producing) Opium Cocktail No.1.
And finally there are the toilets which, rather unconventionally, shout at you.
You'll want to try those.
NOTE: The Apothecary and Peony Bars are open Tuesday-Saturday, while the Academy Bar (with the Bartender's Table) is open Thursday-Monday. You can find out more, and make a booking, HERE.
Opium | 15-16 Gerrard Street, W1D 6JE
---
Like hidden-away bars?  Then you'd probably like to peruse this (totally secret) list of London speakeasies…