NOTE: The Library Bar is now open only to hotel guests or members of The Ned.
The mixologists at The Ned know how to mix cocktails by the book.
And now they're mixing those cocktails quite literally by the books, as the Library Bar – which is dedicated to martinis and champagne – has finally opened its doors.
Like the other drinking and dining areas inside The Ned, the intimate Library Bar shares the stunning marble-clad walls, sleek pillars and grand double-height windows that come courtesy of the building's past life as the Midland Bank. Matched to these gifted surroundings are plush, art-deco era chairs; an oxblood-leather bar and a bespoke brass bar-back stocked with rare cognac and vintage champagne.
Oh, and there are a lot of books.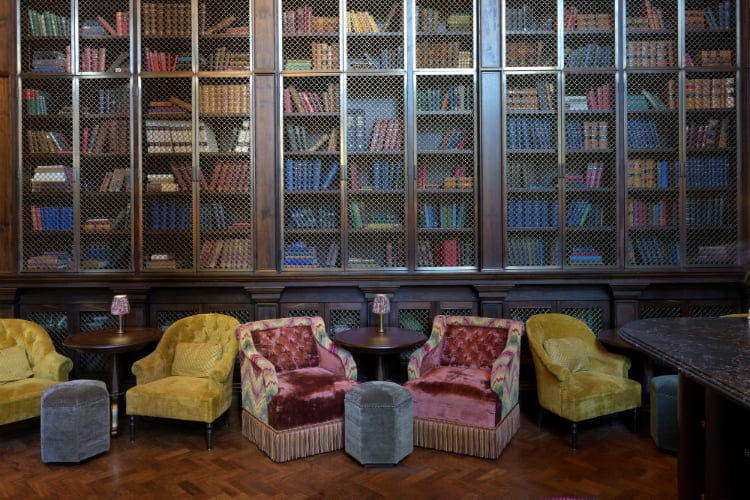 Should your tipple of choice be either a martini or a tall glass of Champagne, well you're in the right place as there's an array of vintage-inspired signature numbers on the menu here, like the Rose Martinez (which combines Cocchi Rosa and Bathtub sloe gin with Champagne and martini bitter) and the Velvet Fizz (which whips up Konik's Tail vodka with coconut, lemongrass, lime and egg white, before being finished off with a dash of Champagne). And if you'd like to take the whole "vintage thing" up a notch, you'll also find a small selection of cocktails on offer that use rare spirits from the 1950s and 60s – like the ol' Hanky Panky (made with 50 year-old Fernet Branca).
However should you be in the market for really impressing someone – which, if you've chosen to bring them here, seeeems pretty likely – then the slickest combination of moves available to you will be the following:
Nod in the direction of the sharply-dressed barkeep (or wink, if you can do so without being creepy);


.



Request a visit from the martini trolley;


.



Customise martinis for you and your date by mix-and-matching your preferred gin or vodka, and vermouth (and then choosing a suitable garnish).


.

And then repeat points 1-3.
It's a recipe for fun.
.
NOTE: The Library Bar is open Mon-Sat, 5pm-late. Please note that it is now only open to members or hotel guests of The Ned. You can find out more on its website right HERE.
The Library Bar | The Ned, 27 Poultry, EC2R 8AJ
---
Partial to a tipple? Peruse the Best Bars in London