NOTE: Wilder has now closed. Luckily, there are plenty of great restaurants in Shoreditch you can head to instead…
The basement space in Shoreditch's elegant Boundary Hotel just got Wilder.
That space – which is co-owned by Sir Terence Conran – has gone through a few changes over the years, but now, Sir Tel has decided to bus in a homegrown chef who specialises in homegrown ingredients. In fact, the driving ethos of Wilder is that everything on the menu is "caught, hunted, farmed or found from these isles", which means that there are no lemons, olive oil, or other such exotic nuisances on the menu. And their replacements are frequently quite creative. In fact, each dish contains a 'wild' element.
The chef behind it is Richard McLellan, who's two decades worth of kitchen credentials include stints at the celebrated Typing Room and the Michelin-Starred Alyn Williams at the Westbury, before starting his own supperclub under the Wilder banner.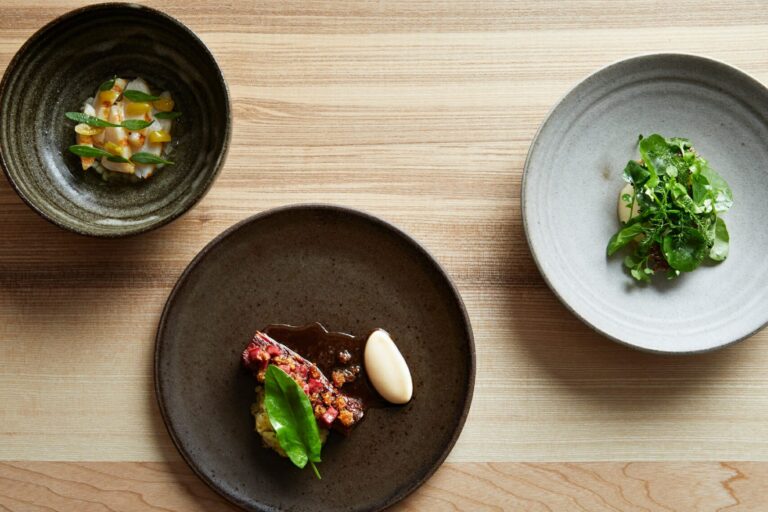 The permanent space he now enjoys is underneath the Boundary Hotel in Shoreditch, which has been decked-out with a kind of minimalist warmth, thanks to ash-wood furnishings, low-lighting, and overflowing bundles of wild greenery hanging from the ceiling.
The menu is a short, but fascinating read. Scallops come laden with green plums and kelp. The mackerel is complemented by pumpkin, a fermented cultured cream, and some sea aster; a flower that grows only in salt marshes and estuaries. A hearty pork jowel is decorated with celeriac & mead. Ingredients like gutweed (a green alga sometimes known as 'grass kelp'), buckwheat, linseeds, rye, and hay oil pepper the list. Even the house-baked sourdough is made using beremeal, an ancient grain found only on the island of Orkney.
The wine list has been put together by a former Dinner & Noble Rot consultant, and the cocktails come courtesy of the founder of Little Mercies, and they include an Apricot Highball (which takes advantage of this year's bumper crop of English Apricots), and a bespoke gin from the East London Liquor company which includes the many botanicals on the menu.
NOTE: Wilder has now closed. Luckily, there are plenty of great restaurants in Shoreditch you can head to instead…
Wilder | Boundary, 2-4 Boundary Street, E2 7DD
---
Going out in Shoreditch? Then check out our area guide…