1894.
Women win the right to vote in local elections.
Marks & Spencer open their first store.
And Horace Jones' final architectural marvel is unveiled to the public: a bridge that snaps in the middle.
On purpose, that is.
Now Grade I listed, Tower Bridge is a London icon, and probably the most recognisable bridge across the Thames thanks to its two fairytale turrets. Over 50 designs were submitted to a specially formed bridge committee, but in the end it was awarded to Horace Jones, architect for the City of London at the time (he also designed Smithfield and Leadenhall market), and who was also, coincidentally, on the judging panel.
The neo-Gothic design was chosen to be in keeping with the Tower of London — originally it was going to have its own mounted guns, too — where it leads from the north bank across to Southwark and London Bridge on the south.
Designed to allow tall boats and steamers to pass through, the roads in the middle are called bascules (from the French for 'seesaw'), and are still raised a couple of times a day (you can even see the scheduled lifts here, if you want to avoid crossing at an inopportune moment). They used to lift a lot more frequently, and in 1952 they took Albert Gunter particularly by surprise, given that he was driving a double decker bus when they started to open. He made the split-second decision to accelerate, and managed to land the bus and its passengers safely across a 1m gap onto the other side, scoring a sweet £10 prize for his bravery.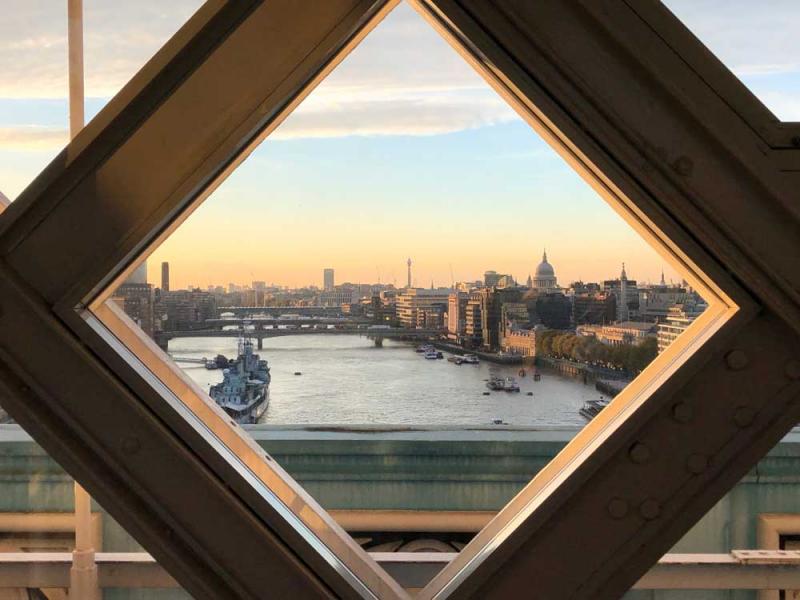 Obviously, you can walk across Tower Bridge at any time – but it's actually possible to go inside it, and stroll along the walkways between the two towers. These were built to allow pedestrians to get across even when the bridge was raised, but since that involved going up a lot of stairs, they quickly fell out of use and became the stomping ground of thieves and prostitutes. Now, for a small fee, you can head up there for amazing views across the Thames and glass floors revealing the traffic below.
Underneath the towers you can also see the original steam-powered machinery that raised the bridge. And in the cooler months, occasional tours take you into the bridge's most rarely accessible areas, including the cavernous sloping chambers that house the giant counterweights for raising the bridge.
Want to see Tower Bridge from a different perspective? Admire it with a glass of something cold in hand at Tavolino, Le Pont de la Tour or Coppa Club, or ascend to one of London's viewpoints to see it from above.
If you'd rather tower over it.
NOTE: Tower Bridge's chambers and high-level walkways are open daily – you can book tickets, and find out more, HERE.
Tower Bridge | Tower Bridge Road, London SE1 2UP
---
Want to make a day of it? Check out our City Itinerary, featuring secret gardens, Xi'an street food and a couple of London landmarks…