Up until now, there have been two major problems with London's most theatrical, vintage tube carriage-containing, live music-delivering, 1940s-style cocktail bar:
1) It hasn't existed, and
2) Had it existed, it would have likely been located in East London; it might have been rubbish; and it would have certainly required hours of queuing to get in.
But thankfully it now does exist – in the post war, underground drinking den form of Cahoots – not in East London, but just off Carnaby Street, in Kingly Court. And it's not rubbish, but instead a tongue-in-cheek, subterranean escape from the real world which genuinely does transport you to a different era.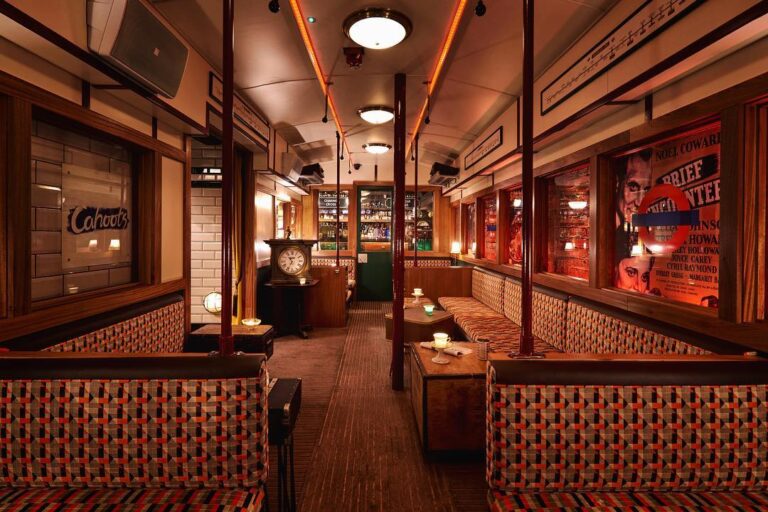 You'll enter the 1940s by descending a staircase – which looks like one of the old wooden escalators that used to lead down to the tube – marked "To The Trains". Enter through the ticket hall and you'll instantly find yourself in an intimate, buzzy and clandestine cocktail den containing a replica 1940s tube carriage complete with vintage adverts visible on the exposed brick wall through the windows. Elsewhere you'll spot railway tracks; modified steel bunk beds; old lampshades mixed with chandeliers; bartenders (in braces, of course) serving cocktails that mix champagne with garden peas, alongside black market liquor and post-war favourites; framed tube maps and polished white, underground tiles; old clocks that tick backwards; bunting, sandbags; luggage racks and – several times each week – a live band playing 1940s jazz and swing.
But most happily of all, the thorn of queuing has been mercifully removed from your side… because they take reservations.
NOTE: Cahoots is open daily. You can find out more, and book a table (or the carriage, for up to 40) HERE.

ALSO NOTE: Cahoots now has a sibling across the way – find out more about the Ticket Hall & Control Room.
Cahoots Underground | 13 Kingly Court, W1B 5PW
---
Like hidden bars? Check out London's Best Speakeasies