Clays Bar | Clay Shooting Activity Bar in Moorgate
Rifle through your memory bank for the last time a huge new virtual clay shooting concept launched in London, and you'll likely draw a blank.
Taking a shot in Moorgate, Clays is the first activity bar in London to use cutting-edge technology that fully simulates Olympic clay shooting (which works accurately irrespective of the angle you're standing at in front of the screen).  Head inside – straight past the strikingly tweed-clad doorman – and you'll be greeted by a smartly vested 'shoot captain' (your host) who'll lead you through the verdant entryway and down the stairs into a large subterranean clay-hunting retreat that sees an elegant red marble horseshoe cocktail bar surrounded on three sides by 11 shooting 'pegs', which are basically semi-private booths. There's an upstairs bit too for larger private events.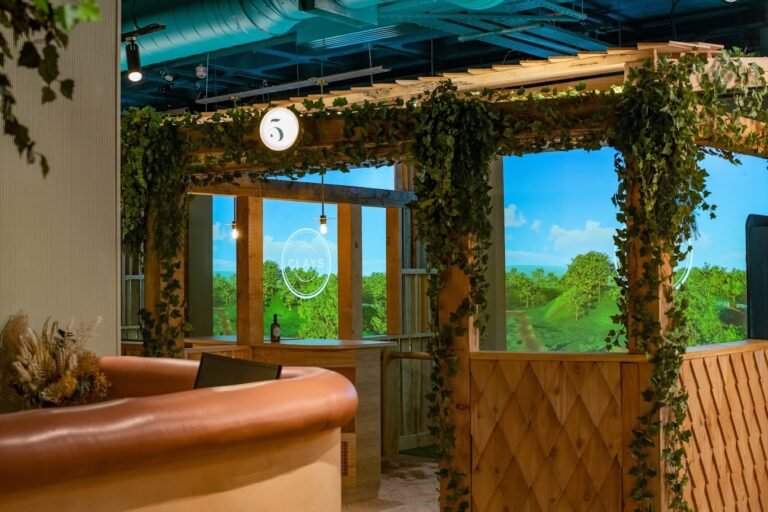 Each peg at Clays Bar is large enough to host from six to twenty people for a ninety minute session, featuring inside a tech-laden big screen projector; a bunch of very real (but also very decommissioned) shotguns, and a built-in touchscreen to both order your food & drinks, and to choose the games you'd like to play. There are a whole bunch of games, ranging from old-school clay capping action (with different colours, speeds, etc.) and a peloton style bike race (the more you hit, the faster you go) to 'Moon Shot', which cleverly balances the action by allowing the lower-scoring players to knock the leaders off their pedestal, keeping the game constantly competitive. It's sort of the virtual clay target shooting version of gutter guards in ten pin bowling…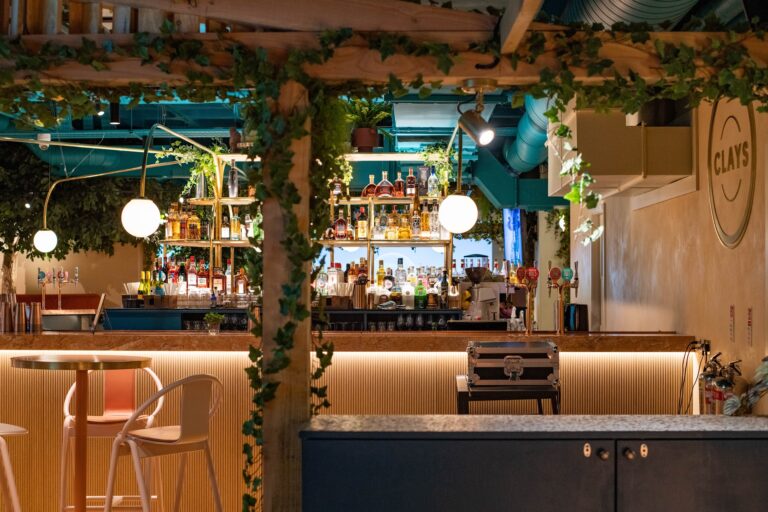 On the food front Roger Olsson – formerly of The Dorchester & The Ritz – has been enlisted to create Clays Bar's finger-friendly menu of shareable light bites like venison Scotch eggs; Korean fried cauliflower; truffle popcorn; flamed celeriac with chimichurri; Cornish whitebait with lemon & aioli, and more. After something bigger? Target the Lebanese flatbreads loaded with 24hr braised lamb; the tomato & rosemary focaccia with Bocconcini mozzarella; or just shoot straight for the chocolate cigar filled with salted caramel…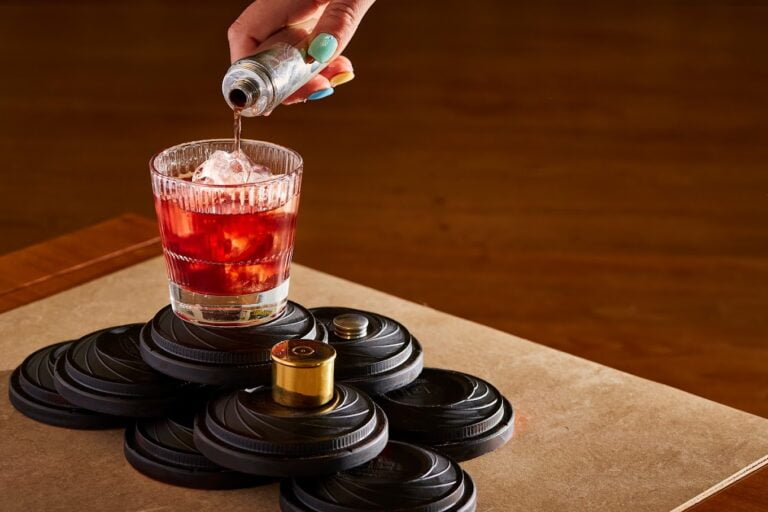 And as for the all-important drinks, the Clays bar is home to a roster of both classic & original cocktails, stretching from a floral Garden Collins (grapefruit & coconut gin with elderflower cordial) and a refreshing Caddy's Tip (apple, mint, and nettle-infused vodka) to a warming Shooting Jacket, which mixes butter-washed whiskey with Fernet-Branca and amaretto liqueur. And to round it all out, there are beers, wines, bubbles, sharers, and of course…
…shots.
NOTE: Clays is open daily. You can find out more, and make a booking at their website HERE.
ALSO NOTE: Want a second shot? Head to their latest branch, Clays Canary Wharf.
Clays | 55 Moorgate, EC2R 6LL
---
Making a night of it? Check out these excellent restaurants near Old Street