A quick booze primer –
Liquor before wine. You'll feel fine.
Wine before liquor. Never been sicker.
Wine and liquor inside the same glass. You're at CTC.
Yes, the award-winning proprietors of The Cocktail Trading Company have closed their temporary Soho bar and gone on to open a bigger, better, boozier flagship in Brick Lane… proving beyond all reasonable doubt that when God closes a door, he really does open a window.
Of course they're still serving their signature mind-bending cocktails/art pieces, and the space itself is still devastatingly dark, moody and handsome (largely thanks to the combination of a rustic stone floor with a beautiful wood-panelled celling). But what's new? Well, this is –
1) There's an entire on-site distillery in the form of a 100 litre copper whiskey still named Betty Blue, where they're creating bespoke booze to pop inside their cocktails: from flavoured gins, to spicy papaya vodka.
2) There's a vast 400-strong back bar full of "extraordinarily rare spirits" like cola liqueur, German whiskey and a bottle of buchi leaf gin from the 1800s.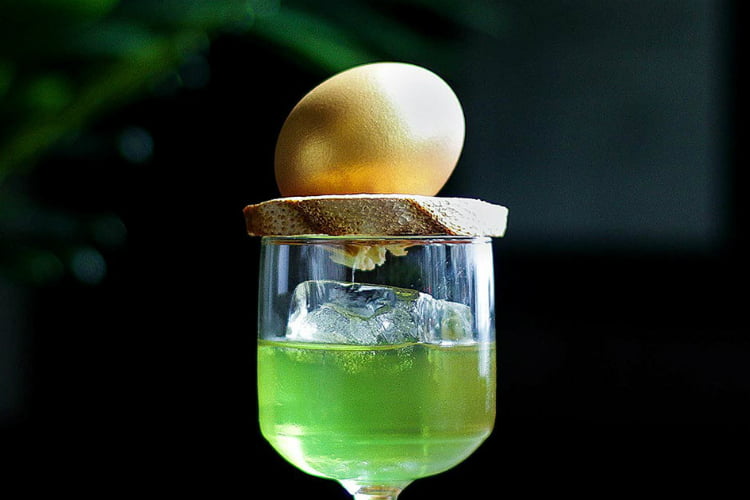 3) There are more than a dozen totally new cocktails including the Instaspam (served in a SPAM can filled with apple brandy and cherry & hazelnut liqueur) and the Bag O' Chips served inside an actual bag of chips… which comes with a side of cod poitin, peach & tempranillo shrub and roast potato seasoning syrup.
4) There's a school. Well, a bar school. You see they're using the space, the spirits and the still to educate budding mixologists by day, before showing them how the pros do it by night.
And for some ballast with all that? Order over a platter of their charcuterie to keep you going.
Food after booze, you'll have a good snooze.
NOTE: CTC Brick Lane is open daily (with live music on Wednesdays, 8-10pm), and is walk-in only on Fridays and Saturday. You can find out more, and book, on their website HERE.
CTC Brick Lane | 68 Bethnal Green Road, London, E1 6GQ
---
Like being in the loop about London's newest bars and restaurants? Check out our excellent guide to the city's best recent openings