The man who once famously said,
"The journey to a good bar is like foreplay. In setting the scene for what is to come, it's an experiential cog of fundamental importance – one which ought never be overlooked, nor undervalued…"
doesn't exist.
We just made him up, and invented that quote.
However that doesn't stop him being right, because exciting journeys off the beaten track to subterranean cocktail bars hidden in unexpected places caress all of the right buttons – buttons which, if the bar is also good, will be firmly pressed on arrival. The problem, however, is that many 'exciting' journeys in London are so far off the beaten track as to be legitimately scary. And – as you well know – if there's one thing likely to undermine the enjoyment of a well-made Manhattan in a great bar, it's the nagging suspicion that you may die on the journey home.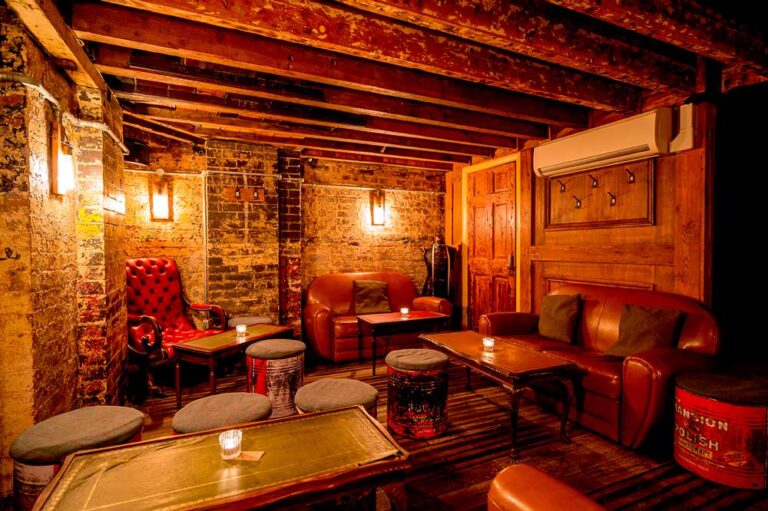 But fortunately Discount Suit Company – an underground cocktail den hidden in the basement of an old suit tailor's stock room – is perfectly situated just a five minute walk from Liverpool Street, in one of the most unlikely locations around. Surrounded by markets, men pushing trolleys full of garments and an unending stream of fabric and clothing shops like 'Cockney Touch Clothing', you'll spot a dilapidated sign for the Discount Suit Company.
Enter through a small black door at street level and – ignoring the shopkeepers' suspicious glances – you'll descend into a dimly-lit neighbourhood cocktail bar entirely composed of exposed brickwork, scaffolding planks, Victorian floorboards and Motown records. There you'll find head bartender Dorian – a man who recently returned from travelling the world completely fluent in the language of mixing killer drinks – serving up their signature cocktails (and some forgotten classics) for £9 alongside beers, wine and cheese platters courtesy of Neal's Yard, all to the background soundtrack of Motown, Northern Soul and people discussing whether the journey to a good bar really is just like foreplay….
Your buttons? Firmly pressed.
NOTE: Discount Suit Company is open daily. It can get busy and crowded the later in the evening, so you may want to reserve a table HERE or by calling 0207 2478755.
Discount Suit Company | 29 Wentworth Street, E1 7TB
---
Enjoy speakeasy style bars? Check out our guide to the best speakeasies in London.