F1Arcade | A Formula One activity bar
Drinking and driving, ordinarily, do not go well together.
However…
…taking a simulated jaunt around a digital Formula One track while sipping very un-simulated high-end cocktails is positively encouraged.
At least, that's the idea at London's latest activity bar concept, F1Arcade. It comes to us from the very people who own the sport, Formula 1, and they've parked it a few yards away from St. Paul's where it takes up the upper floors of the One New Change development. Yes, it's weird to think of someone 'owning' a sport, but these guys do. To make it happen, they partnered up with Adam Breeden, the man who bought us Flight Club, Puttshack, Hijingo, Bounce and All Star Lanes, and who therefore knows more about activity bars that anyone else on god's green earth. And he has delivered.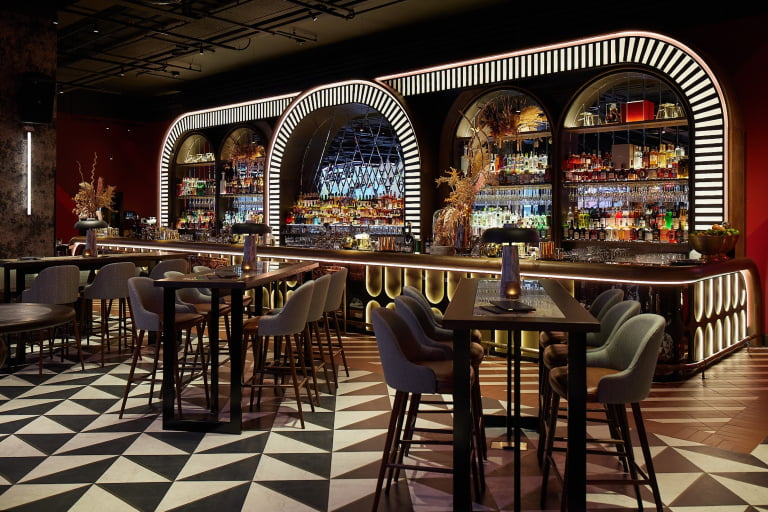 The space is gigantic. Walk up the glowing staircase at the entrance, and you'll find a moody, low-lit palace of cybercorporate decor awash with marble and neon centrepieced by a 40ft bar and surrounded by sixty, yes, sixty top-spec racing rigs that line the walls. Oh, and speaking of the walls, they're made of floor-to-ceiling glass, meaning that you'll be eye-to-eye with St Paul's itself as you sip your cocktail. They've thought of almost every detail, from lighting fixtures that took like racing circuits (and which technically are real circuits) to a wall-mounted BATAK machine you can use to test & hone your reflexes, just like real F1 drivers do.
Now, about those racing rigs – each one costs a cool £60k (so yes, for those keeping score at home, that's £3.6m of machinery surrounding you) and is properly state of the art. They come with a pair of ultrawide curved monitors, one for the driver and one with a cinematic third-person view for those watching. They have real racing pedals, and real F1 steering wheels, and they move too, meaning that they bump, jostle, and lean into corners. And the software platform they use (rFactor 2) is the one actual racing teams use to train. It's the real deal.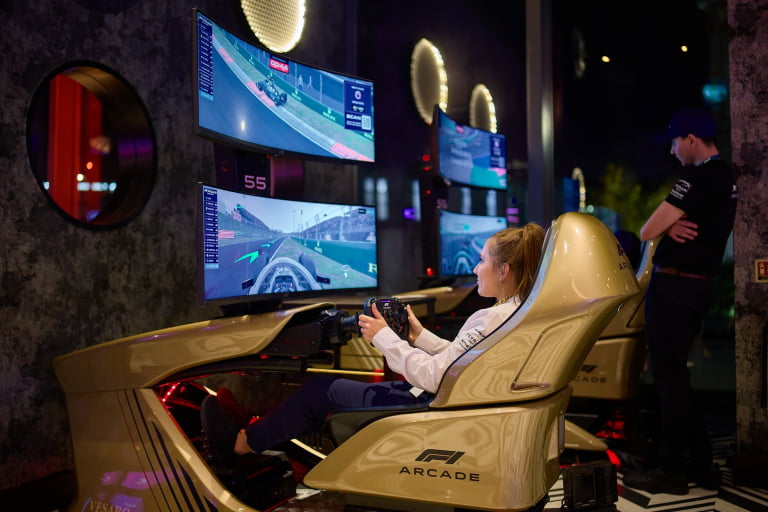 You can race head-to-head against your buddies, or you can play as a team and compete against others, and the learning curve has been extremely well adapted to suit both absolute rookies and literal professionals alike. The only downside? You only get a couple of three minute races a pop if you only book in for a single session. So, if you don't want to be disappointed, then make sure to ask the team directly how much time you're getting.
There's plenty of snack-style food (flatbreads, tacos, etc) and drinks too, starting with those all-important cocktails: the Home Straight involves Kentucky bourbon, mezcal & nectarine sugar, while the Box Box Box is a mixture of rose vermouth with salted fig & cherry. Oh, and these guys don't do jäger bombs. They do Champagne bombs. Speaking of, they also serve the same Ferrari Champagne that gets drunk on the podiums which, confusingly, is nothing to do with the car company, and which thankfully they don't open the same way, spraying it all over the bar.
You just know some of it would end up getting lapped.
NOTE: F1Arcade is open now, seven days a week. You can find out more, and make a booking at their website right here.
F1Arcade | One New Change, EC4M 9AF
---
Feeling peckish? You might want to pop down to one of the best restaurants near St. Paul's…