Disappointed by the lack of original arcade bars in London?
Well, we have something here that might console you…
Four Quarters has just opened its third & largest venue to date, bringing London's original arcade bar – complete with craft beer, cocktails and lovingly-restored genuine arcades – to the huge new Elephant Park development in Elephant & Castle.
A veritable video game palace, it provides a lovely trip down memory lane for anyone who grew up in the '80s (or who simply enjoyed Stranger Things). And with over 3,000 sq ft to play around in – filled with thirty vintage arcade machines that take actual quarters – you certainly won't need to worry about space invaders.
Other games waiting to delight & frustrate you in equal measure include classics like Street Fighter II, Pac Man, Asteroids, The Simpsons, Time Crisis, Sega Rally… you get the idea, it's all pretty old school. In addition to all of those you'll find scattered cocktail gaming tables, eight vintage console booths, and two large-screen projection gaming areas. There are even a couple of "the world, post covid" al fresco gaming areas outside, with screens built into the walls of the venue itself.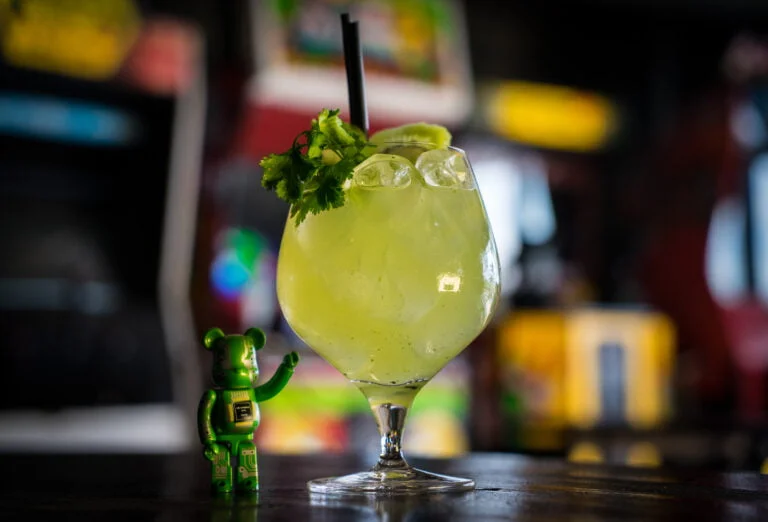 Of course, we also need to talk about Player 2 here:  the booze. There's a long list of game-inspired cocktails (which include 'Donkey Kong's Tropical Punch' and a rum-based peach number called the 'Princes Peach'), and an impressive 16 taps pouring craft beers from London breweries like Mondo, Kernel and Partizan. On the food side of things, they're sticking to a proven formula of predominantly game-friendly, hand-held food: food which also happens to be the most carnally satisfying – burgers, dogs, loaded fries, etc. etc.
They didn't plan it that way…
…it's just an unintendoed consequence.
NOTE: Four Quarters Elephant & Castle is open daily from late afternoon onwards (noon on weekends) – you can find out more, and book, on its website right HERE.
Four Quarters Elephant Park | 20 Ash Avenue, Elephant Park, SE17 1GQ
---
Like drinking & doing? Here are the best activity bars in London…