Boxing gyms.
Bars.
They're both places you can go to kill a few braincells with some punch.
So Jack Solomons would have been very happy with the club in Soho that now bears his name. He was one of the preeminent boxing promoters back in the '40s and '50s, and that club is located on the site of his old gym.
Despite being in the heart of Soho, Jack Solomons Club is a completely hidden bar. From street level, all you see is an after-hours street-side deli – ring the bell, and you'll be invited down to the club. Descending the stairs you'll pass a glass wall peering into the neighbouring kitchen's butchery chamber before you reach the basement, which opens out into an astonishingly large subterranean space, decked out with plush finishes including shaded velvet furnishings, red leather walls, and mind-bending mirrored infinity lights overhead.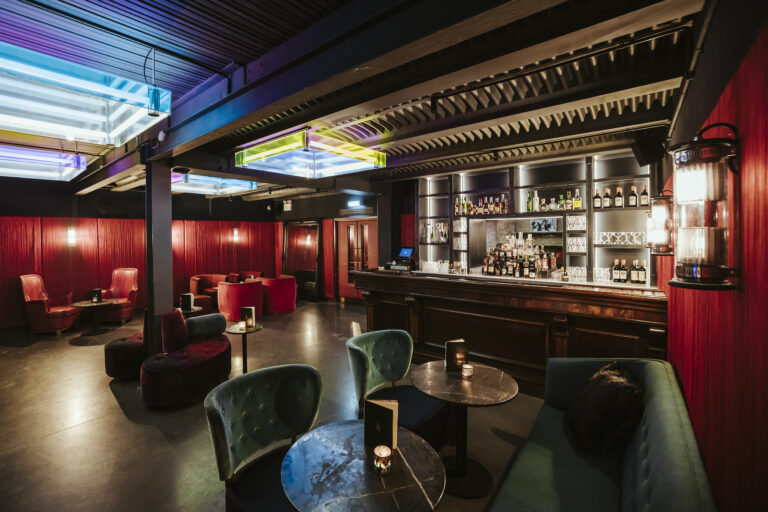 Head to the huge pewter-metal bar counter, and you can acquaint yourself with,
THE COCKTAILS
On the menu, you'll find a throng of original cocktails including the whisky, lime, and maraschino Black Jack; and the bourbon & maple-loaded Fen Tiger. Apparently, Mr. Solomons was also an aficionado of Scotch, so the drinks tend to lean that way. Soaking it all up there's,
THE FOOD
This place is decidedly a bar/club and not a sit down restaurant, but you can still get bar snacks and small plates inspired by Solomons' early spell as a fishmonger, with dishes including crab croquettes, and hot smoked salmon with horseradish and seabass carpaccio. And with all of that, there's,
THE LIVE MUSIC
There are regular appearances from live bands (you can check the programme on their website), while DJs, special one-off events and guest appearances fill in the gaps until 1am (ish) each night, which is more than K.O.
Sorry, OK.
NOTE: Jack Solomons is open Thurs-Sat, 6pm-1am. You can find out more and make a reservation at their website right HERE.
Jack Solomons Club | 41 Windmill Street, Soho, W1D 7NB
---
Partial to a tipple? Peruse the Best Bars in London