Just like its 16th Century namesake – the noblewoman and medical practitioner Lady Mildmay – this striking Stoke Newington pub is also well-known for its curative qualities.
It's a favourite among both Dalston and Stoke Newington locals, positioned between both along the edge of Newington Green. You'll recognise it by it's striking jet black outerwear which – coupled with a little gold lettering and the odd yellow-lit, cast iron lantern – gives it a rather charming old school London feel. Step inside however and it's actually a lot more more modern day. In fact, it wears a very similar industrial-style uniform to neighbour Jolene (also worth checking out if you haven't already).  The black continues in the form of a big wrap-around bar, surrounded by wooden, leather bar stools, with low-hanging pendant lights overhead. The rest is wooden floors and more repurposed wooden furniture, plus a smattering of dark leather Chesterfields and a blackboard chalked with that week's menu, helping to soften the edges.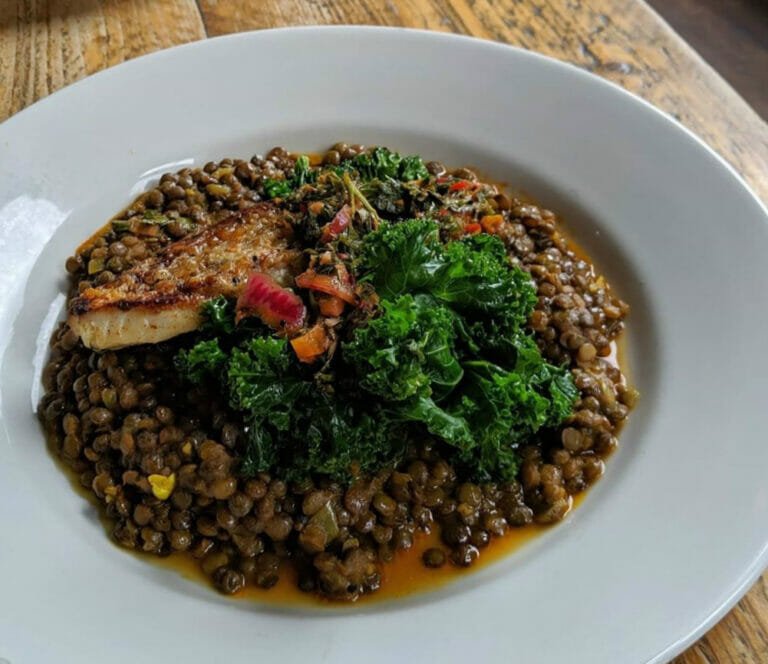 The menu gets changed every three weeks or so, reworked around whatever the best produce is at the time. Cuisine wise it's Mediterranean focused – homely, hearty dishes like mussels with pancetta in a white wine and parsley jus; Barnsley lamb chop with celeriac gratin, watercress, and walnut dressing; and then things like baked cheesecake with plumb compote and cream, or fig and almond tart with crème fraîche for dessert. They also do a big, roast on Sundays: beef, chicken, and a nut roast, served with all the trimming for just under or over £15.
As for drinks, they've got all the usual lagers, ciders, and IPAs on draught, as well as some slightly smaller-batch stuff by the bottle. Otherwise they also offer some excellent wines, again with a European lilt. Nearly all of them are served by both the glass and the bottle, starting at just £5.
NOTE: Lady Mildmay is open all week long. For more information or to book, visit their website HERE.
Lady Mildmay | 92 Mildmay Park, Mildmay Ward, London N1 4PR
---
You know where else does a mean Sunday roast? Everywhere in our mean Sunday roast guide.