Laurel's on the Roof is inspired by the vibe of "Hollywood in the '70s".
So it's appropriate that it's extremely high.
You'll find it on the sixth floor of the new Mondrian Hotel in Shoreditch, and the space it's taking up is a hell of a looker. Our recommendation? Go for the view, stay for the cocktails, and grab a bite to eat at Manteca, which is literally a few yards away from the hotel. Because while the food here is perfectly fine, it won't blow you away, while a lot of the venues you'll be looking down at certainly will. But as a bar? It's got great cocktails, a great atmosphere, and a great view.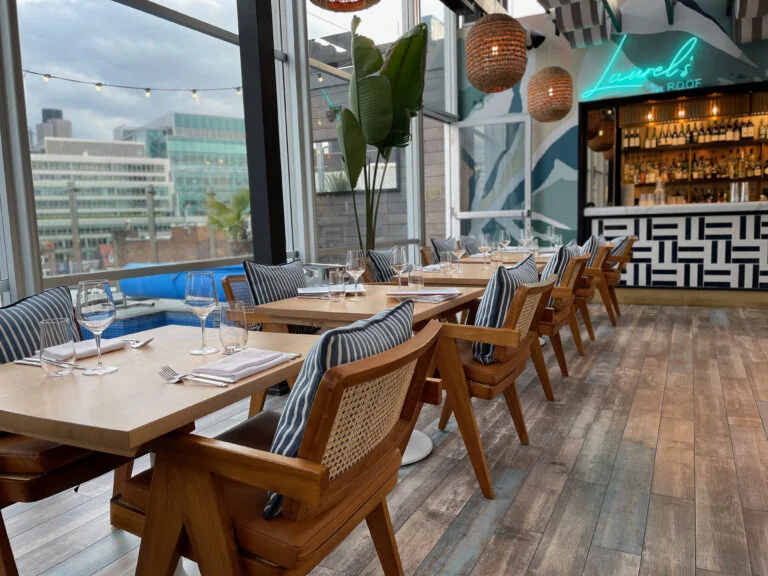 The space itself was actually a members-only area until the arrival of Laurel's (though you will need to book in advance, so don't just drop in unannounced). The extremely pretty design takes its cues from "legacy of Laurel Canyon in Los Angeles" which, for those of us who didn't grow up in a West Coast hub of musical & cinematic counterculture, basically means it's a bohemian mix of rattan, neon, and excellent tunes, all absolutely drenched in light from the glass walls.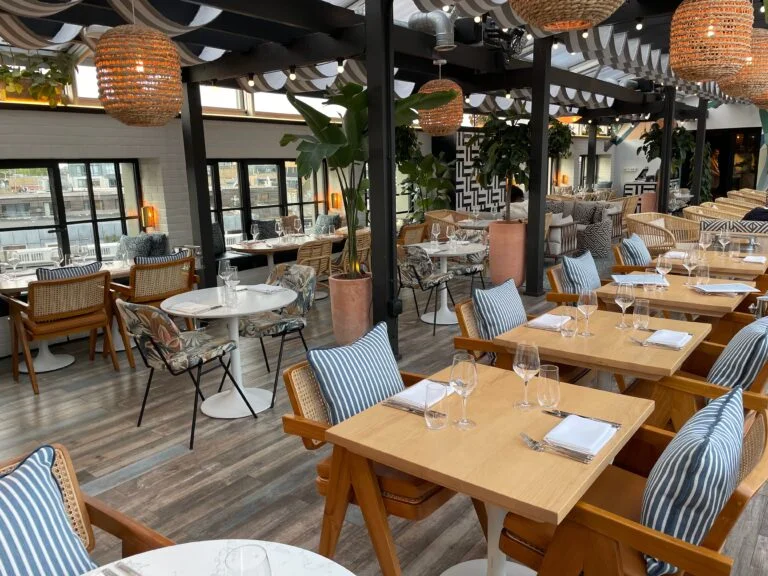 The cocktails swing from a frozen spicy margarita (made with a smoked chilli spirit distilled by a pair of former Noma employees); to a Canyon Punch, with has a nice frothy top supported by Pisco, pineapple, lemon, honey, and Prosecco; to a Oaxaca Express, which blends mezcal with coconut, banana, and espresso.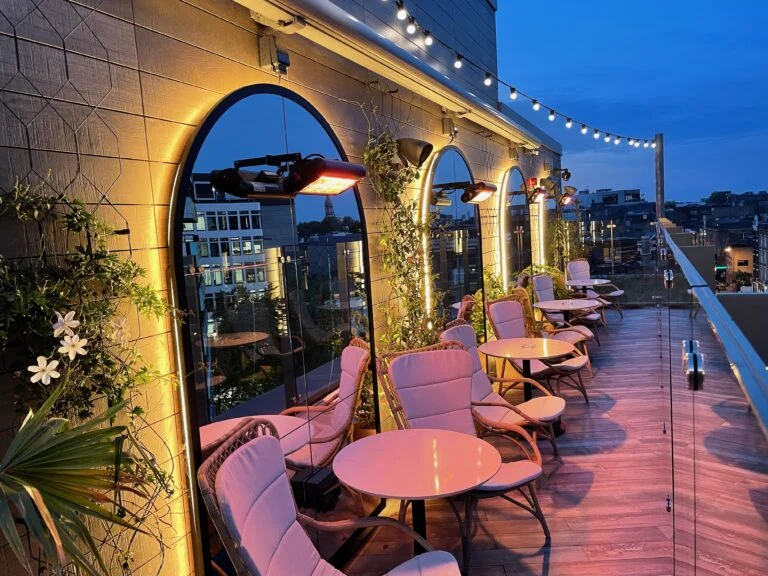 They're taking the music quite seriously, with DJ manning the decks each Thursday, Friday, and Saturday rounded out by curated playlists featuring some of Laurel Canyon's most notable artists (Joni Mitchell, Neil Young, Brian Wilson, etc.) as well as a smattering of more London-ey ambient soul, funk and electric beats.
And last but not least, yes, there is a pool, and no, unless you're staying at the hotel you can't swim in it.
Unless you want to experience the second-quickest way of getting to the ground floor.
NOTE: Laurel's on the Roof is open seven days a week. You can see the full menu, and make a reservation at their website right HERE.
Laurel's on the Roof | 45 Curtain Rd, EC2A 3PT
---
Like high altitude drinking? Here are the best rooftop bars in London.