Twinkle twinkle little star,
How I wonder what you are.
Hint: It's a star. It says so right there in the first line.
Which is probably why Lewis Carroll's Mad Hatter decided to rewrite the lyrics as Twinkle twinkle little bat. And why the people at Callooh Callay (the award-magnet/cocktail joint, also named for a Lewis Carroll turn of phrase) decided to name their new Islington bar after that version, too.
Head inside, and you'll be presented with the first of three distinct areas: the hanging garden, complete with flowers, dangling plant life, and even a garden swing. After that, you'll hit the bar, and the library area, where floating bookshelves line the walls. And finally, drink in hand, you reach the sofa-strewn museum area, with artworks on the wall courtesy of Pure Evil gallery, and an internet connected photo-booth.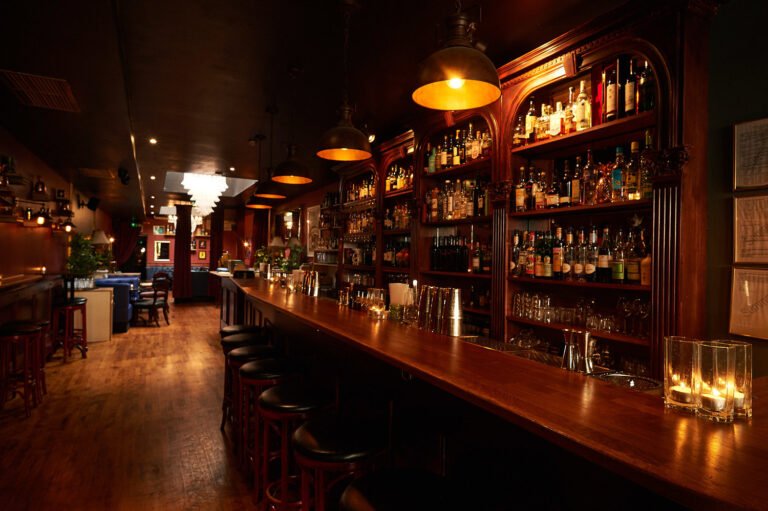 Not ones to rest on their laurels, the team switch up the drinks menu regularly. Currently, you can find drinks like the Bathtub Sour (bathtub gin, apricot, peach bitters, and an actual rubber duck), the G&T Martini (made with gin, tonic reduction, crème de violette, and few dashes of tonic bitters), or the rum-loaded Pan Am, which has already won awards for the bartender who invented it.
And if you're in the market for a little ballast to accompany that booze, then there's a short-but-sweet food menu, with things like Iranian spiced onion rings, pulled pork & apple sauce, rosemary and onion scotch eggs, and sausage rolls made to the owner's mother's recipe.
After which, you won't be quite so little.
NOTE: Little Bat is open weekdays 5pm-1am and weekends 11am-1am (midnight Sun). You can find out more, and book, here.
ALSO NOTE: They've only gone and started serving bottomless brunch too. Find out more HERE.
Little Bat | 54 Islington Park Street, London, N1 1PX
---