Karaoke is a legitimate sport.
It requires skill, determination, perseverance and finally, alcohol.
But it also requires a karaoke bar, like Lucky Voice. They have three bars – one in Soho (the original, opened in 2005), one in Islington, and their newest flagship venue in Holborn, and the deal is simple: you pay per-person for private rooms, into which you can take all manner of drinks prepared by the on-site cocktail bar. There's even a 'Thirsty' button to press for room service booze delivery.
The rooms all feature touch-screen song lists with over 9k tunes to choose from, and you can get 2hrs of roaring singing done at a time for between 4 and 25 people at a time.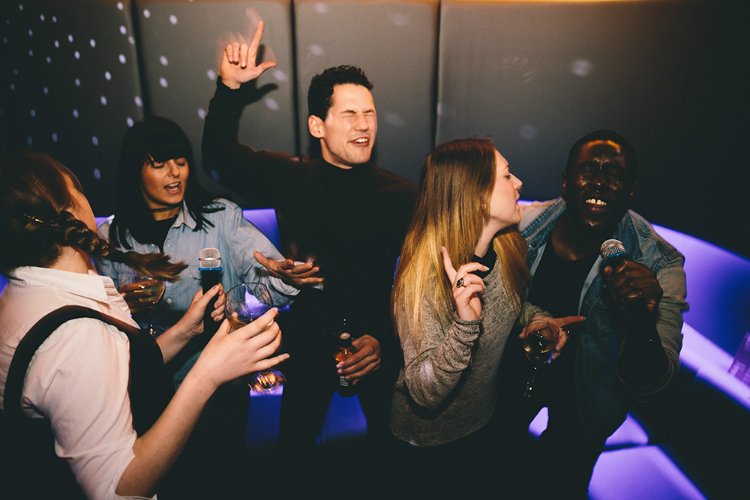 The Soho and Islington branches are both fantastic, but their most recent opening in Holborn is the real show-stopper.
Hiding on Chancery Lane amidst grandiose judicial buildings is a glittering, subterranean temple to fun. Push open the pair of heavy, historic-looking doors at number 84, head downstairs, and you'll find yourself in a raucous, completely unexpected cocktail den kitted out with velvet banquettes; intimate booth seating; an entire wall made up of retro speakers and TV screens; a DJ booth (manned by top international record spinners towards the end of the week), a centrepiece of neon perspex boxes filled with cryptic references to classic choons; aaand a vintage photobooth/high-tech tardis that'll record you singing and send it to your friends who weren't cool enough to come to karaoke with you.
Also, the toilet cubicles have disco balls.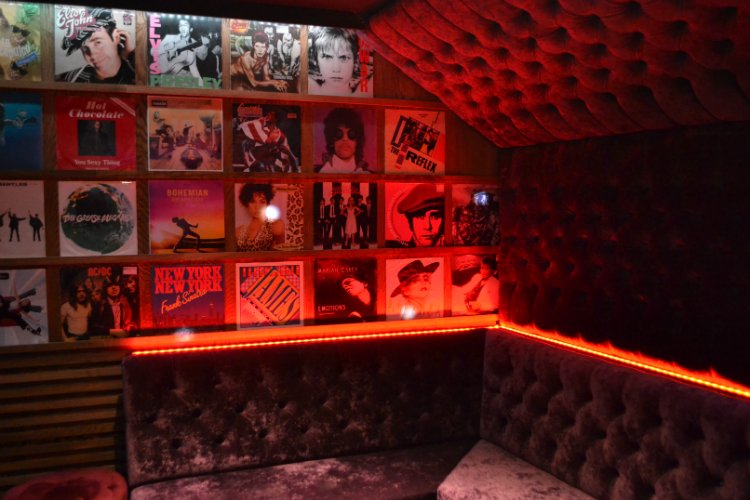 It's their biggest karaoke bar yet, with space for 120 in the booths themselves, and room for another 80 in the main bar area – which stays open till 4am on weekends and boasts a dancefloor that gives your inevitably dope dance moves the space they both deserve, and, from a safety perspective, require.
The bar team here are insanely talented (the manager specifically scouts them from cocktail competitions, so they're literally among the best in the country), and they're serving up Dutch Courage in every form. There's drinks to share, like the vodka-punchy Night Fever; as well as Wrecking Ball shots; mocktails (yes, there's one called 'Like A Virgin') and cocktails like the P.I.S.C.O sour, the sloe gin and elderflower liqueur-laced Savage Garden, and the suitably epic Purple Rain, which combines vodka, rum and gin with Chambord and pomegranate juice.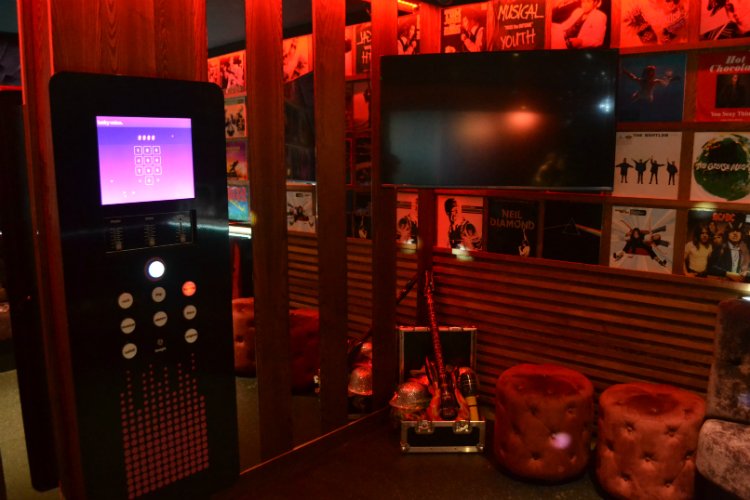 And so to the main event: there's 10 private karaoke rooms here, including a 30-person booth with its own bar and bartender; and a plush VIP booth directly adjoining the main bar, with walls lined with classic records and cushioned velvet, a private minibar, and a TV that you can plug your own music into. The rest can hold between 4 and 12, and are all kitted out with equally luxe padded walls, costume boxes, and coloured disco lighting that you can control.
That's all done via the karaoke console itself, from which you'll not only line up your songs; but also flick the boogie switch (not a euphemism, but the button that controls the room's personal disco ball); raise the vocal, backing track or reverb levels; aaand push the all-important aforementioned Thirsty button, which will, Downton Abbey-style, ring a buzzer above the bar and summon a bartender directly to your booth… so you won't need to raise your voice.
Which is lucky.
NOTE: Lucky Voice Holborn, Islington, and Soho are all open now, every day from 4pm (3pm Fri and 12pm Sat) till late. Karaoke booths start from £7 per person, per hour (min. 2 hours) – you can book one, or a table in the bar, right HERE.
Lucky Voice Holborn | 84 Chancery Lane, WC2A 1DL
---
Looking for more places to show off that wonderful voice? Check out the best karaoke bars in London.