The Greeks invented philosophy, and it's apparently influenced every aspect of their culture ever since.
Even their bars are deep.
At least, the one hidden below Fitzrovia's Meraki is. The restaurant – for those who don't know it – is headed up by a Greek chef, and owned by the same team behind Zuma, Roka, and Oblix at The Shard. It's an understated gem in a sea of frequently overzealously gaudy Hellenic eateries, serving up modernised, simple, and authentic dishes in an extremely good-looking space. You can read more about it HERE.
If you fancy something a little stronger than Meraki's signature dishes of rosti, lamb skewers and the Santorini tomato salad however, you're best off heading around the corner, to the bar's dedicated entrance. Here, you'll walk in and find a long, thin bar with a couple of high tables for canapés. This is the decoy. Don't be fooled. Within the bar is a separate hidden entrance descending into an invite-only living room bar and The Caves making it ideal for a big night out spent under the radar.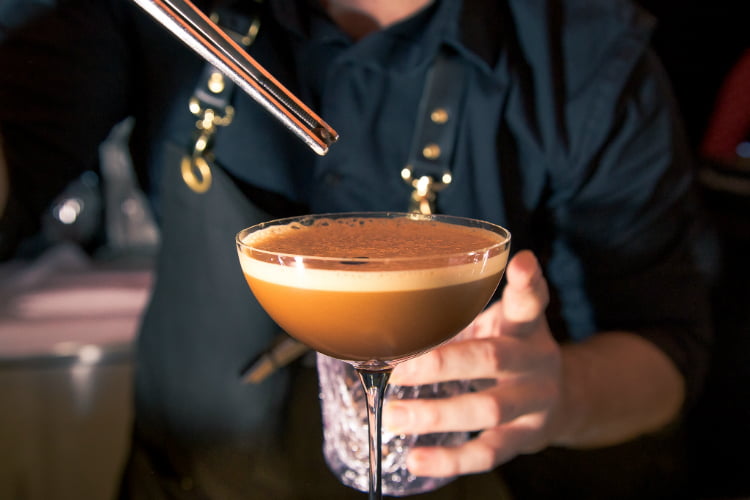 Downstairs is a low-lit, smartly Bohemian nook that sports invitingly plush sofas and jewel-coloured banquettes covered in fat, soft, velvet cushions. The tropical wallpaper covering half the room even seems to burst into life, thanks to the climbing vines that cling to the bare brick walls of the other half.
The house original cocktails include their Black Swan, which take a little vodka, then dolls it up with passion fruit, lychee juice, honey, black tea and basil before finishing it off with an edible viola flower; while the Rosy-Fingered Dawn (apparently frequently referenced in Homeric poetry) gets its own pink hue from a hibiscus & rum blend, Cognac, Falernum, orange liqueur, pineapple juice and pink grapefruit soda.
Being below a restaurant gives the place the distinct advantage of being able to bus in excellent bar food extremely speedily, including the likes of charcoal grilled lamb chops with baked aubergines and hummus, or seam bream and octopus carpaccio, for example.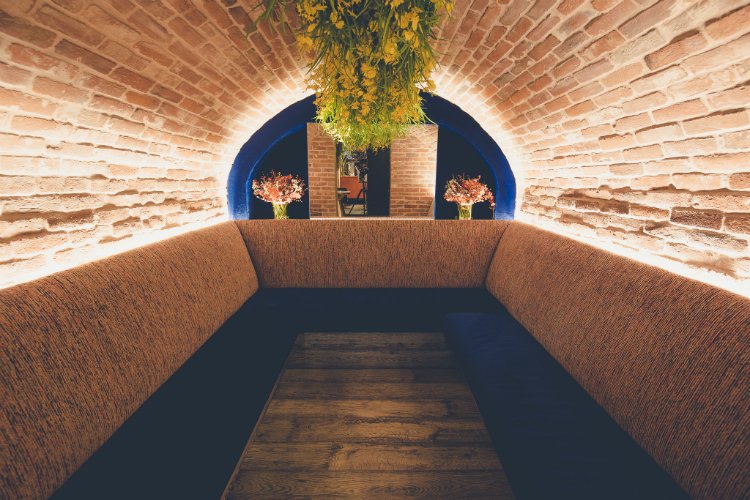 And if you want to eat that food in yet-more lavish surroundings, you can head to one of their private booths – which are almost more like caves than anything, being built deep into the wall itself, and equipped with a little velvet curtain you can draw across for privacy. You'll need to book them in advance, they both have their own waiting staff, and you can even control the lights and play your very own music in there, too. And don't mind what anyone else thinks about it.
It's all Greek to them anyway.
NOTE: Meraki Bar is open Wed-Sat, 7pm–1:30am. It can be accessed at 30 Foley Street, around the corner from Meraki itself and bookings are recommended, which you can do by emailing HERE.
Meraki Bar | 30 Foley Street, W1W 7TJ
---
Psst. While you're looking at hidden bars… here are the best in London.