Rooftop jokes tend to go over people's heads.
So we'll get right on top of things and tell you about refurbished rooftop bar, Netil 360, instead. This cafe/bar/workspace is currently serving up a laid back and leisurely experience of the London skyline. Sandwiched between London Fields and Victoria Park, it's run by Revill Design, a furniture and carpentry outfit whose woodworking skills will have you ahem, pining over the architecture in no time. With wooden benches, beat up sofas, and colourful cushions, the whole place feels like an urban treehouse – a secret den to while away the afternoon with the gang.
Their cafe is open first with Brazier Roasters providing coffee that is, appropriately, from high altitudes and small producers. When the sun hits its zenith, the bar kicks off – and in full flow you'll find raw draught lager, craft beer in cans, a host of well travelled wines, and spirits courtesy of East London Liquor. And because it's East London some of the concoctions are so cool, they come in the form of ice lollies. There's less spiritous snacks on offer as well, thanks to their dumpling menu.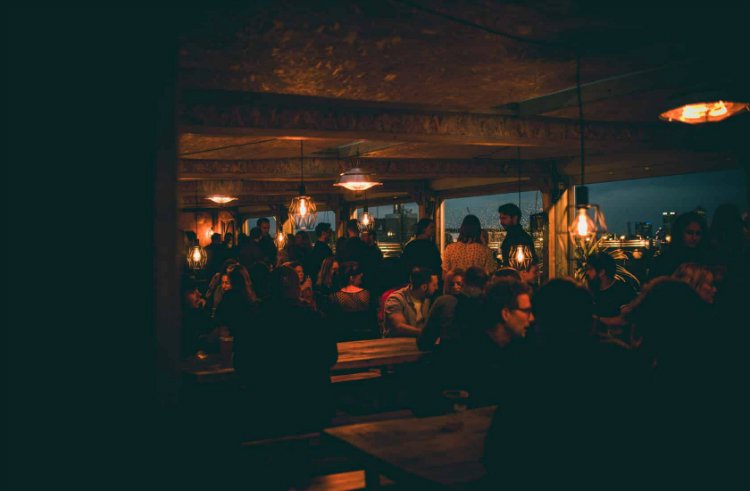 Like all good hideouts, Netil 360 know how to throw a party and once the sun has set there are DJ takeovers on the weekends, film nights during the week, even the odd stargazing event from time to time. They've also got a rooftop dog you can kick back with.
They do ask that you don't feed her though, she might feel ruff.
NOTE: Netil 360 is open Thurs 5-11.30pm, Fri 5pm-12.30am, Sat 12pm-2.30am. It's walk-in only, and entry is generally free (except late on Saturday nights) – you can find out more HERE.
Netil360 | 1 Westgate Street, Hackney, London E8 3RL
---
Looking for rooftop spots? Voilà, our guide to London's best rooftops…