We'd like to go on the record about something.
Bars with live music are SO much fun.
And they're surprisingly rare. Sure, there are a few good ones, but they're few and far between, and they don't all play every night.
Always dependable: one of the four 'Records' venues scattered around the city. Battersea's Northcote Records has siblings in the form of Clapham's Venn Street Records just down the road, Shoreditch's Old Street Records, and The City's Eastcheap Records. And all of them have live music every night.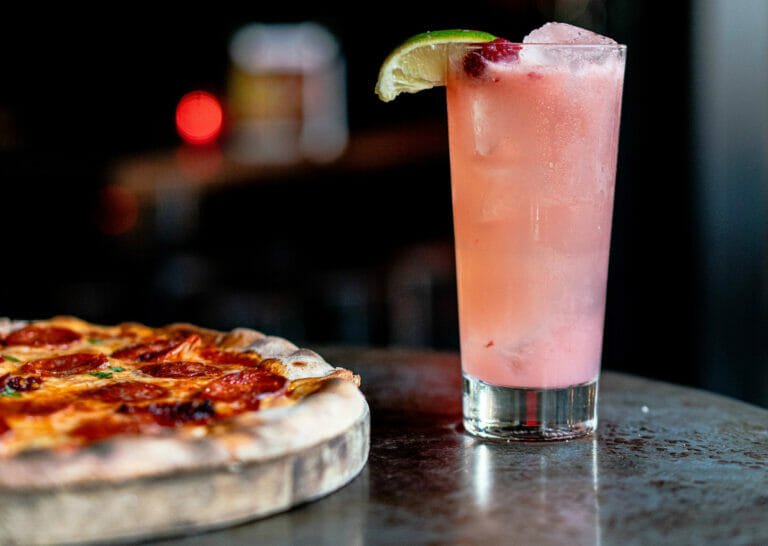 The decor is also roughly similar, with bare brick walls covered in vintage artist posters, and shelves overflowing with a whole range of classic records. The places are all pretty huge (you kind of have to be if you want to fit a stage in there too), and all lit with a lot of moody red neon. And of course, there's the all-important jukebox in every venue, with a range of classic tunes from Stevie Wonder to The Kings of Leon. If it gets your toes tapping, it's probably on there.
As far as food & drink is concerned, they keep things very simple. The cocktail list is a short & punchy rundown of uncomplicated classics (a frozen margarita here, and an Aperol Spritz there), there are a dozen bottles of wine (total, including their red, white, rose, and sparkling), and there are a couple of draught lagers. That's it. No fuss, no muss. And to eat, it's similarly straightforward; there's pizza. Just pizza. Half a dozen in all, with standouts like the four cheese (Fior di Latte, Gorgonzola, Parmesan, Ricotta) and the Diavola Nduja which is equal parts hot and meaty.
There's tons of variety on offer in the music, and they hold a weekly open mic night too with a free drink for anyone who takes a crack at it. There's no backing track, this isn't karaoke, so there's usually a surprising amount of talent.
But they'll all still need that drink.
NOTE: Northcote Records is open now. You can find out more and make a booking at their website right HERE.
Northcote Records | 8-10 Northcote Road, SW11 1NT
---
Talking of pizza...have you checked out our guide to London's best pizza restaurants yet?