Let's take a glimpse into your future.
You're going to live a long a prosperous life, and at some point you'll probably visit an interesting, refreshingly different craft beer bar in Dalston.
That's right. We, er, red your palm.
Because you're off to the Red Hand on Kingsland High Street, who're serving up rare imports and local brews along with some serious cheese toasties, day and night.
The first thing you'll notice in the space is the giant menu above-right of the bar boasting the current beers on offer, a lengthy list of very well curated choices. Grab a pint and a seat as your senses adjust to the low, speakeasy style lighting and the sound of music and conversation.
Looking around, and you'll notice the practical-chic decor: dark tongue and groove adorns the perimeter of the room and the bar, while gun-metal-grey, roughly plastered walls are broken up by the intermittent glow of a lamp shedding light on the drinks. A gold topped bar and the matte chrome, back-lit shelf of small batch spirits are the only extravagances here.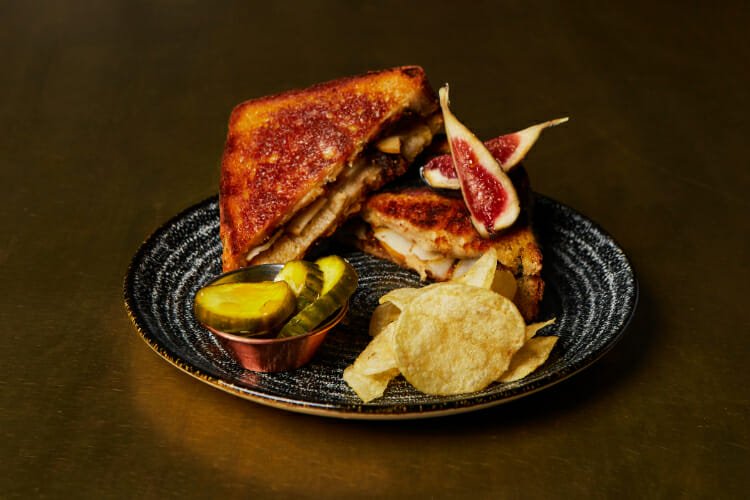 Once settled, let's get into the serious stuff, namely, the sharing bottles of rare craft beers. They all come with a wine style description and arrive in 750ml bottles. It's quite possible you'll never have heard of any of them, but the staff are more than capable of pointing you in several right directions.
To accompany this, there's a list of five cheese toasties. Crisp on the outside, oozing with cheese and arriving with crisps and homemade pickles – they aren't for the faint hearted: the 'Leeky Fondu' comes with three types of cheese, no less, (morbier gruyere & comte) and leeks sautéed in nutmeg.
For those looking for an alternative to the amber nectar, you'll find a list of natural wines; cocktails; and small batch gin & tonics, ahem…
…on hand.
NOTE: Red Hand is open from 12 noon, daily. For more information, click here.
Red Hand | 36-38 Stoke Newington Road, Dalston, N16 7XJ

---
In the area? Why not check out Jones & Sons nearby…