If you want to listen to some live jazz in London, there aren't many places better than the south side of Dalston's Gillett Square.
In fact, the only place that can really challenge it rhymes with 'Shmonny Shcotts'.
Because in that small space you'll find not one but three excellent venues packed together, creating their own sort of jazz micro-district: Dalston Jazz Bar, Vortex, and Servant Jazz Quarters. In fact they're so close to one another that, before it was a music venue, it used to be possible to hear the sax players at Vortex warming up backstage from within Servant Jazz Quarters. So one day they decided that they'd had enough acoustic foreplay, and took things to the next level.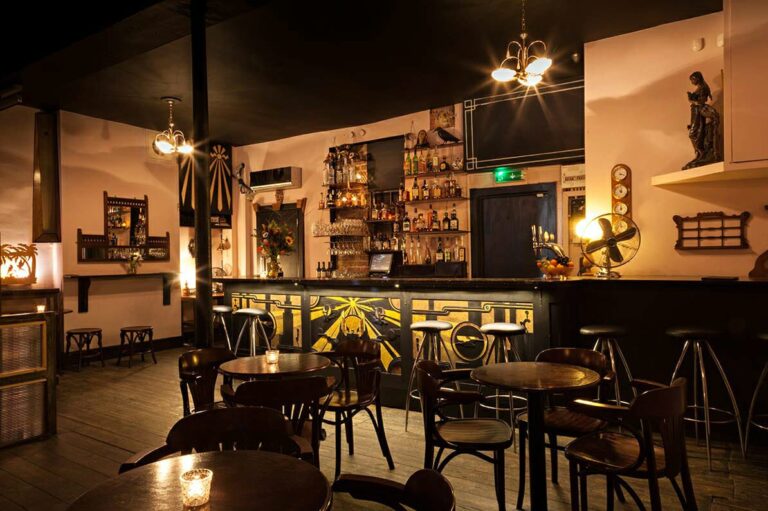 Now, it should be pointed out that, despite the name and all that, the Jazz Quarters doesn't strictly program jazz. Sure, it makes up a good portion of the lineup, but you'll also find indie, soul, blues, funk, and even country thrown into the mix too. There's a lot of local Hackney talent, and they're always keen to support innovative & interesting acts. And when there's a toe-tapper playing, the dancefloor gets jumping.
The place is split into two floors, with a cocktail bar topside and a small stage area below it. It's all dark, and intimate, and moody in all the ways a decent jazz lounge should be. You're never more than a few feet away from the stage downstairs, and the cocktail bar is dressed up in a classic jazz-era Art Deco style. In fact, it's nice enough that you might visit purely for the drinks, without even a care for the band playing underneath your bentwood chair.
The cocktails on offer there are all pretty classic (Mai Tais, Negronis, Margs, etc.), but they do throw in the occasional twist, such as adding mezcal to their decidedly newfangled Old Fashioned. And they're not too pricey, either.
So, to summarise… will you like Servant Jazz Quarters?
Not half.
NOTE: Servant Jazz Quarters is open now. You can find out more, and book any upcoming shows at their website right HERE.
Servant Jazz Quarters | 10A Bradbury Street, Dalston, N16 8JN