SOMA is the name of two things:
1) The Hindu Moon God, who had 27 wives – each of whom got mad at him for not giving them enough attention –  and who was personified by an ancient ritual drink that was probably made from a psychoactive plant of some kind… and,
2) A handsome new Sohemian cocktail joint.
Sohemian means that it's in Soho, by the way.
Only just learned that.
Anyhoo Soma comes to us from Rik Campbell and Will Bowlby, the gentlemen behind Kricket – which if you don't know is a stylishly convivial trio of restaurants serving creative Indian small plates with British ingredients, alongside usually pretty great cocktails – who have now taken over the spot right next to their Soho restaurant and filled it with a gigantic 9 meter steel bar, and a separate lounge bar off to the side.
And frankly it looks quite sexy.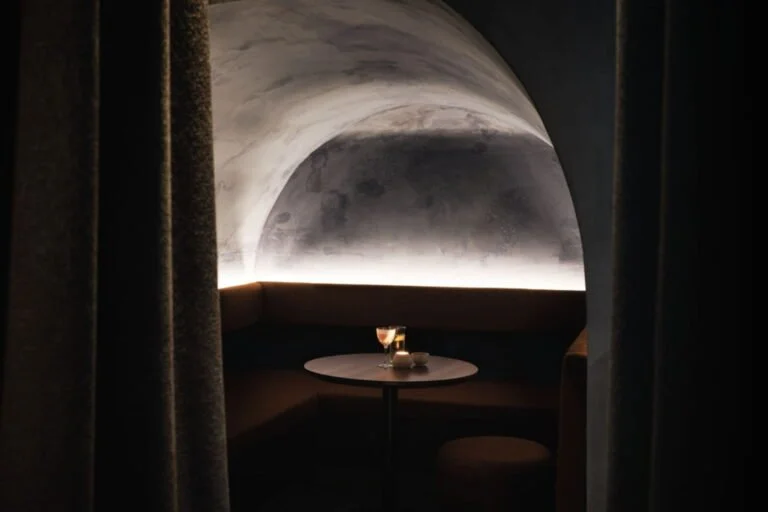 On the menu Will & Rik (let's called them Wik; actually on reflection, let's not) have decided to stick with the tried & tested Kricket philosophy of fusing East with West – the Margarita has chaat masala in it; the Old Fashioned's made with jaggery and coconut; while the martini includes some lightly pickled mooli and fennel oil; while – in true speakeasy fashion – the food's restricted to nibbles (like a stack of Indian crackers made from leftover restaurant rice, with a little yoghurt to dip in).
But ultimately the raison d'être of Soma is to keep you up, whispering; chatting; laughing; and maybe even flirting in one of its darkened corners until late into the night…
The Moon God wouldn't have it any other way.
NOTE: SOMA is open Tues – Thurs 6pm-1am, and Fri & Sat 6pm-3am. You can book (or just walk-in), and find out more HERE.
SOMA | 12-14 Denman Street, W1D 7HL
---
Like subterranean cocktail bars? You'll loooove this list of subterranean cocktail bars.