Tiger Woods is a great golfing name.
And a terrible golfing location.
At the foot of The Gherkin, however, exists a place which enjoys not only a great golfing name…but also a great golfing location. It's called Swingers.
Having gone permanent after a spectacularly successful Shoreditch popup, Swingers London offers its guests 18 holes of immensely creative crazy golf in a verdant, plant-filled, and beautifully detailed indoor space that – despite being tucked away in a fairly innocuous set of buildings – is probably bigger than some actual golf courses*. Here's what's packed into it…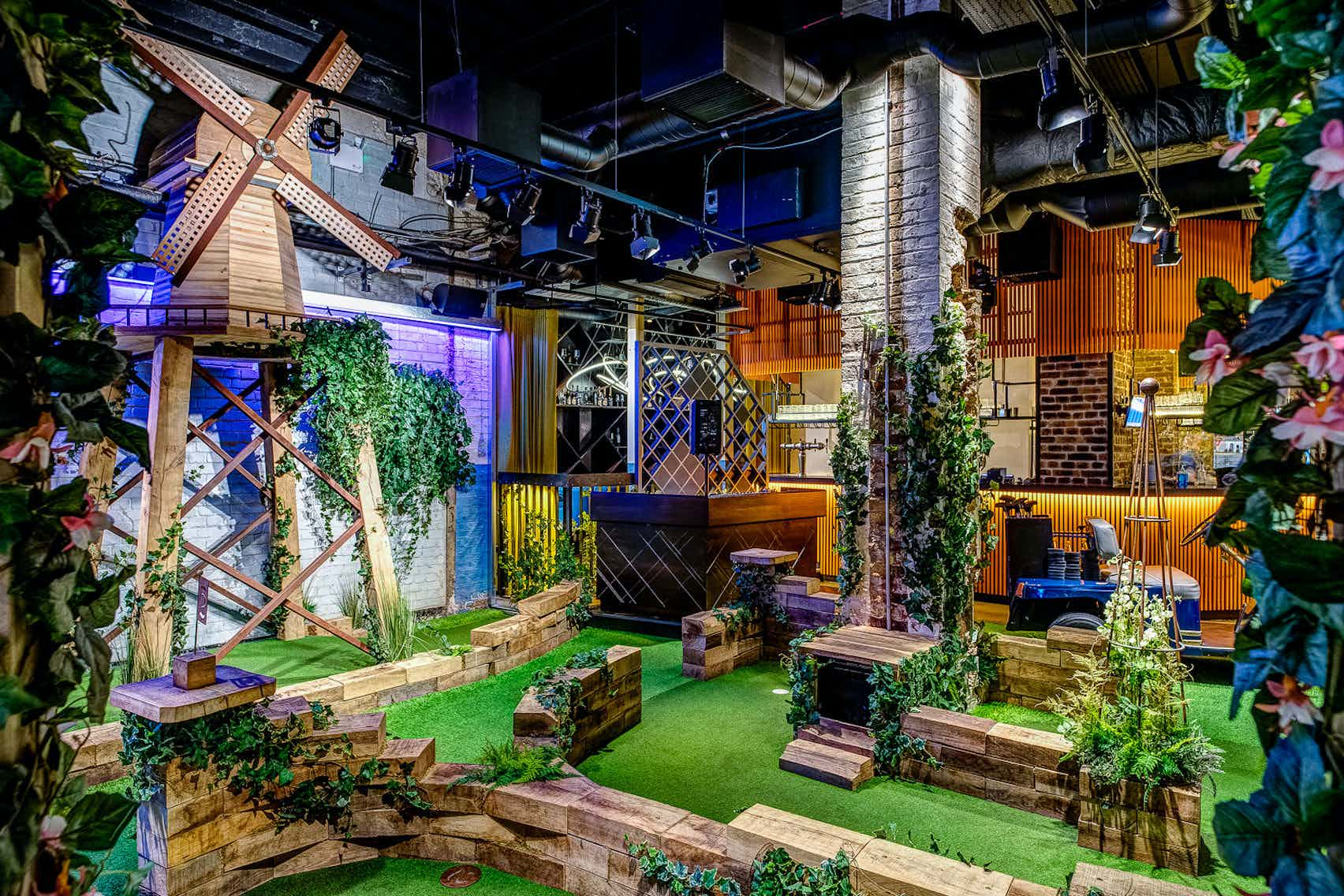 TWO GOLF COURSES
The play is split into a pair of nine hole courses; The Lighthouse and The Windmill. Taking inspiration from the quintessential English country golf clubs of the 1920s, the industrial accents of the building are coupled with lush golfing lawns; trellises covered with climbing plants; and low brick walls winding round the courses. Each are scientifically calculated to be both challenging and lenient to people who are playing golf with cocktails, and include holes that involve balancing the ball along rails, jumping it over obstacles, shooting it through loop-de-loops, and sneaking it past sand traps.
The learning curve is kept pretty smooth, and there are Swingers caddies on hand at each hole to give you pointers (and more drinks), should you need them.
–
FOUR STREET FOOD STALLS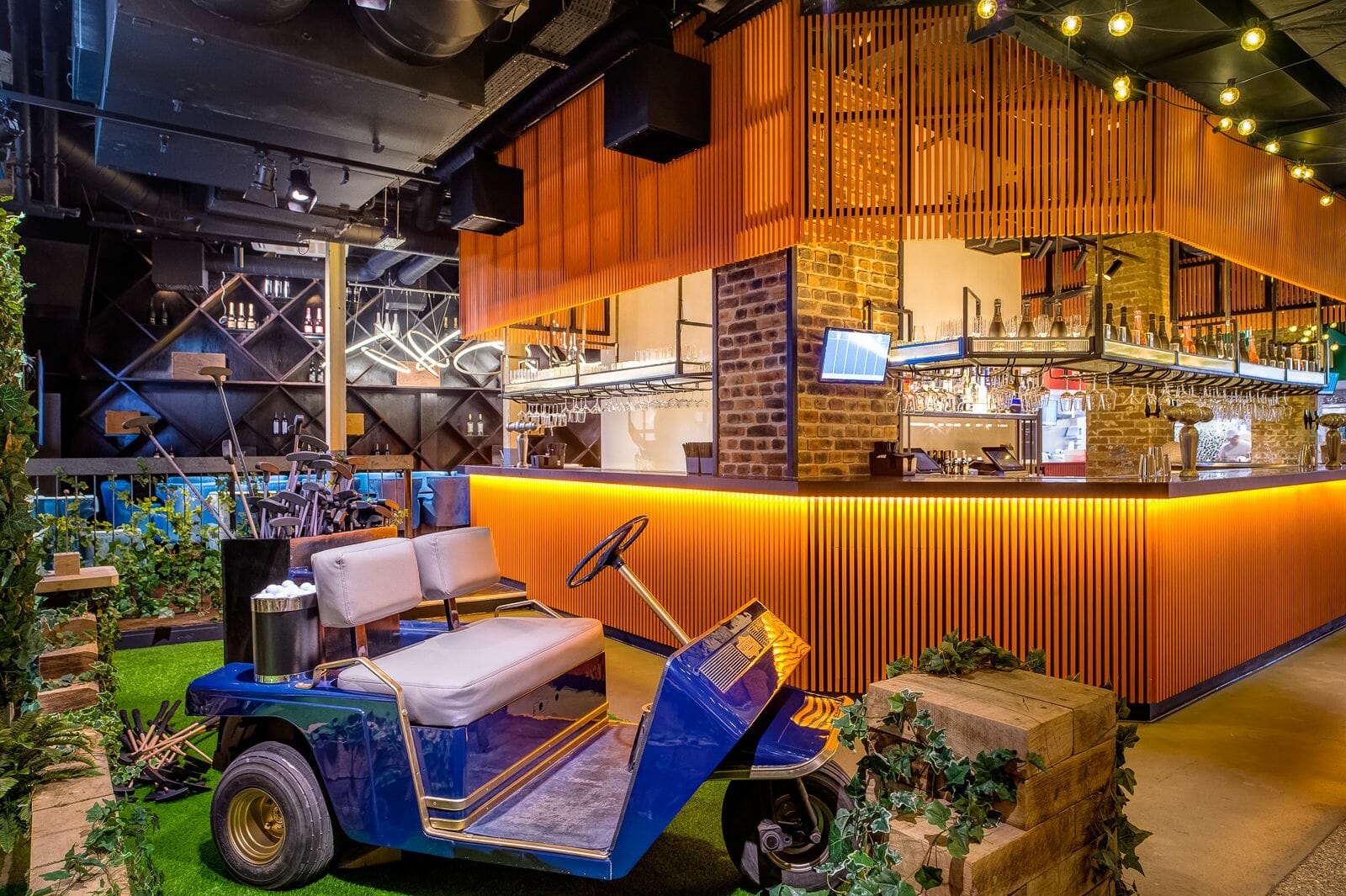 They have a quartet of killer street food stands on site including Pizza Pilgrims (where you can get everything from their famed 'Nduja, to deep fried mac 'n' cheese balls, to a Nutella pizza); Patty & Bun (who're slinging classics like the Ari Gold, plus newfangled chicken nuggets that aren't chicken nuggets); Breddos Tacos, plating up five kinds of taco, four quesadillas; and their famous puffed pork crackling; and for afters, doughnuts from Crosstown.
–
FOUR BARS. YES, FOUR.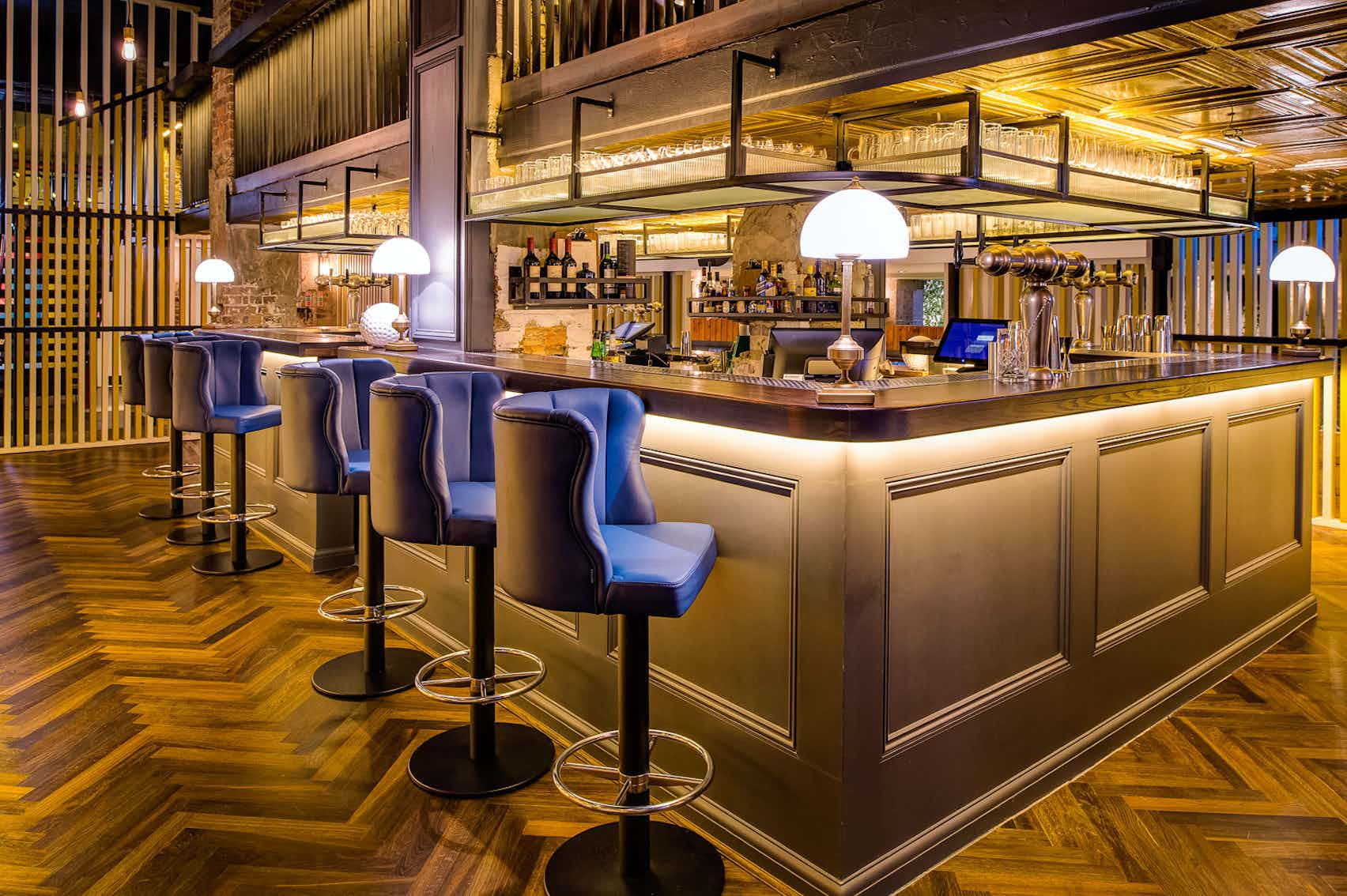 It's too many to go over here, but needless to say you'll find cocktails (everything from frozen kiwi daiquiris, to a double-whiskey Old Fashioned) a shot bar, a gin terrace, plenty of draught beers, and even a dedicated espresso bar for coffee-laced mixed drinks.
And don't worry if you have a little too much. Because in golf, after all…
….being sub-par's a good thing.
NOTE: Tickets cost £11pp per round off-peak (Mon-Wed before 5pm), and £13.50pp per round at all other times. You can book your slot online right HERE. Swingers has a more central London location, too – check out Swingers West End.
*That's probably an exaggeration, but the place is 16 thousand square feet, so…
Swingers London | 8 Brown's Buildings (Between St Mary Axe & Bury Street), EC3A 8AL
---
Like getting drunk and winning whilst you're at it? Take a look at our guide to London's best activity bars.