Some people think that Everest (or "Chomolungma", for the benefit of our rapidly-growing Tibetan readership) is the tallest mountain in the world.
Those same people often also believe that you need to visit at least three different places in an evening in order to drink Snake Venom, the world's strongest beer at 67.5%; eat alligator tails; access 100 varieties of bourbon; tuck into a BBQ menu created by a three-time winner of the British Barbecue Championships; and listen to live blues, seven nights a week.
They claim that The Great Wall Of China is the only man-made object visible from space; that chameleons change colour in order to blend in with their surroundings; and that any industrially-styled, Victorian warehouse which contains a huge copper-topped bar with its own lobster tank, vast portraits of Blues legends painted on to exposed brickwork, chandeliers made out of gramophone speakers, a small animatronic boy fishing in a private room downstairs, a stage for live music, a large dance floor and a hirable 1950s silver Airstream caravan for mini-parties can't possibly also serve Texan sharing platters of sweet potato fries, buffalo wings, BBQ ribs and pulled pork, brisket smoked in-house over fruit woods in a BBQ pit…. with mac n' cheese on the side.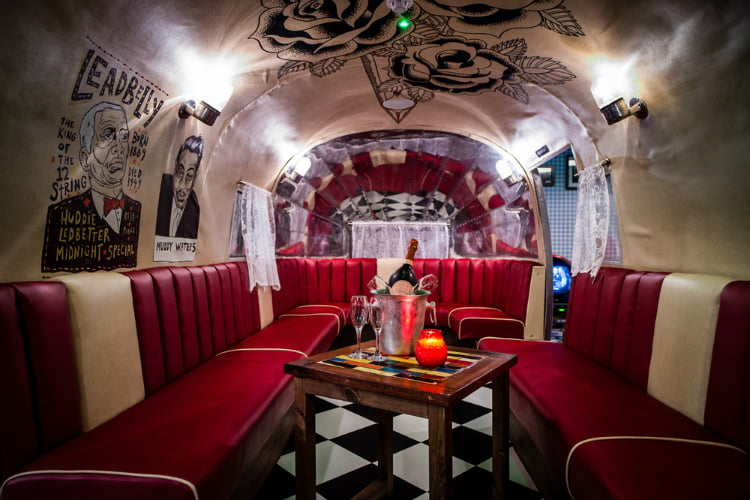 These people believe that humans have five senses. And that Thomas Edison invented the light bulb. And that blueberry pancakes shouldn't be included on weekend brunch menus; that you shouldn't explore subterranean bars-within-a-bar like Moonshine Minnie's; and that if you've drunk a rum and fudge-heavy 'Caramel Captain' hardshake with your dinner, then you probably shouldn't enjoy salted caramel ice-cream, cookies, marshmallows and bourbon cream for dessert.
But they're wrong.
NOTE: The Blues Kitchen Shoreditch is open daily until at least 11.30pm (3am Saturday nights). You can reserve a table for lunch, brunch or dinner here.
The Blues Kitchen Shoreditch | 134 Curtain Road, Shoreditch, EC2A 3AR 
---
Like going out in Shoreditch? Check out our guide to the best bars in the area