What with licensing laws, modern fire codes, and basic glassware logistics, it's actually quite tricky to organise a piss-up in a brewery.
Which is why Brixton Brewery have a taproom.
It's a couple of streets over from their South London brewery, under a neat little railway arch on Station Road, and it takes the form of an incredibly simple space – just a C-shaped corrugated steel ceiling clasping wood chip walls with a couple of scattered tables. It really feels like it's pushed past the 'industrial' vibe, and into the 'pure functionality' vibe, as if to make it clear that this is a place designed for one thing – to deliver beer into bellies.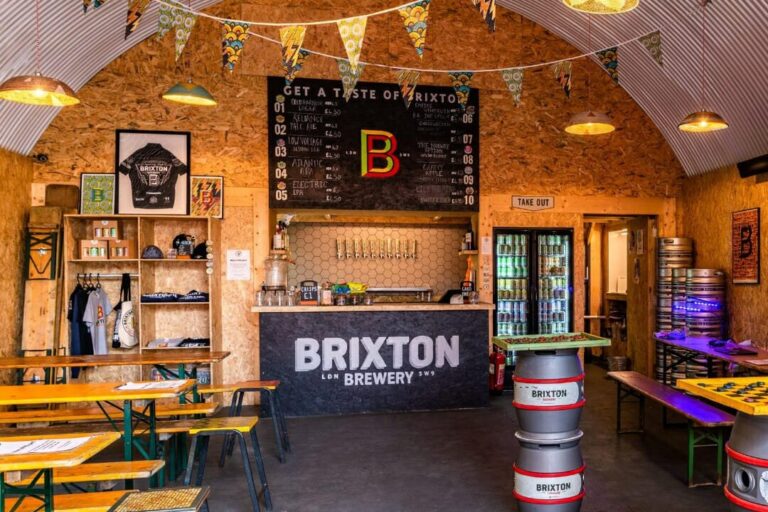 That beer consists of ten taps plugged into the small bar that's set into the back wall. The list is split symmetrically between their five permanent core beers and five ever-rotating experimental specials. The core offering are all named for local landmarks, and include the Coldharbour Lager (a floral, pilsner-style named after Coldharbour Lane); Electric IPA (a punchy number named for Electric Avenue); Low Voltage (it's a mellower version of the Electric Avenue); Atlantic APA (named for the market street Atlantic); and Reliance Pale Ale (after the Reliance Arcade).
The more experimental offerings are really quite something. You can expect to find anything from a barrel-aged whiskey porter, to a 'Mangoes to Brixton' mango pale ale, to a 'Man Gose to Brixton' gose-style beer, or a rather eyebrow-cockingly unique juniper amber ale. The beers are typically one-time only, unless they do gangbusters business, in which case they might become seasonal – so get them while you can. The core is locked-down, and unchanging.
And location-wise it's tough to beat. You're right next to loads of ace Brixton restaurants, venues like Brixton Market (which supplies the ingredients for their Market Saison), and Brixton Windmill (who occasionally mill barley for the brewery) which at 200 years old, is London's oldest working windmill.
Getting there's a breeze.
NOTE: The Brixton Brewery Taproom is open now. You can find out more and see the beer selection at their website right HERE.
The Brixton Brewery Taproom | Arch 548 Brixton Station Road, Brixton, SW9 8PF
---
Keen to make an evening of it? Take a look at our Brixton guide