The Faltering Fullback | Finsbury Park Pub-Turned-Treehouse
A trip to The Faltering Fullback in Finsbury Park will have you feeling like you've just stepped into an enchanting, tropical garden.
Or a corner of busy and bustling Bangkok.
Or an eclectic Irish bar.
And really, it's all three. Don't be fooled by its understated exterior: The Faltering Fullback is far more than just the conventional Irish pub it appears to be from the outside.
There's a lot to admire here. Like the array of musical instruments, vintage prams and other random objects hanging precariously from the ceiling, which you'll notice while ordering a pint. Or the vividly coloured flowers growing all up and around the leafy treehouse-esque beer garden, with its multiple floors and winding staircases. Or The Faltering Fullback's famous Monday pub quiz (with a cash prize for the winners & runners up), so popular it often leaves a few teams standing at the edges, which is the only argument you really need to justify a drink on the first day of the week.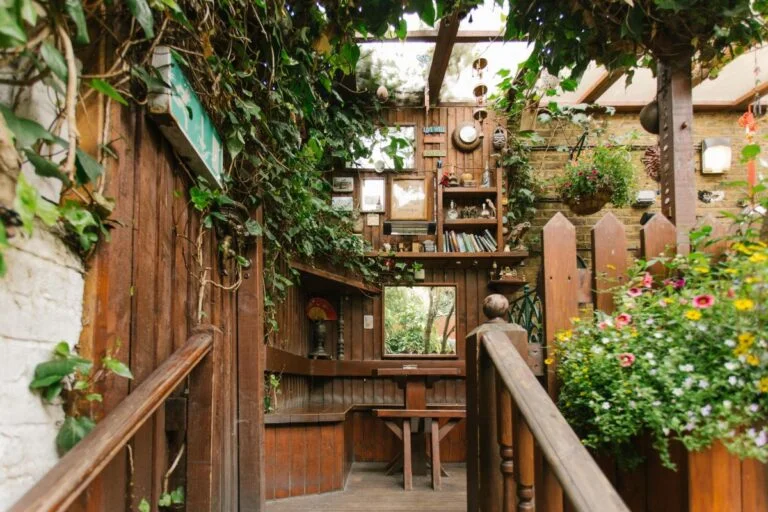 What's missing from this quintessential British pub setting, with its mismatched chairs, eclectic decor and friendly atmosphere? "Thai food" might not be the first answer on your lips but, once you've paired your pint with a spring roll or two, you'll never look back. The Faltering Fullback's Thai menu ensures a perpetually busy crowd, with an extensive menu ranging from traditional red and green curries through to golden, crispy prawns, hot and spicy mixed seafood, and stir fried duck.
The back of the pub sports candlelit picnic tables for bigger groups, plus a pool table. Or sit yourself down in the Front Bar for Sunday drinks accompanied by live traditional Irish folk bands or tunes from Ray, the owner, who loves to bang out 60s and 70s classics. Budding performers will love Thursday's Open Mic Night when all kinds of local musicians take to the stage from 9pm onwards. You'll probably want to order a pint while you're here, with a decent range of beers on tap and slightly-friendlier-than-anticipated prices. Wine and spirits also come highly approved with a great variety and more friendly prices to match.
The only drawback to the Fullback? There's a "no booking" policy here. Which means securing a table on a Friday or Saturday requires a little of the old luck of the Irish.
NOTE: The Faltering Fullback is open daily from noon (till 1am Fri/Sat). There are no bookings, but to find out more, head HERE.
The Faltering Fullback | 19 Perth Road, Finsbury Park, London, N4 3HB
---
Too chilly for beer gardens? Check out our pick of London pubs with roaring fires