For a cosy pub, The King & Co sure has a lot of draughts…
…specifically, a rotating selection of 18 kegs and 6 casks on tap, ranging from craft beers by Portobello Brewing and Brixton's London Beer Lab, to classic ciders and German wheat beer.
Run by a small team, The King & Co is a Clapham's local, with exposed brick walls, cosy fireplaces, and a jumble of mismatched, second-hand tables and chairs. Besides the beers, there's a fairly priced wine list spanning vineyards from England to New Zealand, and a lively events programme of masterclasses, tastings, live music, DJs and weekly quiz nights.
Those aren't the only reasons why punters come across the city to visit, though.
With a finger firmly on the pulse of the pop up scene, The King & Co is home to a roster of kitchen residencies each year, inviting street food traders, pop ups and proto-restaurants to take over the pans for a few months. In the past, they've hosted itinerant heavyweights like Boca Chica, Eastern Bloc, Zoe's Ghana Kitchen, Donostia Social Club, Cucina Rustica and The Cheese Truck – often before they really hit the big time.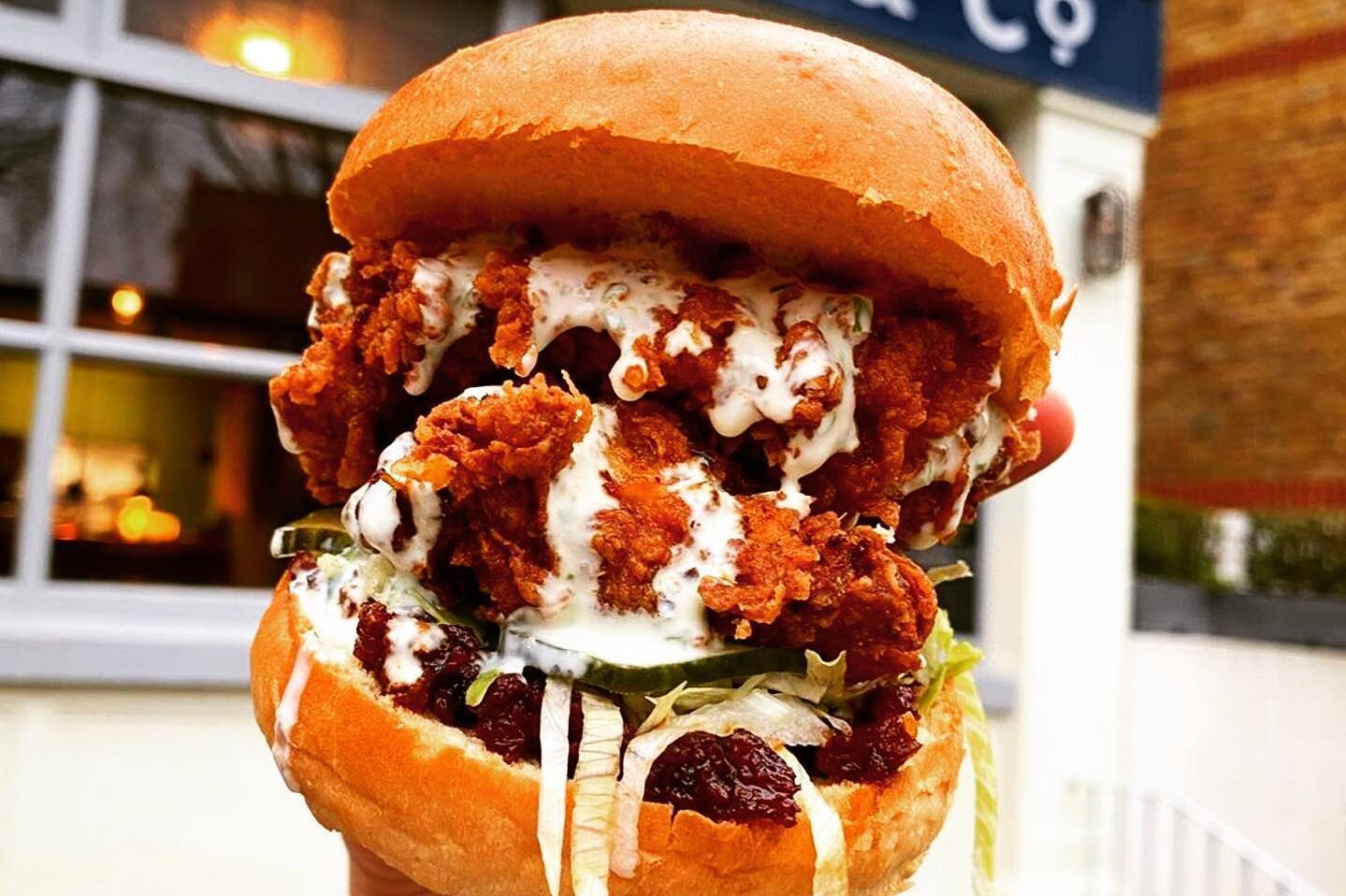 Currently, you'll find Free Range Jane back in the kitchens, after a barnstorming debut earlier this summer. Specialising in ethically reared chicken, they're known for their colossal, Southern fried eats. Look at this burger. You're going to have to eat it before it eats you. On the menu this time around: the Coronation Fried Chicken burger; twice-fried wings with hot sauce and blue cheese; and boxes of boneless fried chicken with hand-cut rosemary chips.
And, you know, a mushroom burger.
NOTE: The King & Co is open every afternoon till late (open from noon Fri-Sun). The pop up kitchen operates Wednesday-Sunday. You can find out more, and book a table, HERE.
The King & Co | 100 Clapham Park Road, London SW4 7BZ
---
Like pop ups? Take a peek at the best pop up restaurants in London this month