The Shrub and Shutter doesn't really look like a cocktail bar.
If anything, it sort of looks like a cocktail *kitchen*. That's been crossed with a cocktail laboratory. And, in fact, that's a far better way of describing what goes on in there, too. You see, this Brixton bar is the kind of place that every budding barkeep dreams of, a place where their intoxicating creativity is free to run riot over unsuspecting tastebuds. And to top it all, it doesn't really have a bar.
What it has instead is a table, upon which the mixology magic happens. It's covered in the tools of the trade, and surrounded by white tile walls haphazardly lined with  tinctures, glassware, ingredients, and the occasional taxidermied animal. Behind it, there's a simple dining area bathed in the glow from the skylights that punctuate the ceiling.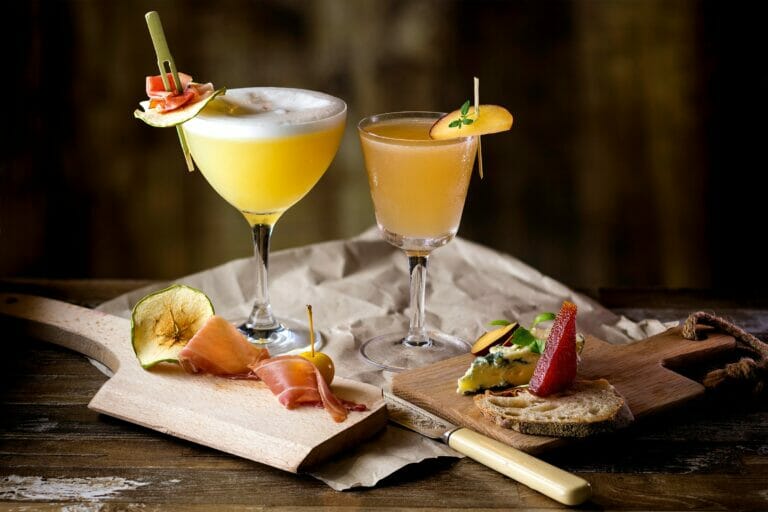 Take a gander at the menu, and you'll struggle to find something uninteresting. Ingredients have included smoked okra, pickled blueberry, poppy liqueur, and birch sap. Take their "Does a Bear Shit in the Woods?", which evokes the sensations of a wintery forest thanks to pine-infused gin, aquavit, lemon oils, and a – yes – salmon. Or the Aver-zombie & Bitch, which mixes several types of rum with several types of fruit to devastatingly boozy effect. And if none of that takes your fancy? Just tell the barkeep three things you like, and they'll happily rustle up something you love. In fact, they'll relish the challenge.
If you're hungry, head into the back and grab a seat. They have a permanently rotating residency in the kitchen featuring six months-worth of culinary talent from whichever up-and-comer they've bussed in. They've seen the likes of Fodder (a sustainability focused operation from chef Michael Thompson), Donnelly's Kitchen (from rapidly rising star James Donnelly), and they're currently hosting a pop up by Rajiv's Kitchen, the Nepalese outfit you can also find at The Sun & 13 Cantons in Soho. His food has amassed something of a cult following…
…so you'll want to get down there before they shutter.
NOTE: The Shrub & Shutter is open Thursday-Saturday. You can find out more HERE.
The Shrub And Shutter | 336 Coldharbour Lane, Brixton, SW9 8QH
---
Looking for other great drinking dens? We've got a list of our favourite South London bars here.