If you want to find the Velvet, first you must solve the following riddle:
I get hung but I'm not a piece of art; open me up to let in the light, close me again to sleep at night. What am I?
Okay, we're sort of working on a trust system here, so we'll have to assume that you answered "Um, curtains? Specifically the set of wine-red velvet drapes that hang in the Corinthia Hotel, right opposite Kerridge's Bar & Grill?". Well, bloody hell, that's an astoundingly accurate answer.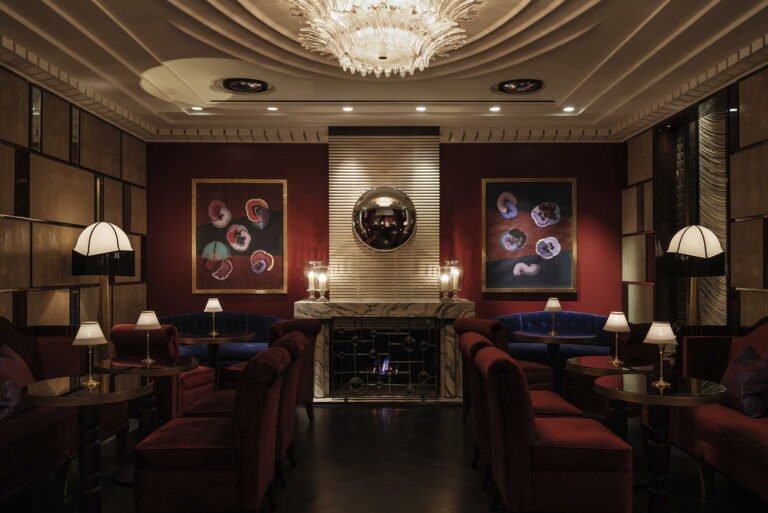 And yes, it's behind those plush drapes that you'll find the door to Velvet, an elegant, luxurious, and intimate drinking hole that's just taken the place of the former Bassoon Bar. It comes to us from cocktail wizard Salvatore Calabrese, AKA 'The Maestro'. He earned that nickname because, frankly, wasn't just at the tip of the spear during London's cocktail renaissance, he was the tip. He started working at Dukes Hotel Bar in the '80s where he developed their famed dry martini, and since then he's won countless awards, written bestselling books, and changed the way people look at cocktails.
This new space he's put together is a true beauty. The Corinthia Hotel is already a looker, but they've taken that elegant interiors dial and cranked it to the max with the ambition to honour the iconic roaring '20s with the modern '20s. The bar is furnished with deep red & midnight blue art deco booths and apadana chairs, cream and onyx fringed floor lamps, and a stately marble fireplace. And if you hadn't already guessed it, why yes they are partial to velvet upholstery and curtains.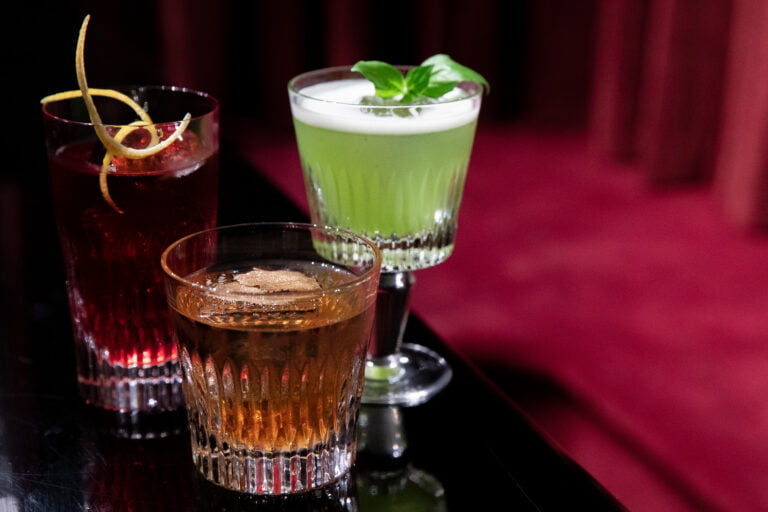 As for the drinks? Well, don't expect a pint and G&T. Calabrese has created molecule-perfect classic cocktails from the 1920s (with gin, lemon, and honey, The Bee's Knees is a drink that reviews itself) as well as newer numbers from the 2020s (the Tiky Tok involves Hoxton banana rum & pineapple tepache), and a lengthy list of Calabrese's own inventions, many of which have tipped over into classic cocktail territory themselves. The Breakfast Martini? That's his – and boy is it dangerously moreish. And if you're coming to Velvet for a special date night, definitely order the peach/raspberry/champagne Velvet Rose.
There are small plates too, spanning the likes of crab tartlets, to vegetable tempura, to truffled Croque Monsieurs. And of course, it wouldn't be reminiscent of the 1920s without some jazz, so naturally they've got a live band on every evening till late.
And no, they don't play Blue Velvet.
NOTE: Velvet is open now, Tuesday – Saturday (5pm – 1am). You can find out more, and book a table, right here.
Velvet Bar | Corinthia Hotel, 10 Whitehall Place, London SW1A 2BD
---
Like cocktails? Check out The Nudge's Guide to the best cocktail bars in London