In vino veritas. In wine, there is truth.
In vinoteca vinum. In Vinoteca, there is wine.
And in truth… there is both wine AND food inside Vinoteca's latest outpost in Borough Yards. Celebremus!
Now your reasons for visiting are threefold:
1) THE LOCATION
This Vinoteca has made its home in a brand new development called Borough Yards, a formerly disused pocket of land that's in the process of being transformed into a sort of "Coal Drops Yard 2.0".  A labyrinth of brick-lined railway arches, alleyways and open squares, it's very soon going to be home to a number of top-shelf shops, restaurants and bars – making Vinoteca a convenient place to begin, or cap off, an evening that might also include dining on critically acclaimed tapas at Barrafina; watching a film in plush velvet armchairs at the Everyman; or grilling your own dinner at Parrillan. The bar even has bifold doors opening directly onto Borough Market, and all the delights that entails.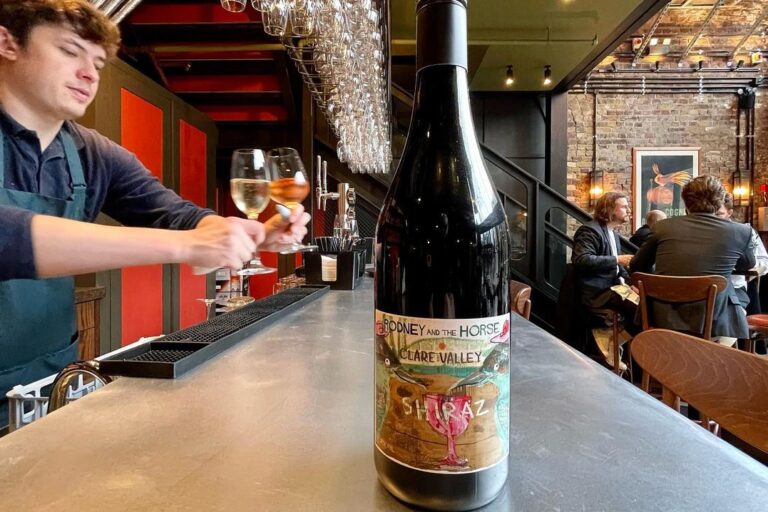 2) THE AMBIENCE
Housed in a railway arch, the place is hella atmospheric. There's space for you and 99 of your best friends spread over two floors (so you're going to have to cull some people from the invite list) with the mezzanine boasting a direct view of Southwark Cathedral. Or, you could just bring a date to prop up the central, zinc-topped bar, and pick out a bottle from the dozens suspended overhead. Low key. More your kind of style.
3) THE WINE
Vinoteca owners Brett and Charlie are the ultimate cork dorks, personally handpicking the 200+ bottles that will ultimately end up taking the long walk into one of Vinoteca's vast cellars. At Borough Yards the focus is on small-scale producers, and – should you find something that you particularly like – well, the bar is conveniently also a bottleshop, meaning that you can pick up a bottle or two of the good stuff to take home with you.
Of course, they're not wasting all that fresh produce from Borough Market either. It goes into bar snacks like smoked aubergine fritters with harissa mayo and burrata with blood orange and fennel; sharing platters of cured meats and cheeses from nearby Neal's Yard; and hefty mains of bavette steak; whole Cornish plaice with salsify aaand a little chipotle roasted cauliflower.
It's truly delicious.
NOTE: Vinoteca Borough Yards is open daily. You can check out their website, and book a table, HERE. 
Vinoteca Borough Yards | Unit 207, Stoney Street, London, SE1 9DG
---
Love wine? Take a look at London's many excellent wine bars.