Mr Fogg's Summer Safari | Go a safari… in Covent Garden
Mr Fogg's talk a big game.
And now they're delivering some, with their Summer Safari.
It's taking place in their fairly stunning Covent Garden venue, Mr Fogg's Society of Exploration which, for those who haven't been, has a full-size Victorian train carriage bang in the middle of it. It's this setting that they'll be turning into the African veld, by re-dressing the space, the staff, and even you. Here's how your trip will go down…
As you enter the bar, you'll likely immediately notice that the entire place has been essentially engulfed with plants, vines, and foliage. One of the staff – attired in full safari khaki topped off by a classic pith helmet – will then hand you your own safari hat, so you needn't feel jealous.
Now, this being the wild plains of Africa, you'll need to be properly prepared, and the staff will have a handy safety checklist to tick off. First, they'll ensure you're up-to-date on your immunisations by offering you a Liquid Vaccination, which will taste suspiciously alcoholic. After that, you'll be needing some Edible Victorian Sun Ointment (which may seem to be a coconut flavoured tropical, boozy mousse). And finally, you'll have to take steps to prevent malaria by drinking a good ol' quinine-rich Whitley Neill gin & tonic.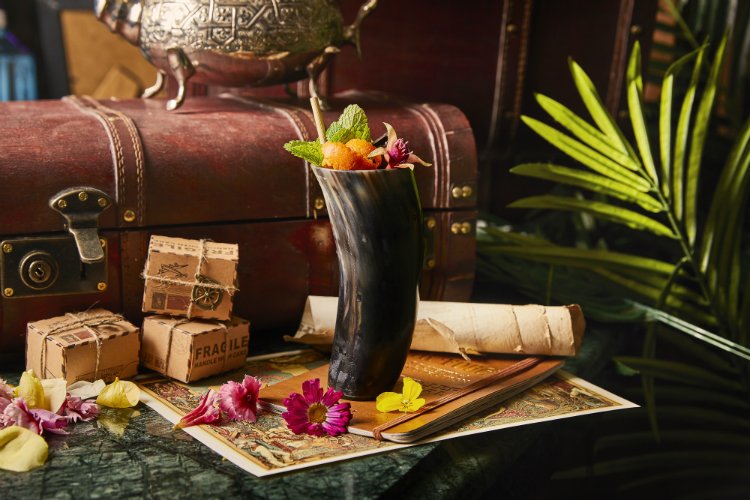 Suitably protected, you'll then be invited to track down the wild beasts you came here for, the Big Five. Unfortunately, due to health & safety run amok, the bar is unable to house their own fully grown African Elephant, Black Rhino, Cape Buffalo, African Lion and African Leopard. So instead, they have their own miniature versions dotted about. Hunt down all five, and you'll score yourself a "unique Fogg's surprise".
Should you require any libations to keep your liver company during all this, you can whip out the binoculars handily supplied by the bar. Looking through them, you'll see the entire 'Big Five' cocktail list on the horizon. It'll include the Feline Fine (dry gin, vermouth, maple & physalis syrup) served in a wooden cup; and it's always worth mentioning The Elephant in the Room – it blends blood orange vodka with juniper, lime, and maize honey water, and it's served with a chocolate & lemon salt rim.
And finally, there's the food menu. This is where things get truly adventurous. You can expect the likes of biltong (like South African jerky); curried tempura grasshoppers & courgette in sweet chilli sauce; and cricket powder brownies. You can always order those first…
…if you want to get the jump on them.
NOTE: Mr Fogg's Summer Safari begins on 3rd June. Tickets cost £30, and includes two tasters (vaccination and sun ointment), a Whitley Neill Gin & Tonic, and two cocktails from the 'Big Five' menu. You can find out more and snap them up right HERE.
Mr. Fogg's Society of Exploration | 1a Bedford Street, WC2E 9HH
---
Partial to a tipple? Peruse the Best Bars in London