The Greatest Show of Lucha Libre | See masked Mexican wrestlers defy physics
Some people say wrestling is fake.
And they're absolutely right.
But the entertainment is 100% real. And almost nothing on God's green earth is more entertaining than seeing a bunch of masked, flamboyantly costumed Mexican wrestlers inflicting sublimely choreographed acrobatic violence on each other while performing chaotically dazzling aerial gymnastics.
This is lucha libre.
And Mexico's own greatest ring-romping stars are coming to London for one night only this spring. This isn't just any show of lucha Libra. This is The Greatest Show of Lucha Libre.
For the night itself, Camden's Roundhouse is going to be transformed into a classic Mexican arena, where the performers can intermingle with the crowd before diving (frequently quite literally) into the ring. There'll be a string of matchups culminating in a headline act, all with their own strong storylines playing out between the good guys – aka the Técnicos – who play by the rules and show off their immense skill, and the bad guys – aka the Rudos -who employ underhand tactics and fight dirty.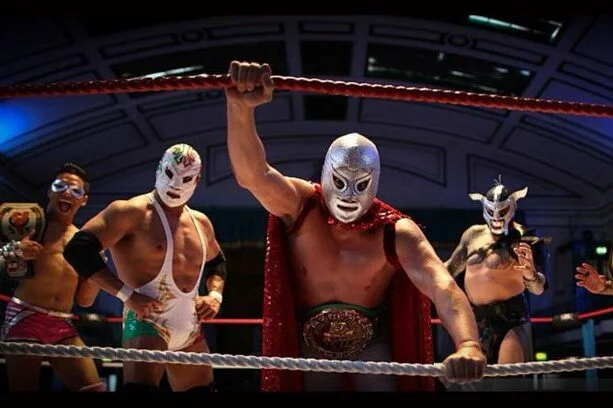 Stars you can expect on the night will be some of the biggest names on the Mexican scene, including The Silver Masked Man (you'll recognise him thanks to his, um, silver mask); El Hijo del Santo (son of "The Saint", a legendary wrestler); Cassandro El Exótico (the flamboyant "Liberace of Lucha Libre", one of the biggest names on the scene right now); Laredo Kid (multiple world champion, identity still unknown); and Ramses, who starred opposite Jack Black in the film Nacho Libre.
It's only in town for one night, so if you miss it, you miss it.
And trust us, you don't want to wrestle with that scenario.
NOTE: The Greatest Show of Lucha Libre is coming to the Camden Roadhouse on Saturday May 11th. You can get tickets (£20) and find out more right HERE.
The Camden Roundhouse | Chalk Farm Road, NW1 8EH