Everything Everywhere All at Once is a carnival, it is a smorgasbord of multiverse-bending madness; a multitude of worlds within worlds, of films within films, and it is most definitely everything, experienced everywhere, all, overwhelmingly, at Once.
The film opens with Evelyn (Michelle Yeoh) struggling through her receipts in anticipation of an IRS audit, a conflict which pales in comparison to the task of reconciling her elderly father visiting from China with her daughter's girlfriend. Living above the launderette she runs with her docile husband Waymond (Ke Huy Quan), Evelyn pings between the laundrette, the kitchen and the IRS office like some kind of adrenaline-infused pinball.
Her life is a multiverse on earth; a multiverse of motherhood, of modern America, of real-life domestic chaos way before the door to the actual multiverse even opens. And when it does, Evelyn finds herself on the frontlines of a multiverse war to save the universe from the omnipotent Jobu Tapaki, whose apocalyptic philosophy registers somewhere between Nietzsche and a satanic teenager.
The Evelyn of this universe has been chosen because she is so distinctly unremarkable. She is 'capable of anything…because you are so bad at everything.' There is comedic gravity inherent in the mismatch between Evelyn's mammoth, universe-saving task, and her averageness.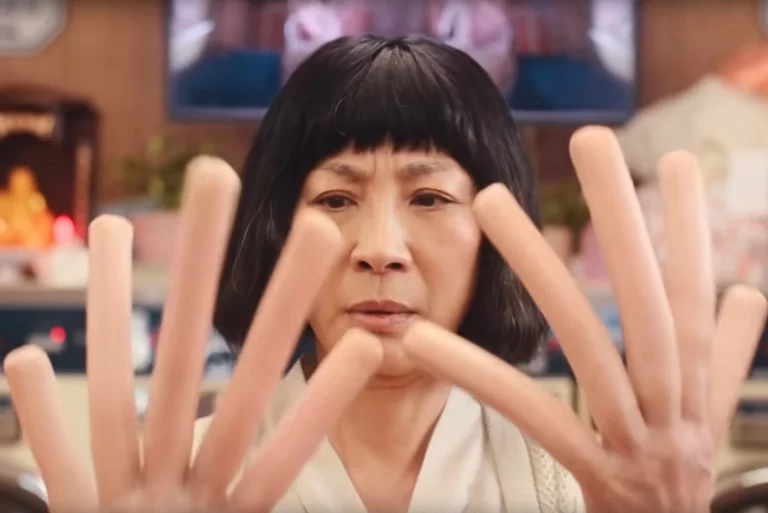 Directing duo Daniel Kwan and Daniel Scheinert have drawn from a well-worn catalogue of sci-fi tropes – time-bending devices, extra-terrestrial karate and the possibility of infinite universe-wide destruction are in abundance – but there is a story much more measured and nuanced at its core.
The film's first third is a pulsing family drama, offering a relatively unopened window into the life of a family underrepresented in big-budget Hollywood blockbusters. Three generations bump shoulders in a tiny flat clouded by washing-machine steam and tax receipts, their differing cultural reference points in a constant state of discord. It is a compelling insight into interloping family dynamics, strained by generational and cultural differences, and brings to mind Yasujirō Ozu's 1953 masterpiece Tokyo Story.
Everything Everywhere All at Once deploys the ridiculousness of the multiverse, embellished by brilliant CGI set-pieces, as a way of exploring the fraught terrain of mother/daughter relationships. It is as much a film about learning how to accept difference, to be a better, more sympathetic parent, as it is about saving the world from a bagel-obsessed tyrant.
But most importantly, is a film that sees a guy get battered to his bloody death by two foot-long, vein-ridden, rubber dildos an objectively great film?
That's up to you…
Words by Euan Dawtrey
Length: 2h 20m | Rating: 15 | Rotten Tomatoes: 97% | Metacritic: 82% | Find your nearest screening here.
---
Love film? Then you'll need this list of London's best cinemas to enjoy it in…