Pop Up Cinemas London | 2019
Last Updated: 24th July 2019
Ceilings aren't the best invention ever.
But they're up there.
That said, however, in weather like this it's sometimes best to do away with them entirely, especially when it comes to watching movies on the big screen. So we've compiled a list of the very best outdoor and pop up cinemas London has to offer this summer…
–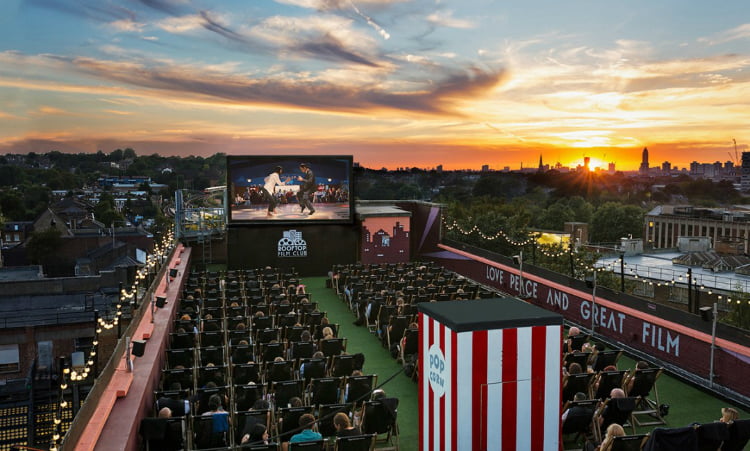 The Vibe: They've got rooftops at Peckham's Bussey Rooftop Bar, Roof East in Stratford, and The Queen of Hoxton in Shoreditch; and they're all equipped with popcorn, cocktails, and very handy wireless headphones. They're one of the godfathers of London outdoor cinemas, and being all on rooftops the view is almost as good offscreen as on it.
The Movies: They have new season goodness like BlacKkKlansman, Spiderman: Into the Spiderverse, and Detective Pikachu, as well as some classics like Once, Rear Window (particularly satisfying on a rooftop), and Howl's Moving Castle.
Dates: Now until 31st August
–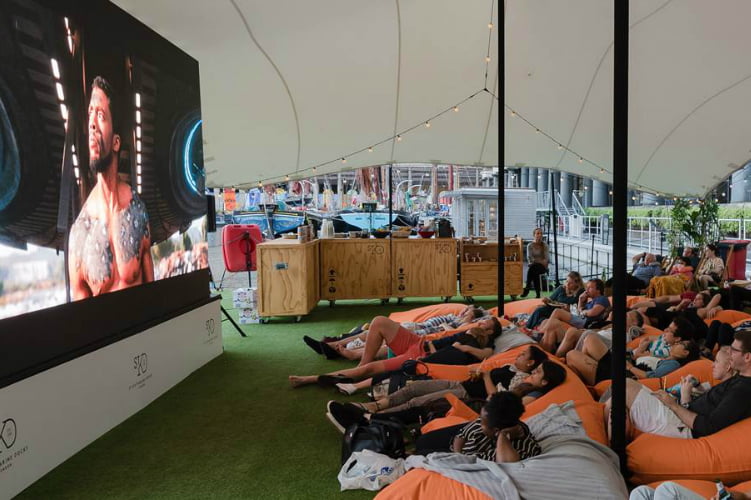 The Vibe: It's a cinema floating on the f**king water. One of the quirkier pop up cinemas London boasts this summer, it's a small platform dunked in St. Katherine's Docks, with a scattering of beanbags & deckchairs, and a tent-style covering just in case. They've got snacks, and pop up bar, and a solid lineup of movies.
The Movies: Paying due deference to their location they're kicking things off with Aquaman before screening some, ugh, non-water based flicks including First Man, Green Book, and Mary Poppins Returns.
Dates: Now until 28th of July
–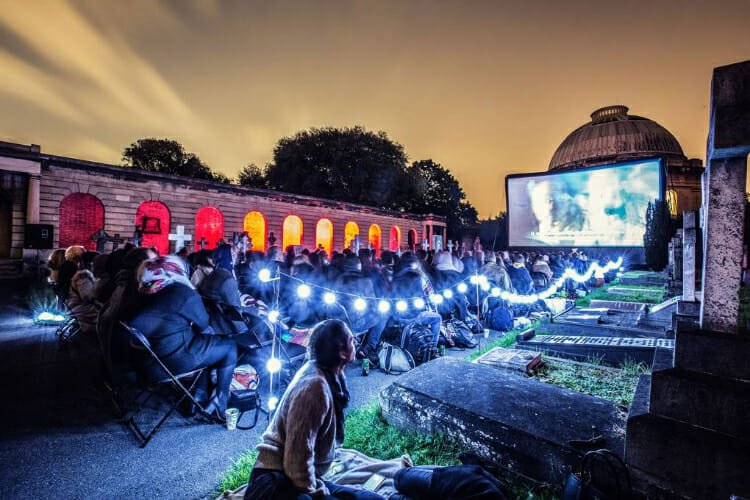 The Vibe: As the name strongly suggests, Nomad is an itinerant screening set up, jumping from place to place. This season however, they've elected to stay put in one location – Citypoint in Moorgate – where their hosts have pledged to donate every penny from ticket sales to South African environmental & educational charity the Sustainability Institute. Expect a seat and a WiFi headset included.
The Movies: This year's flicks range from the new (Bohemian Rhapsody), to the classic (Ferris Bueller's Day Off, The Goonies), to the super classic (Man with a Movie Camera).
Dates: 18th August-7th September
–
The Vibe: Film4 Summer Screens kicks off in August in the gloriously baroque courtyard at Somerset House. Cobbles aside, it's one of the best places to put a pop up cinema in London. It's literally the largest outdoor screen in the city, and it has surround sound to boot. There are beanbags, directors chairs, and to top it all, It's BYOB (or even BYO entire picnic).
The Movies: Screening range from Black Panther, to The Princess Bride, to a glorious double bill of Before Sunrise/Sunset.
Dates: 8th – 21st August
–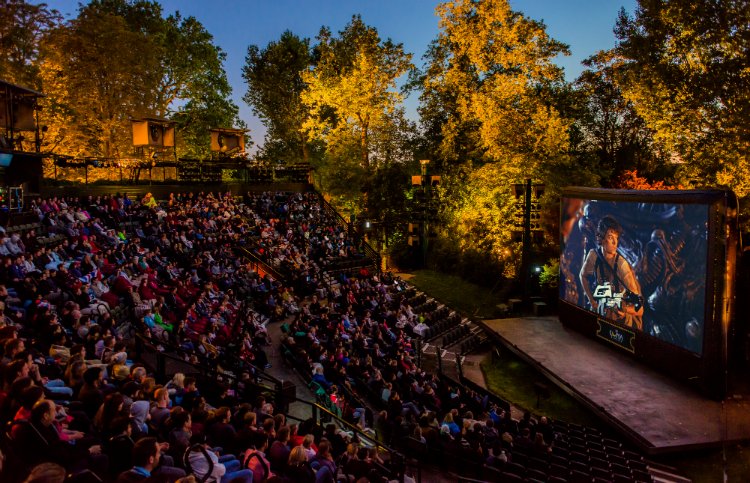 The Vibe: Big. The vibe is big. They're hosting 175+ starlit screenings across the UK this year, with dozens in London alone. And many of them are at the iconic locations the films themselves are set in. At all of them, you'll find hot food, a bar, and (depending on the seating situation) blankets & backrests.
The Movies: Way too many to list. Whether it's a new flick (A Star is Born, The Meg, Mamma Mia! Here We Go Again, etc.) or a classic (Dirty Dancing, The Life of Brian, Mean Girls, etc) they probably have a screening of it.
Dates: Now until 29th September
–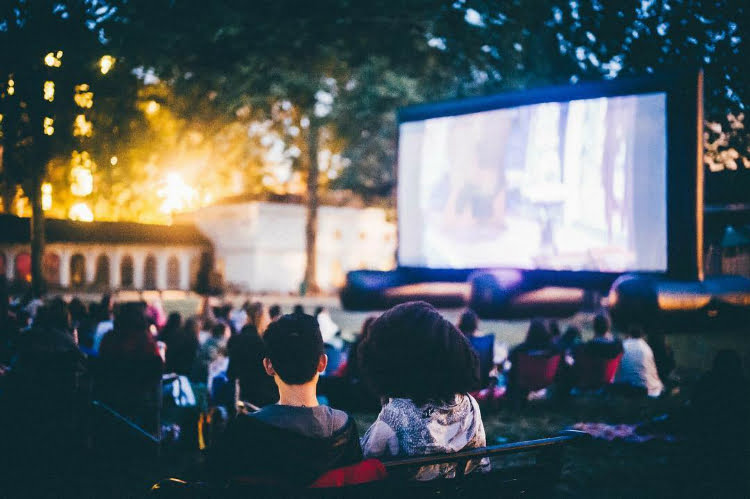 The Vibe: Pop Up Screens isn't just a name. It's an inflatable cinema screen that – if you arrive early enough – you can literally see pop up. Since opening back in 2011, they've gone from strength to strength, and now boast venues across the capital with bars, food, fresh popcorn, and even chairs.
The Movies: They've handpicked classics from back in the '70s (Grease), to the '80s (Ghostbusters, The Breakfast Club), to the '90s (The Little Mermaid, Jurassic Park), to the '00s (Moulin Rouge), to the present (Baby Driver, Get Out).
Dates: Now until 29th September
–
The Vibe: It's a free eco-conscious film festival inspired by San Fran's annual pop up. There'll be screenings at lunchtimes and after work, plus street food by Biff's Jack Shack.
The Movies: It's a mix of documentaries and films on environmental themes, from A Plastic Ocean to Babe: Pig in the City.
Dates: Now until 26th July
–
The Vibe: It's both outdoors and indoors, and it's basically like a mini secret agent festival. Of course, this is Secret Cinema, so we can't exactly splurge on details here.
The Movies: Um, Casino Royale.
Dates: Until 22nd September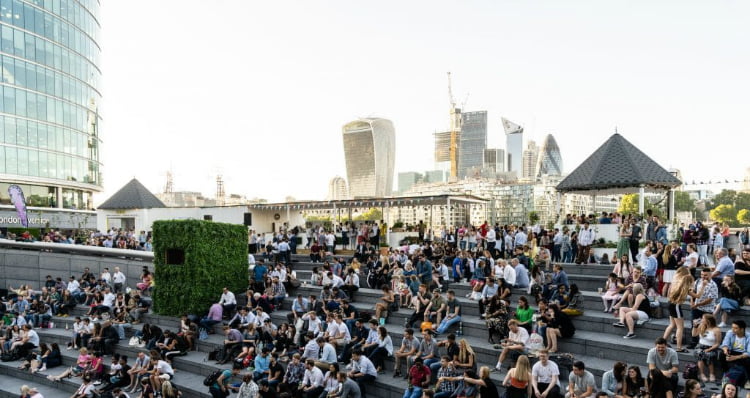 The Vibe: The Scoop, a mini amphitheatre carved out of the river-bank next to The Mayor's Office, is going to be hosting just about everything this summer (from comedy, to fitness classes, to sports, to music). And every Tuesday, they'll be showing a film for free. Just show up, grab a seat, and admire the view of Tower Bridge.
The Movies: Aquaman, Mean Girls, The Incredibles 2… there's quite a lot going on, especially considering they're all gratis.
Dates: Until 30th July
–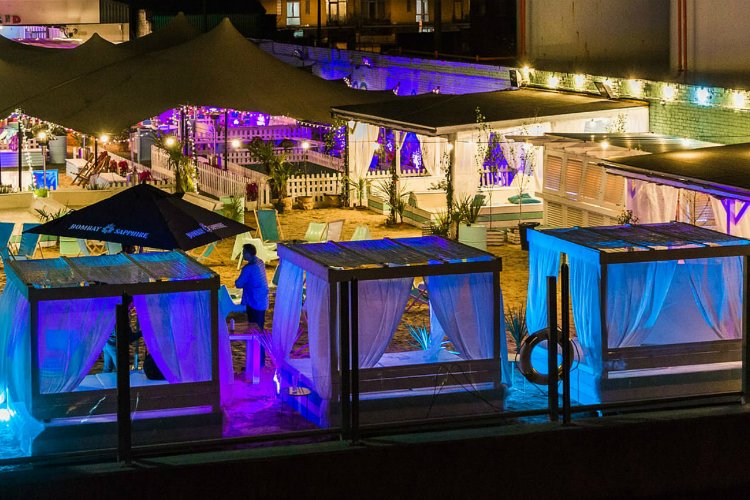 The Vibe: Sandy. Set on an unloved stretch of land along the river, Fulham Beach has not only added truckloads of sand, voile-curtained daybeds and shuffleboard to proceedings, but a huge pop up cinema screen that's showing a different flick every Tuesday.
The Movies: Top Gun, Dirty Dancing, The Beach (duh).
Dates: Until 20th August
–
The Vibe: Okay, so it's not technically outdoors. But it IS on a terrace. Plus, there are boozy slush puppies. And Backyard Cinema was one of the original pop up cinemas in London, and they know exactly what they're doing. This summer, they're taking over the terrace at Camden venue The Roundhouse, filling a covered pop up screening room with sand and palm trees, serving up a load of beachy cocktails and loading the slate with feel-good films. Plus, for a couple of nights they'll be bringing back their sell-out Romeo + Juliet screening, in a church, with a live gospel choir.
The Movies: Cult classics – we're talking Clueless, Back To The Future, and The Greatest Showman singalongs.
Dates: Now until 24th August
–
---
Like doing stuff on rooftops? Check out our guide to the best rooftop bars in London…