Pop Brixton | A Street Food, Bar And Events Space Made From Shipping Containers
"Oh, the places you'll go..." Dr. Seuss
"…may include a shipping container village in Brixton." Us
Because if you fancy either –
1) Going into battle against the rapid homogenisation of London's retail and culinary offerings (which has been caused both by a lack of space, and by increasingly steep rents that only established companies with very deep pockets can afford) OR
2) Drinking rum inside a shipping container…
… then it may be time to head along to Pop Brixton.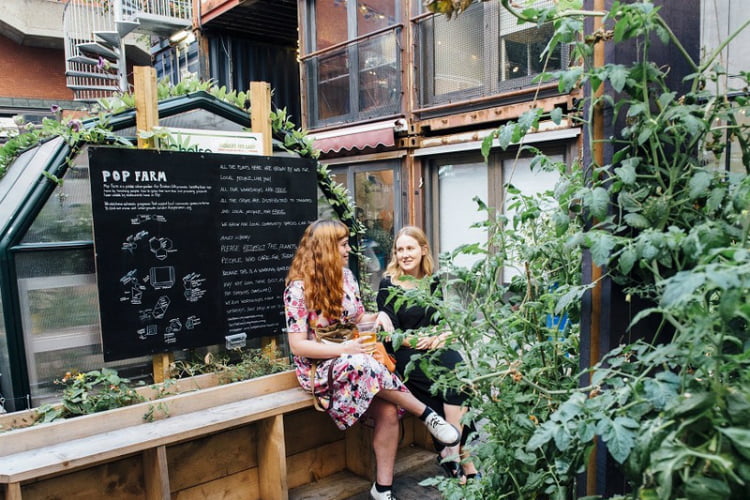 Pop Brixton consists of 1,425 sq metres of public space right by the station which used to be filled with nothing… but is now overflowing with repurposed shipping containers, communal areas and event spaces housing 10 street food stalls and micro-restaurants; 3 bars; 2 regularly-rotating pop up spaces; artist studios; a radio station; a community training hub; a balcony terrace; a covered dancefloor; and a big greenhouse for growing stuff in.
The point of it all is to support local enterprise by creating a physical presence for some of Brixton's most exciting creative, retail and foodie start-ups. Which is wonderful for them. But it's also wonderful for you, because the best of Brixton's now been squeezed into a miniature village right next to the tube.
Pop along to Pop Brixton any day of the week, and you'll find flavour-packed wraps at Souvlaki Street; Indian and British fusion at the legendary Baba G's; Uh K Dogs n Juicy for Korean Hot Dogs; Share A Slice Pizzeria (for pizza that helps the homeless); beers of the world at Beers Of The World; plus a variety of weekly film screenings, gigs, gong baths, yoga, live performances, vintage kilo sales, and more. Then as the sun goes down, Pop Brixton transforms to a buzzing al fresco bar and club, with plenty of seating for big groups and DJs keeping the dancefloor busy under the shelter of that big barn.
"You should try these things, for these things are fun. And fun is good…" – Dr. Seuss
NOTE: Pop Brixton is open daily from 9am – 11pm (midnight Thurs-Sat). You can see upcoming events (the vast majority of which are completely free of charge) on their website HERE.
Pop Brixton | 53 Brixton Station Road, SW9 8PQ
---
Since you're in the area… check out these other great things to do in Brixton