The V&A Museum | A Palace of Art & Design Through The Ages
The V&A speaks for itself.
But not literally. Whiiiiiiiich is why we're writing this.
One of the most iconic museums in London, the V&A's history is rich. Originally named the Museum of Manufacturers in 1852, Henry Cole (its first director) declared that the museum "should be a schoolroom for everyone on a mission to improve the standards of British industry by educating designers, manufacturers and consumers in art and science". Queen Victoria herself then laid the final foundation stone in the new building in 1899, when it was renamed as the Victoria and Albert Museum.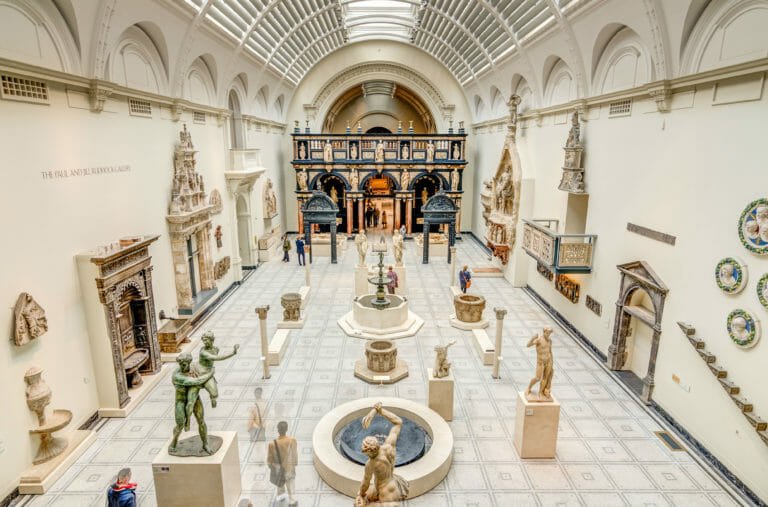 Now the world's largest museum of applied and decorative arts and design, the V&A houses a permanent collection of over 2.8 million objects spanning over 5000 years of humanity. So the variety on offer is pretty astounding. It houses many of the UK's national collections in architecture, furniture, fashion, textiles, photography, sculpture, painting, jewellery, glass, ceramics, book arts, theatre and design, with collections being broken down into four main brackets: Asia; Europe; Exhibitions; plus Materials & Techniques. And on the last Friday of every month, the museum opens its doors for free V&A Lates, when you can enjoy all of the above… with cocktails.
Within the V&A's cavernous, labyrinthine galleries (which are works of art in themselves), you'll find 19th century wedding dresses and Dame Edna's spectacles; a replica statue of David and a Maharajah's throne; a 3000-year old golden necklace; Medieval manuscripts; Persian rugs; a minuscule notebook belonging to Leonardo da Vinci and an animatronic wooden tiger.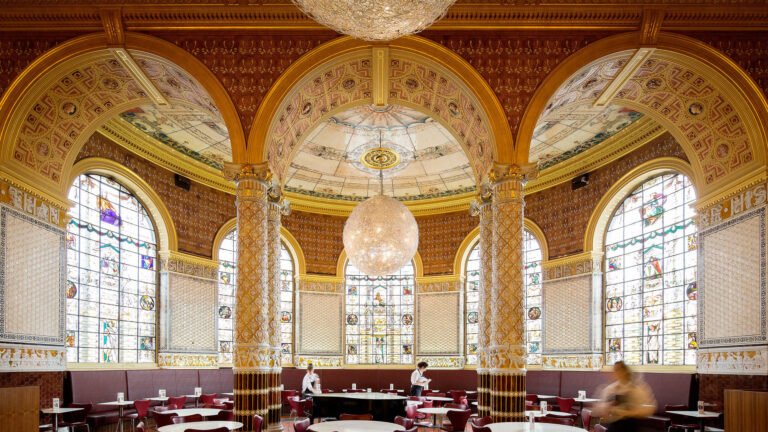 While most of the artefacts are permanently housed at the V&A (and totally free to view), they also host visiting exhibitions (which are ticketed) – right now you can learn about influential cultural icons in Diva (until 7th April 2024), and beg, borrow, or steal a ticket (or just get V&A Membership) for the Chanel exhibition (until 25th February 2024).
Besides the vast trove of priceless artwork, there's also a lecture theatre that plays host to fascinating speakers each month; the National Art Library; 8km of design archives; a beautiful outdoor courtyard and the museum tearooms – the first in the UK, and housed in stunning rooms designed by William Morris, James Gamble and Edward Poynter.
There's also a downloadable interactive map to help you find your way around – which breaks everything down so that you can search for specific items and rooms or just browse the galleries floor by floor, depending on how long you've got.
Happy hunting.
NOTE: The V&A is open daily again, 10am-5.45pm (last admission 4.45pm). The permanent collections are free to look round, but you're advised to book ahead to visit the temporary exhibitions, which you can do HERE.
V & A Museum | Cromwell Road, Knightsbridge, SW7 2RL
---
Looking for something slightly quirkier? Take a look at our guide to Unusual Museums in London