And now, for 200 points, please answer the following question:
What's London's biggest, most unique-sounding upcoming immersive experience going to be?
Answer: Gameshow Studios. And yes, to confirm that tightly intuitive suspicion that just popped into your head, it is modelled after a gameshow studio. It'll be launching in the spring of next year, but the basic concept is pretty simple – you and a few friends form a team (of 2-6) who become gameshow contestants for the night, competing in a series of challenges spanning "general knowledge, memory, mental dexterity and even luck", all while somewhat handicapping yourselves with cocktails.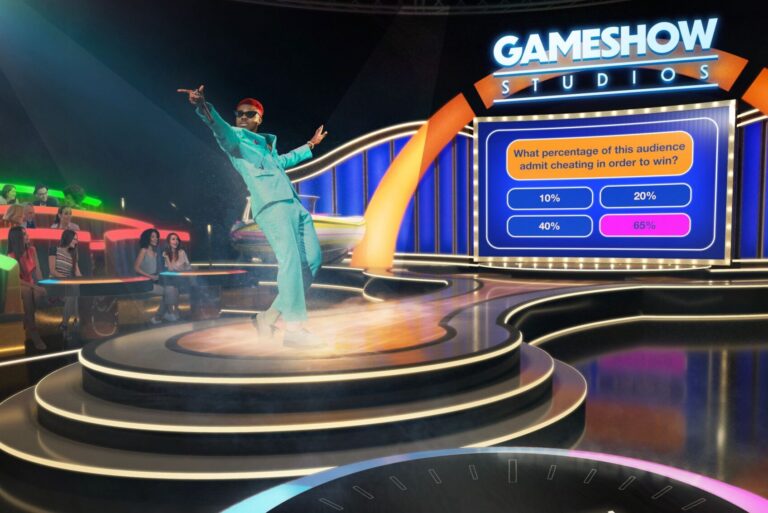 All told, it's going to be a roughly 90-minute affair. You'll arrive at The Green Room, where you can start on those handicaps drinks and discuss team strategies. You'll then be ushered onto the set, which will be dressed up like an actual TV studio, complete with stage lighting and a huge gameshow stage. Taking a seat in one of the booths, you'll get to play along on the gaming table (which also lets you order food) as the energetic host marshals you through the rounds, keeps you on the clock, and calls out the leaderboard.
The whole thing is the brainchild of Josh Ford, who's had a hand in creating experiences like Time Run, Swingers, and Sherlock: The Game Is Now, so he's no neophyte. Will he be able to pull this one off too?
We'll just have to ask the audience.
NOTE: Gameshow Studios is set to launch in the spring of 2024. We'll be back then with the full scoop. In the meantime, you can find out more at the website right here.
---
Not in the mood for games? Why not check out our guide to the best karaoke bars in London…