Spitalfields' best bars are calling.
And it's time for you to answer…
…by picking up the phone in a curious, fluorescent orange telephone booth in the middle of Spitalfields Market, presided over by an equally fluorescent life-sized giraffe and an abundance of flowers arranged by LADYGARDEN.
For one week only (15th-19th November), Glenmorangie's marvellous 'It's Kind of Wonderful and Delicious' Wonder Hotline will be popping up to assist you in finding your perfect cocktail – because as we all know, ordering off a menu can be whisky business.
Step into the booth, and you might just recognise the voice of drag queens Jonbers Blonde and Ginger Johnson, or actor Mairi Houston on the end of the line. Or you may not. But you'll have no time to mull this over, because you'll have to deal with the more pressing questions that they'll be asking you like, 'Are you catwalk or cat-lady?' or 'Dance like a star or like nobody's watching?'
Having expertly performed a whistle-stop analysis of your raison d'être and life philosophy, the spirits of the phone booth will then bestow upon you one of two things…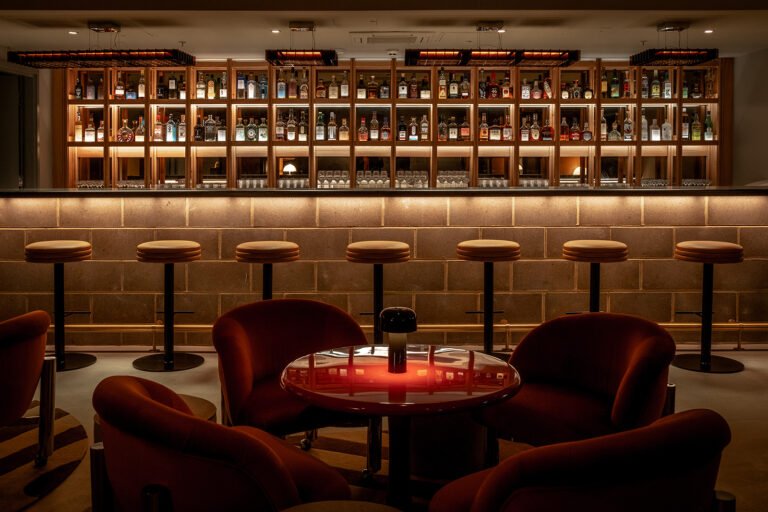 Image: Seed Library
Visit between the 15th and 17th and you will receive a token which – should you visit one of six excellent bars in the vicinity – you'll be able to trade in for a delicious whisky-laced cocktail showcasing the intriguing botanical flavours of Glenmorangie's latest single malt. You might find yourself sipping a spicy Snapper at Light Bar, or a boulevardier in Parisian piano bar Coupette. There'll be something innovative at Ryan Chetiyawardana's latest opening, Seed Library; something classic at The Gun; and something characteristically unusual at the Cocktail Trading Company. And as the home of over a thousand whiskies, you'll probably be in safe hands at Milroy's Spitalfields.
Alternatively, for anyone a little strapped for time, best to visit between the 18th and 19th, when you'll receive your cocktail directly at the phone booth. Although time really is of the essence with cocktails first come first served.
And if you can't make it along to one of those? You can also get a flavour of Glenmorangie's cocktails at boutique hair salon Taylor Taylor, and Townhouse Nails, who'll be serving a special menu at appointments between 15th – 17th November.
So you can dial things up wherever you are…
NOTE: Glenmorangie's Wonder Hotline is popping up in Spitalfields Market from 15th – 19th November. Please note, tickets have now sold out. However, walk-ups are still very much encouraged. Fancy finding out a little more about Glenmorangie and all of their various whiskies? Visit their website HERE.