Whisk Dessert Bar | Dessert-Only Restaurant
Opening a restaurant that only serves dessert can be a little whisky…
,,,unless it's a pop up that's following up on the stellar access of an earlier pop up you've already run. In that case, it's actually something of a safe bet. And Whisk is a very safe bet.
It's returning to Islington after a brief & bright eight days last year. This time it's around for much longer (2 1/2 months), and in a space that's going to be much larger.
It's all run by Chef Patissier Simon Jenkins, who takes this whole dessert thing rather seriously – throughout his career, he's created meal-cappers for the likes of Marcus Wareing & Gordon Ramsay – and he's channeling that love into a three-course, all-dessert tasting menu experience here.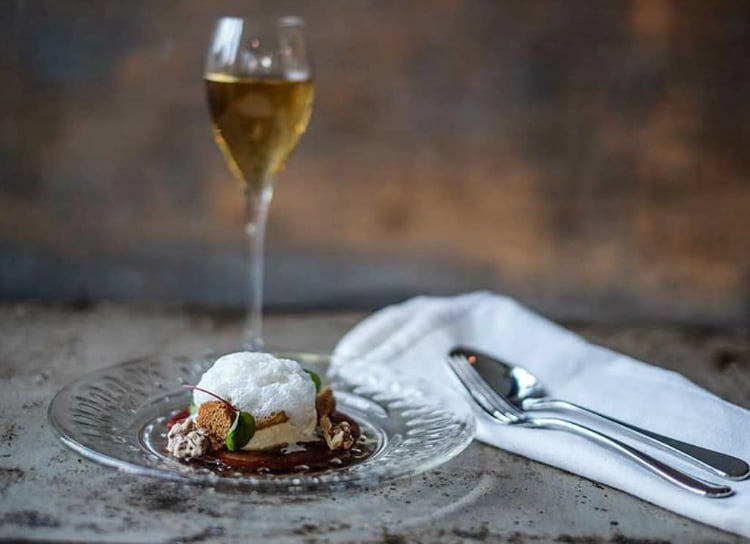 So, how does this all go down? Well, your first course will be an 'Amuse' consisting of soft-set strawberry jelly with Gariguette strawberry, vanilla yoghurt mousse and lime foam. After that, it's a three-course dessert. You can choose from inventive dishes like 68% dark chocolate crème with parsnip ice cream, orange granita, fresh horseradish zest, and orange puree; "Banoffee" banana with shortbread, lime, caramelised milk, and aerated coffee; some avocado & white chocolate mousse with torched sweetcorn, chai chilli dressing, and caramel cocoa nibs; and some insane-sounding celery sorbet with crumbled blue cheese, fresh honeycomb, quince jelly and "super thin" flat bread.
And after that? You'll finish it all off with some delightful little Petits Fours, including the likes of milk chocolate truffles, and fresh-baked lemon madeleines. And it can all be paired with either some delicious-sounding wines, or exotic teas – there's even one – named Shimen Green Mountain – which they tell us is "a Chinese green tea which, like a panda, is rarely seen outside China".
Who knows… it might just be your bag.
NOTE: Whisk Dessert Bar will run from 16 May – 3 August. Three course dessert menus start at £15. There are no bookings (except for parties of 6+) and you can find out more right HERE.
Whisk Dessert Bar | 23 Parkfield St, N1 0PS
---
Want to check out somewhere more permanent? Basement Sate would like a word…