64 Goodge Street | An Intimate French Restaurant By The People Behind Portland
There are two things to know before heading to 64 Goodge Street:
You probably will remember the address.
You probably won't forget your meal.
And, just to be clear, we mean that in the best possible sense. It's not really a surprise either, given that the people in charge are Will Lander & Daniel Morgenthau who already run a quartet of fantastic London eateries: Clipstone & Portland (which both happen to be around the corner) and Quality Chop House & Quality Wines (which are over in Clerkenwell). Four restaurants, four bullseyes.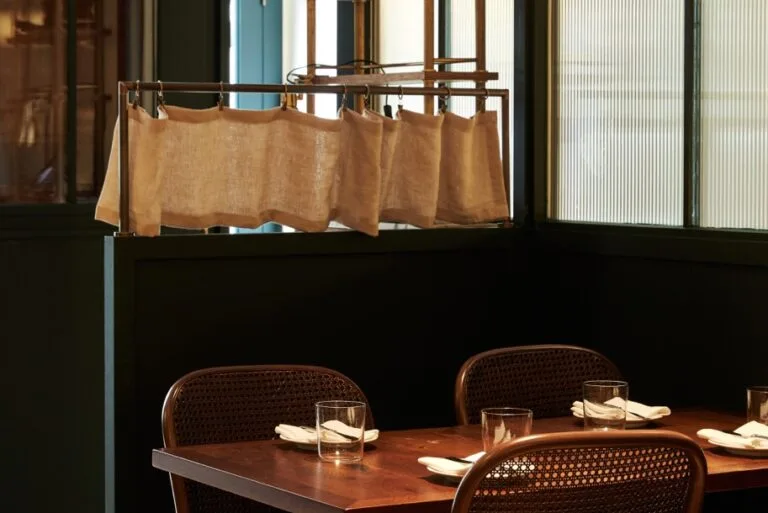 This latest addition to their mini empire is a little French bistro parked in one of the most bar & restaurant-dense areas of London, literally around the corner from Charlotte Street, and opposite Mr Fogg's House of Botanicals. It nevertheless feels pleasantly understated both from the outside and the inside. Built from chic dark teal panelled walls, mahogany wooden tables, and a brass bar, all told it just feels very well balanced – it's intimate without being claustrophobic, it's low-lit without being dark, and you easily could dress up or dress down depending on how you felt.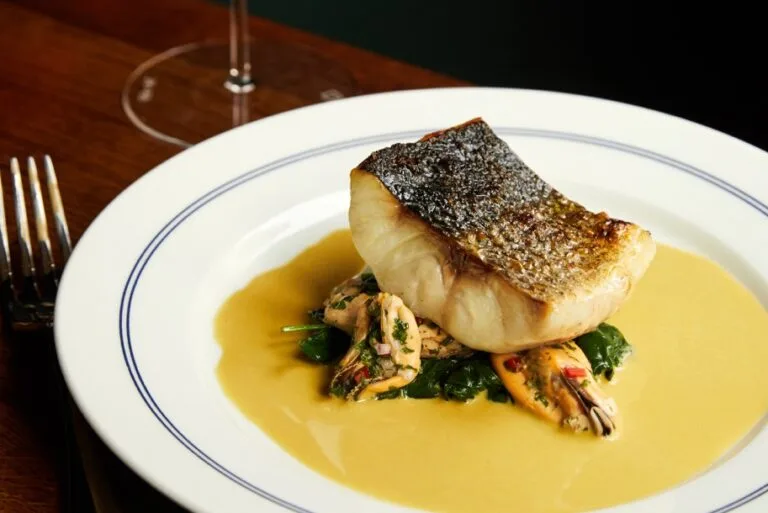 On the menu you can expect a lot of delectable little treats hiding behind a lot of French words, courtesy of chef Stuart Andrew (who also helped to turn both Clipstone & Portland into the winners that they are).  Some of the standouts include the hearty rabbit niçoise; a flavoursome sea bass on a bed of spinach with mussels sauce; and a tender pigeon breast with Lyonnaise sausage and beetroot. If you're something indulgent – something that basically transports you to the patisseries of the South of France, then you'll want to choose the nutty, chocolatey gâteau marjolaine for pudding – it's unbelievably rich, but worth every calorie.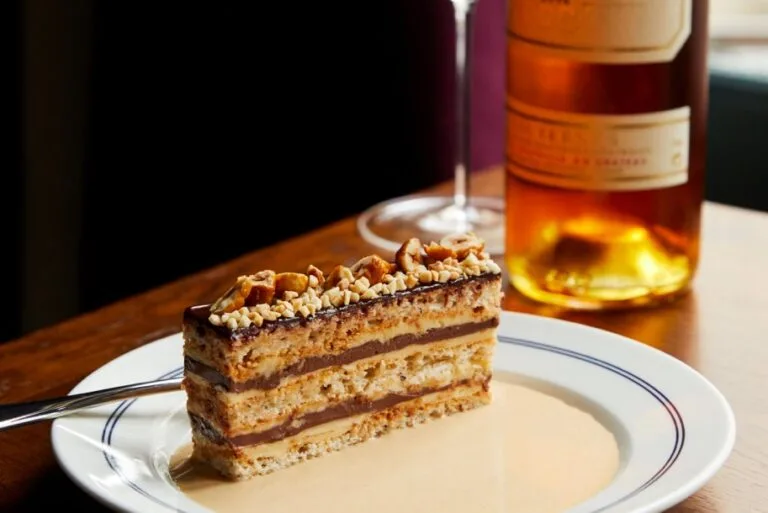 To wash everything down, the team at 64 Goodge Street have pulled together a stellar drinks menu with wine from some of the best in the business, along with aperitifs, crémants, and digestifs. You can't go wrong if you begin your evening with a Myrtille cocktail (loaded with gin, crémant de Bourgogne, blueberry & lemon), then go for a carafe of wine, and finish on a perry pear brandy.
You'll be sure to have, ahem, a Goodge evening.
NOTE: 64 Goodge Street is open now, Monday to Saturday. You can find out more, and make a booking at their website right here. 

64 Goodge Street | 64 Goodge St, London W1T 4NF

---
Love new openings? The feeling is mutual… check out the best new restaurants in London