Alto by San Carlo isn't the kind of place you stumble across.
You certainly can't see it from the street, unless you happen to be 6 ft 900 inches tall. And to get there, you'll need to go inside Selfridges, and locate an elevator somewhere amongst the fragrances that only has a single button in it.
It takes you directly up to the top of the building, where you'll then walk down a lush, plant covered tunnel, before stepping out into the open air, and the restaurant itself.
If the view over central London from up on the sixth floor wasn't eye-popping enough, then the space itself ought to do it – the trellises nimbly arching over the dining are are all covered from foot-to-tip with greenery, flowers, lemons, or other such seasonally appropriate goodies. And they're not just for show either, they actually serve the equally beautiful practical function of holding up the retractable roof, to shield you from the wrath of envious, rain-soaked clouds. There are even a couple of cosy little beach-hut style cabanas, too.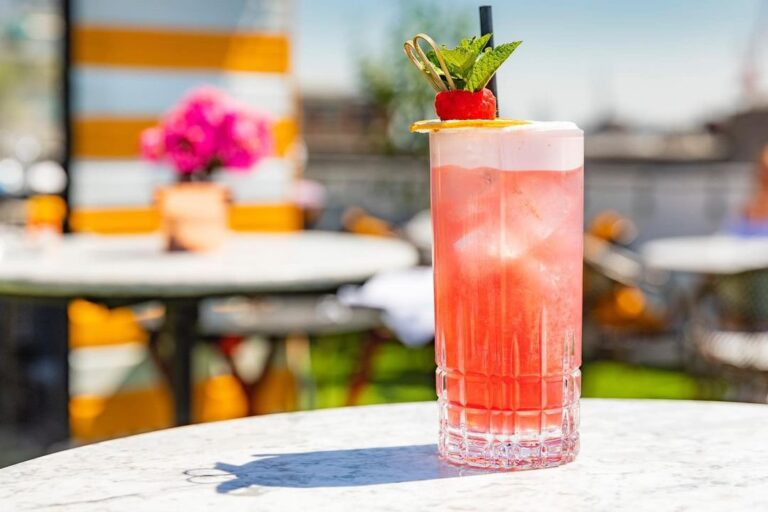 The food is all classically Italian, starting with the likes of burrata with some smoked aubergine & toasted hazelnuts, or a duck salad with apples & pancetta. The pasta, likewise, sticks to tradition with a Tagliatelle Bolognese, slow-cooked for six hours to a "recipe of Nonna Maria from Bologna", or you can score some lobster ravioli floating in lobster bisque. And finally, they have a pizza oven, just in case you felt the want of a Neapolitan-style number with 'nduja, or perhaps spinach and quail egg.
And to wash it all down, there's a wine list divided which part of Italy it comes from – north, central, or south. There isn't anything from outside of Italy, don't be ridiculous. Of course, there's Prosecco too, and for those who want to push the boat out, some Ornellaia Bolgheri DOC Superiore. A snip at £530 per bottle. If you want to keep the boat very much in however, then the Alto's Fizz cocktail ought to do, blending gin, raspberry, elderflower, and lemon for a more reasonable £11.
So your bill won't be sky high.
NOTE: Alto by San Carlo is open now. You can find out more, and make a booking at their website right HERE.
Alto by San Carlo | 400 Oxford Street, W1A 1AB
---
Looking for outdoor dining ideas? Behold our list of (really good) places to eat outside in London